Strengthening Face-to-Face Connections Online During the COVID-19 Pandemic
Rutgers sociologist of communication technology explains how online tools keep us connected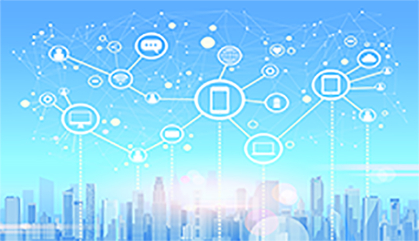 While social isolation and physical distancing during the global COVID-19 pandemic is keeping us physically separated from friends and loved ones, technology is keeping us more connected than ever before, says Mary Chayko, a sociologist, interdisciplinary teaching professor and director of the Digital Communication, Information and Media, and Gender and Media programs at the Rutgers School of Communication and Information.
The author of Superconnected: The Internet, Digital Media and Techno-Social Life, who researches how social bonds are formed and experienced in the absence of face-to-face contact, shares her insights around the use of digital technology during the time of coronavirus and the work that still needs to be done to ensure that digital resources are distributed fairly and inclusively.
How has social media been helpful during this time?
Social media and other digital technologies like email, texting, FaceTime, etc., have been indispensable in helping us stay informed and remain connected. This pandemic would be even worse if people could not connect digitally, and indeed it is much worse for those who cannot easily do so.
These technologies are helping to keep entire social institutions afloat. From workplaces and schools to our governments and libraries, the ability to do things remotely is stitching society together.
What should people avoid doing online?
Especially in times of trouble, we must try to keep social media from becoming abusive and hostile. People are feeling a lot of fear and anger these days, but it is rarely helpful to spill forth a torrent of negative emotions on social media. Be genuine, be caring and be thoughtful of others. Consider how your words may be received and the impact they can have. What can you contribute to the public conversation that will be meaningful and useful? If you can't come up with anything appropriate right now, it's okay to say nothing.
How can we practice safe social media distancing? 
As always, it is important to balance the digital with the physical. Put the phone to the side a little more often than you want to. Get some fresh air, even if it just means standing by an open window for 15 minutes. Make sure that your media diet includes something other than the news. We are going to need to be as strong and balanced as possible, physically and mentally, when we get to the other side of this.
What changes have you seen in how people are using social media and the internet?
I would love nothing more to report than that the internet and social media are becoming more pleasant in these trying times. While I see extraordinary gestures of kindness and social support on social media, like the efforts of Efes Mediterranean Grill Restaurant to provide fresh produce to Elijah's Promise Community Kitchen in New Brunswick, New Jersey, I am also still seeing a good deal of hostility, harassment, discrimination, and abuse. 
Are our physical connections changing?
Physically, we are more distant from one another than most of us have ever been before. However, as we check in with one another digitally, interpersonal closeness can be sustained, even at a very high level. Many of us are even becoming closer to people whom we did not previously know well, as we try to help one another cope. We are renewing and strengthening ties with those who matter most to us.
In my research, I have found that people use social digital technology to prompt face-to-face interaction, which strengthens their connections. For example, people who use digital technology are more likely to see their friends face-to-face than those who do not, and, in fact, that is typically how people plan get-togethers with one another. While planning in-person interactions is nearly impossible now, we can prepare for those times when it will not be. 
What work still needs to be done?
My colleagues in the sociology of technology and I have learned that digital tech does not push people apart but that it pulls us together in the very ways we are seeing so vividly during this crisis. However, this is not free of problems. Not everyone is equally connected, and there is a lot of work to be done to ensure that digital resources and knowledge are distributed fairly and inclusively. 
As this crisis has laid bare, the digital divide truly needs to be a societal priority. Even the most impoverished and least connected among us must have media and technology access, skills and literacy to participate in a global digital society. It will require a large-scale integrated effort of government, education, and business, and it cannot wait.