Sports and medicine have been at the center of A'nan Bridgett's dreams since grade school.
When he was 8-years-old, a football teammate broke his arm during a practice. As the team surrounded the injured player, Bridgett couldn't help but wonder how his friend would be healed.
"I heard it would be fixed by an orthopedic surgeon," the now 22-year-old Rutgers student said. "A bone doctor.
"So I went down my own path that an 8-year-old would go down and thought, 'This is really cool. I want to be a bone doctor.' I still want to be a bone doctor," he said. "But now I know what it's called and what it takes to get there."
The son of an Olympic track coach, he was attracted to the sport and has been a star on the Scarlet Knights track and field team. Last year he was a first-team All-American in the long jump with a distance of 8.03 meters (26.4 feet), as well as being named Academic All-Big Ten Conference.
This spring he hopes to improve on that distance, with a long-term desire to compete in the 2024 Olympics in Paris.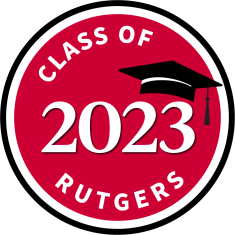 While honing his skills on the track, Bridgett kept his interest in medicine alive by minoring in biology while majoring in economics in the School of Arts and Sciences.
This May he will graduate from Rutgers with a master's degree in financial analysis from Rutgers Business School-Newark and New Brunswick. Bridgett plans to return to Rutgers to earn an MBA.
The youngest of three, Bridgett would be the first in his family to pursue a career in medicine when he decides it's time to move on from track. His father teaches biology and environmental science as a high school teacher, his mother works for the New Jersey Department of Environmental Protection.
"The education and the importance of it, I think I got that from both my parents," he said. "They were first-generation college students."
Bridgett started running track at West Windsor-Plainsboro High School. He also played football and originally wanted to play on the Division I level and move on to the NFL. Following his freshman year his parents encouraged him to focus on track.
The family has a deep connection to the sport. His father ran track at Monmouth University and went on to coach the Haitian Olympic team in the 2004 Games in Greece.
Bridgett said he was drawn to Rutgers and being a Scarlet Knight after touring the campus, and he has never looked back.
"As soon as I came here it was like I was home. I was like, 'I can see myself here.' I loved the dynamics, the culture, and I loved coach (Bobby) Farrell's energy," he said.
This spring he will compete not only in the long jump but also in the 100 meters and 4-by-100 relay.
Meanwhile he will be competing in classes that include Portfolio Theory, Financial Statement Analysis, Analysis of Fixed Income, Derivatives, and Real Estate and Alternative Investments.
Next year's academic load should be even more challenging.
"I think that degree would definitely allow me to get a better understanding of the health care system, and the different mechanisms that are involved in it," he said. "Finance with the econ background that I already have, I think is going to allow me to look at things from a greater lens than just a biological lens would allow me to.
"I'm extremely excited to see what next year looks like and just the possibilities of my future."
Possibilities he knows could continue to lead to that childhood dream
"I've remained strong and sturdy. I have not wavered," he said of his journey.
"Sometimes it's challenging; the struggles of school, the struggles of sports, the struggles of life, and just being, have definitely gotten to me. But the goal always remains the same. Whenever I get down I look at the bigger goal and say, "A'nan, this is what you want to do.' And it helps me stay focused and stay consistent."
Meditation helps as well.
"I'm big on meditation and prayer," he offered. "Every morning, the first thing I do is meditate. Maybe 10-12 minutes ... I'm always trying to challenge myself to become a better version of myself. That's what motivates me.''
He is also grateful for the chance to run track for another year at Rutgers, noting that the coaches and the university, "Have generously awarded my additional sixth year. So, I will be back for a sixth year as a Rutgers Scarlet Knight."
Bridgett can't say enough about his experience at the university.  
"You can truly say Rutgers has something for every single person. If you like robotics, or if you like Italian food, they have something literally for every walk of life, and they make you feel included."
Where might that deliver Bridgett down the road?
"I hope I will be enjoying life and experiences, relationships, and have had the opportunity to grow as a person. But also I would be a doctor, having graduated from medical school, and," he said with a big smile, "you'll be calling me Dr. Bridgett. That's the goal."