Inspired by 'Forrest Gump' as a child, he's making his own movies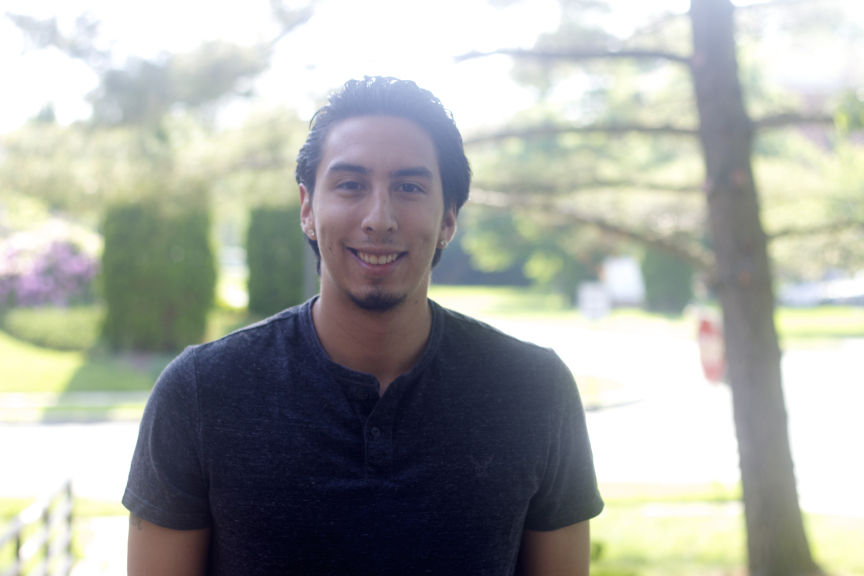 "I've always been fascinated by the filmmakers' ability to create worlds and immerse their audience. It's like a superpower.'' -- Jean Paul Isaacs
Jean Paul Isaacs knows that filmmaking isn't the most practical career choice.
His mom, who raised six children on a cosmetologist's salary, often preached the value of job security. "In my family, stability means everything,'' says Isaacs, a rising senior and journalism major.
Hoping to land a steady, well-paying job after college, Isaacs, a star basketball player in high school, once majored in exercise science, even though it bored him. But junior year, he decided to give filmmaking a try.
"I've always been fascinated by filmmakers' ability to create worlds and immerse their audience. It's like a super power,'' says Isaacs, who has been passionate about movies since childhood.
Isaac's quest to unleash his creativity inspired his short film, The Youth, about a relationship between an artist and his much younger sister.  The film won the national Campus Movie Fest competition in the spring, earning Isaacs a trip to Hollywood last month and a screening at the Cannes Film Festival next year. 
"It's a story about losing and rediscovering your inner youth. How it's important to keep the child in all of us, to hang on to creativity, imagination, optimism, joy and delight,'' says Isaacs, who's from South Brunswick.
In the film, a stifled artist the caretaker of his 5-year-old sister, reluctantly takes a drudge-like office job. Burdened by work and responsibility, he impatiently herds the fidgety girl from house to car and back, refusing her requests to play.
But when he allows himself to be open to her spontaneity, he reverts to his childlike self  (played by a child actor) and begins to paint. The film ends with a quote: "The creative adult is the child who survived,'' by Ursula K. Le Guin.
Isaacs is attending Rutgers on an Equal Opportunity Fund full scholarship. Although he grew up with five siblings and no father, his mother made sure her children had everything they needed. His brothers and sisters took care of each other.
"I was lucky enough to be raised in a big family because I was always surrounded by people I loved.  When I was younger, I went through struggles. But it was always momentary,'' Isaacs says.
His drive to find the safest and surest route to success was strong, but so was his artistic streak.
"I always had this urge to make things. In grade school, I made comic books,'' he says.
But when he saw the movie Forrest Gump as a child, he had an epiphany. He recalls being mesmerized by the film. "I wanted to see the journey of this man from beginning to end. I didn't want to leave the movie. I wanted a sequel immediately. I never experienced that from music or painting or any other type of art."
Before entering Campus MovieFest, Isaacs made two films, a documentary on his twin sisters, both college basketball players who faced off against each other on opposing teams, and a black comedy about two hit men, called Lunch With Larry, which won the Rutgers Lens Festival for students this year.
He didn't have much time to make The Youth. Campus MovieFest entrants are given only a week to create a five-minute film from start to finish.
During the process, Isaacs drew heavily from his courses at the Rutgers Center for Digital Filmmaking at the Mason Gross School of the Arts.
"The program taught me how to structure a story, to pace things so that you evoke emotion, to use the camera to signify what a character is feeling and  to cut dialogue and work on a script," says Isaacs.
Isaacs is now at work on a film about two boys, one white and one black, untangling the complexities of an interracial friendship.
His instructors think he has a promising career ahead of him.
"Although the film industry is hard to break into, if Jean continues to work on his craft I could easily see him working in the business,'' says Mason Gross instructor Patrick Stettner, who praised his "relentless . . . sometimes elliptical editing approach."
Adds Dena Seidel, director of the Center for Digital Filmmaking, "Jean is a very talented filmmaker with a deep sensitivity to human motivation and relationships."
Isaacs entered Campus MovieFest hoping for exposure and networking opportunities. But he also sought his mother's validation.
"When I said I was going to switch majors, she said, 'But you haven't made any films yet,''' Isaacs remembers. "I said, 'I think I haven't made anything because I always felt like I had to do something else instead of doing what I wanted.''
Although his mother supports him, she's especially proud of his most recent accomplishment, he says.
"It proved to my mom that I can do it,'' he says.