Rutgers Speech Pathologist Featured in Twenty Pearls Documentary on Nation's First Black Sorority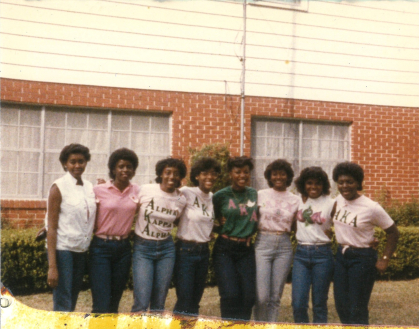 Rutgers School of Health Professions Program Director Valerie Johnson, a longtime member of the nation's first Black Greek-letter sorority made famous by Alpha Kappa Alpha member Vice President Kamala Harris, didn't fully grasp its 113-year legacy of empowering Black women and advancing civil rights.
Not until she became part of Twenty Pearls: The Story of Alpha Kappa Alpha Sorority, Incorporated, a documentary featuring the country's first Black woman vice president and other Black women, like Ethel Hedgeman Lyle, a 17-year-old Black woman on scholarship at Howard University who laid the groundwork for an organization that altered the college experience and the lives of Black women for generations to come.
"To me that is pretty incredible – to have that type of vision at that age and at that time, where we were just 40 years removed from slavery," said Johnson, who filmed her part of the film in Washington, D.C., last summer, a day after Harris, then a vice-presidential candidate.
Harris is the first member of Alpha Kappa Alpha to appear in the film. About eight minutes in, Johnson, assistant professor and speech-language pathology program director, comes onscreen to help tell the story of the oldest Black sorority, founded in 1908.
She and Harris are among a series of prominent AKA members featured in the documentary, which premiered on Comcast Xfinity on March 26 and now is available through on-demand cable.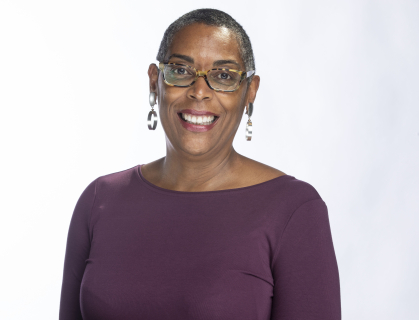 Johnson pledged AKA in 1984 at Florida State University. Among her sorority sisters was the documentary's director and writer Deborah Riley Draper, who asked if she would be in the film. A photo of a joyous Johnson in an AKA pink T-shirt linking arms with her sorority sisters appears in the film, and Johnson remembers it as being one her first events as a new member.
"My participation in the documentary was to share my perspective as a proud member of Alpha Kappa Alpha Sorority, Inc. and help celebrate its legacy," said Johnson, who is currently overseeing the start of a new speech-language pathology program focused on serving multi-ethnic, socially diverse populations.
She was inspired to join the sorority by her father, a member of AKA's "brother fraternity," Alpha Phi Alpha Fraternity, Inc. and an aunt, who was an AKA member. At a predominantly white university, she also was seeking to connect with other Black students.
"I wanted to find a way to be immersed in the Black community," she said. "And I was looking at the things they were doing, the bake sales, the signs for service projects and the workshops they would host. I wanted to be a part of that service."
While Johnson knew the story of the founding of the sorority, it wasn't until she researched her role in the film that she truly understood the remarkable accomplishments of the founders and members in the context of the times in a way she couldn't have when she joined at the age of 19.
In an interview with Essence magazine earlier this month, Draper said, "I think the world needed to understand what Black women looked like from 1908 to this moment and what all of the iterations were that allowed us to get here."
When Lyle and eight classmates founded the organization, few Black women could even get admitted to college.
The film chronicles how its members influenced nearly every watershed moment in US history, including the Harlem renaissance, World War II, NASA, civil rights, and women's rights and supported the idea of Historically Black Colleges and Universities (HBCUs) - culminating in the election of the first woman, African American and Asian American vice president of the United States. At her inauguration, Harris wore her trademark pearl necklace, each pearl signifying the nine founders and other early members of AKA.
"Alpha Kappa Alpha's journey is punctuated by stories of history makers, ceiling breakers, public servants and ordinary women who have changed the course of American history," said Glenda Glover, AKA International president and CEO, in a prepared statement about the documentary.  "This film highlights, in undeniable ways, the vision, courage, tenacity, determination and power of Black women while dispelling any age-old questions about the relevance of HBCUs and the Divine 9."
Johnson said the film director gave participants topics in advance and then shot them as if they were having a conversation.
Onscreen, she spoke about Nellie May Quander, who preserved the sorority by incorporating it in 1913 and later fought to have the sisters march in a historic suffragist parade in Washington, D.C. Johnson read a letter Quander wrote to organizer Alice Paul, who worried that white women would refuse to march next to Black women.
As a result, members marched alongside white coeds.
"She asked them very politely to participate. And she said, 'We don't want to be in the back, we want a desirable place.' The audacity for her to ask for this at that time was amazing," said Johnson. "I was very nervous when Deborah asked me to read the letter because I knew how much it meant."
The film was screened during a Zoom watch party with cast members.  "I felt overwhelming pride to be a part of it," Johnson said. "I couldn't help but shed a tear."
One of over 300,000 AKA members, role models and leaders, Johnson said she was in awe how the women navigated the rampant racism of the times to make their mark on virtually every part of society.
"They had the audacity to drive across country in for national meetings, while we still can't go to the grocery store without fear of getting pulled over for a minor interaction. So, when I think about what they had to go through and what they endured, I reflect that I stand on the shoulders of the strong women who preceded me."