Rutgers rising senior Dylan Serrentino-Mullins has always believed that collaboration is critical toward making positive change in the world.
Especially when it involves bringing people together who disagree.
That is what drove his decision two years ago when, as the national president for Students Against Destructive Decisions (SADD), he joined others from the organization to invite First Lady Melania Trump to speak at their national convention.
Although Serrentino-Mullins and the organization's Student Leadership Council received pushback, he brought those who were against the First Lady's attendance – which included many alumni members of SADD – together with groups of students to discuss differing opinions, issues and challenges.
To him, it was an experience of a lifetime but admits it was not easy to navigate. It was this type of leadership that helped Serrentino-Mullins earn distinction as one of 62 Truman Scholars from across the country recognized for their commitment to public service.
"I think it is really important to work together in a collaborative way to get things done," said Serrentino-Mullins, from Marlboro, a political science major and honors student in the School of Arts and Sciences at Rutgers-New Brunswick.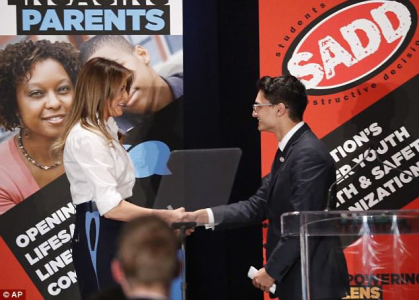 He said he believed that although controversial, the First Lady's presence would bring positive media attention to the student-led organization, which formerly was called Students Against Drunk Driving. "I was really proud to be able to bring people with differing political views together in the end," he said.
The Truman Scholarship is a national award given to the country's top students pursuing careers in government or public service and will provide Sorrentino-Mullins a financial scholarship he can use for post undergraduate studies.
Recipients of the award, named after President Harry S. Truman, receive a $30,000 scholarship that provides for two or three years of graduate study.
Serrentino-Mullins, an Eagleton Institute of Politics undergraduate associate, wants to go to law school and focus on public policy, continuing the trajectory that he has pursued as a student, researching topics like privacy and public policy and partisanship within congressional committees.
As president of SADD, Serrentino-Mullins got a firsthand picture of the importance of public policy.  He travelled throughout the country for two years, first from George Washington University in Washington D.C., where he started his college career, and the next year from Rutgers-New Brunswick after he transferred as a sophomore.
Speaking to students and others about health and safety – from substance abuse and impaired and distractive driving to depression and anxiety, self-harm and suicide – his goal was to help deliver a critical lifesaving message to teens and young adults.
"It was great to be so hands on, realizing that I could be involved in helping to make policy decisions that would have a positive effect on young people and the organization," said Serrentino-Mullins, who is still on the SADD Board of Directors.
Arthur D. Casciato, director of the Office of Distinguished Fellowships, said Serrentino-Mullins has had a stellar academic career. "Dylan has distinguished himself at Rutgers in a number of ways, not least among them as a leader whose considerable organizational and interpersonal skills belie his youth," said Casciato. "That he has done so as a transfer student makes his achievements doubly impressive."
Serrentino-Mullins's work to make a difference in his community goes beyond his leadership with SADD.
When he was younger, he remembers walking past the Marlboro Volunteer First Aid and Rescue Squad around the corner from where he lives and thinking that someday he would volunteer. At 16, he started on that path and became a certified EMT.
Today, the 21-year-old college student volunteers at least 15 hours a week responding to medical emergencies, replacing older EMT's more at risk of getting sick or dying due to the global coronavirus pandemic. According to the NJ EMS Task Force, at least 15 EMTs have died from COVID-19.
"Being a young person who is healthy, doesn't have asthma and is not immune-compromised, I feel like I can pick up the baton and keep things afloat until this health care crisis is handled," said Serrentino-Mullins, who also works part time as a safety supervisor at Six Flags in Jackson.
Giving back is something Serrentino-Mullins doesn't think twice about.
"I'm not sure exactly where I'll be in the future, but I definitely think I will be involved in public policy and public service," he said. "It is something that I've always enjoyed."