Two-year dialogue 'not just about manners,' aims to cultivate compassion, courtesy
NEW BRUNSWICK, N.J. – In poll after poll, Americans have voiced concern over the deterioration of civility in every corner of life, from angry discourse in the halls of Congress to cell phone use at the local movie theater. Even President Barack Obama has remarked on the need to maintain "a basic level of civility in our public debate."
Bullying, rude behavior, road rage and other daily evidence of incivility are topics ripe for discussion – and action, believes Kathleen Hull, director of the Byrne Family First-Year Seminars at Rutgers, The State University of New Jersey.
This month, Rutgers will launch Project Civility, a two-year initiative to engage the New Brunswick campus in a series of activities and discussions that aim to cultivate an environment of courtesy and compassion through thoughtful communication and interaction.  The project is coordinated by Hull and by Mark Schuster, senior dean of students.
"Project Civility is not just about 'manners'," said Barry Qualls, vice president of Undergraduate Education, whose office is co-sponsoring the project with the Office of the Dean of Students. "It is about the ways we relate as individuals, as social groups, as nations. It is about the ways different people and countries define what constitutes a civil society – a place where we live without fear and with ease of interaction."
For the university community, the project's goals are also local and pragmatic.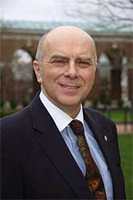 "We expect, through this dialogue, that our community's self understanding will deepen, and that we'll learn new and better ways of living well together," said Hull, who also teaches courses in philosophy.
P.M. Forni, author of Choosing Civility: The Twenty-Five Rules of Considerate Conduct (2002), a professor of Italian, and director of the Civility Initiative at Johns Hopkins University in Baltimore, will inaugurate Project Civility with a public program at 8 p.m. Wednesday, Sept. 29, at the Rutgers Student Center, 126 College Avenue. The program will feature a student-produced documentary short reflecting on current notions of civility at Rutgers.
Forni is internationally known as a "passionate defender of civil conduct as an essential element of a healthy society," according to Hull. He taught briefly in the Italian Department at Rutgers. "He is particularly interested in the presence of civility in higher education and will help the Rutgers community think more deeply about the tenets of civil behavior and why they are important," she said.
The following day, Forni will lead a workshop for residence life professional staff and Residence Hall Association student staff. Participants will be given tools to train their peers and campus residents on how to cultivate respectful and inclusive living environments.
Also on Thursday, Sept. 30, Forni will moderate a panel discussion on the state of civility in public discourse, focusing on civility's role in a democracy, and the challenges posed by uncivil language and behavior in American politics.
The public event will take place at 3 p.m. in the Rutgers Student Center. Panelists will be Ruth Chang, associate professor of philosophy; Douglas Greenberg, executive dean of the School of Arts and Sciences; Ruth Mandel, director of the Eagleton Institute of Politics, and John Pavlik, professor and chair of the Department of Journalism and Media Studies.
Project Civility also will feature an essay contest with three cash prizes totaling $1,500 funded by The New York Times and offices of Undergraduate Education and Dean of Students. Contest details will be announced at the inaugural event on Sept. 29. The Rutgers Daily Targum also is a co-sponsor.
"P.M. Forni's work at John Hopkins inspired our Project Civility, but we are hoping to take it a step further and create a paradigm shift," said Mark Schuster, senior dean of students. "Project Civility challenges everyone to move beyond the self, to think about the needs of others, our carbon footprints, and the environment. We hope the initiative will create more caring communities, with less acting out, and an overall commitment to the ethics of caring for everyone at Rutgers."
Hull, who last year taught a popular elective course on civility to first-year students,believes Rutgers – one of the nation's most diverse institutions – is an ideal societal microcosm for an examination of civility.
"The world is growing smaller and each of us lives elbow to elbow with a wide range of people whose standards for civil behavior may be different from our own," she said. "Old and young, from various cultures and religions and economic backgrounds, we're thrown together at Rutgers. We have much to learn from one another, and 'civility' is a great conversation starter for deeper, mutual understanding."
Other events planned for this fall include:
• Fireside chat/student forum on "What Does Civility Mean to Us?": Livingston Student Center, 7 p.m., Monday, Oct. 4.
• Debate exhibition on civility on campus by the Rutgers University Debate Union, Rutgers Student Center, 8 p.m., Tuesday, Oct. 5. The RUDU will debate whether there is a lack of civility on campus and a generational gap in how civility is perceived.
• Panel discussion: "No Fighting, No Bullying, No Hazing, No Stalking … on our Watch": Livingston Student Center, 8 p.m., Wednesday, Oct. 13. Delia Pitts, assistant vice president for student affairs, will moderate a panel discussion on the challenges of maintaining a safe, civil environment that respects the entire campus community. Panelists will include Rutgers and non-Rutgers administrators, educators and students.
• Fireside chat, "Technology and the Generation Gap: Multi-tasking, Misbehavior and Misunderstanding": Livingston Student Center, 7 p.m., Wednesday, Oct. 19.
• "Uncivil Gadgets? Changing Technologies and Civil Behavior": Alexander Library, 8 p.m., Wednesday, Nov. 3. Jorge Reina Schement, dean of the School of Communication & Information, will moderate a panel discussion examining how new technologies impact our behavior. Panelists will include scholarly experts from a range of fields including communication, psychology and information science.
Spring 2011 events will examine issues of civility in the context of intercultural relationships, gender and environmental awareness. Rutgers Athletic Director Tim Pernetti is scheduled to be the keynote speaker for a program on "Sportsmanship: Civil Athletes and Fans," on Wednesday, March 30. Project Civility will continue into the 2011-2012 academic year with additional programs.
Media Contact: Sandra Lanman
732-932-7084, ext. 621
E-mail: slanman@ur.rutgers.edu