Rutgers Program Trains Students in Federal Advocacy During Pandemic
Rutgers Advocacy Corps gives students opportunity to rally for federal support and earn credit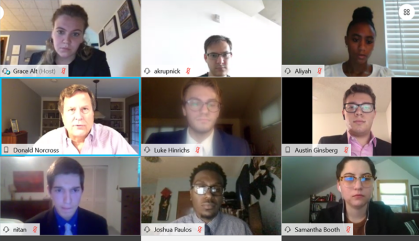 After the COVID-19 shutdowns gutted jobs and opportunities, Rutgers University-Newark political science student Laila Jones says her family was one of many faced with significant financial strain and uncertainty.
The Honors Council and RU-Pride member said that she was able to continue her studies and her community advocacy work in Newark thanks to the aid of a Pell grant, a federal aid program for exceptional undergraduate students who display financial need.
"This Pell grant is serious. It's just my mother paying my tuition, and there was a dire need after her hours were cut due to COVID-19," Jones said. "The Pell grant can make or break whether I stay in school, whether I continue my work on making the lives of people in my community better. Increasing the maximum amount of the grant shouldn't be taken lightly."  
Nearly three-quarters of students at Rutgers receive some form of financial support, including federal support like Pell grants and Federal Work-Study totaling more than $500 million a year. Jones found a way to share her Pell grant experience with decision-makers through the Rutgers Advocacy Corps, a virtual program launched by the Office of Federal Relations to all undergraduate students across the university.
In the past, students traveled to Washington, DC, to advocate for federal support for students in need as part of the office's Rutgers Student Advocacy Day. This year, in light of the pandemic, the advocacy day morphed into a virtual program, providing students with even more training and discussion opportunities with elected leaders and staff from across the state.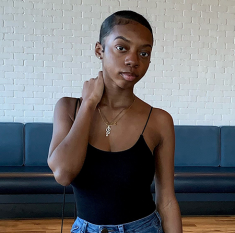 "Though the COVID-19 pandemic upended our plans to bring student leaders to Washington as we usually do, I am so pleased we created an innovative way to have their voices heard on issues of national importance—often beyond what they would be advocating for during our annual in-person trip in the spring," said Francine Newsome Pfeiffer, vice president for federal relations at Rutgers. "Through virtual meetings with members of Congress and their staff, our Advocacy Corps members not only represented thousands of classmates who rely on federal financial aid but also presented a critical student perspective in urging lawmakers to take action on pandemic relief measures, international student protections and immigration."
Students in the program are taught that meetings, phone calls, letters and emails are all meaningful ways to have their voices heard.
Jones, who wants to earn a Ph.D. and become a Newark high school government teacher, said the Rutgers Advocacy Corps helped her gain critical communication skills, which she believes are essential in navigating politics and effecting change – something she wants to pass on to the students she hopes to teach.
"I gave my personal experience on why I need federal support and why people like me are going to need more," said Jones, who got the chance to speak with Rep. Donald Payne Jr. of Newark during a virtual meeting about her successful experience with federal aid. "There are multiple ways in advocacy that are unique to everyone and what fits their strengths."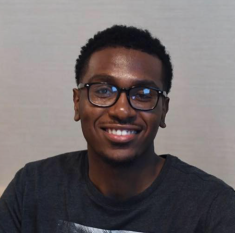 Joshua Paulos, a Pennsauken native, first-generation American and premedical student working toward becoming a physician to help address disparities in underserved communities, joined the Rutgers Advocacy Corps this past summer in order to have the opportunity to urge his representative, Rep. Donald Norcross, to approve more federal financial support for students.
"The opportunity to apply for Federal Work-Study and get a job enabled me to gain skills beneficial to my career," said Paulos, a Rutgers-Camden biology student who graduated in May. "In talking with Rep. Norcross, I was able to let him know, living in a single-parent household, how much federal financial aid helped me in my education. My field of study is competitive, and the coursework is challenging, so federal aid gave me substantial relief with term bills and reduced the stress of financing my undergraduate degree."
Luke Hinrichs, a political science student at Rutgers-New Brunswick who traveled to Washington for Student Advocacy Day in 2019, said advocating for federal support in a time of crisis is perhaps more important than ever before.
"I've had friends with parents who were the wage-earners pass away. Once unemployment claims started to sharply increase, I myself saw my wages cut. I contribute into the family pot, and the bills were quickly piling up," he said. "COVID's financial strain snuck up on a lot of families, but it has been a real amplifier to inequality, and being able to continue to provide this message is incredible."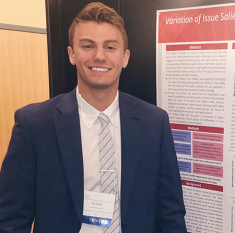 Hinrichs says he believes all students, no matter their major or political leaning, should consider taking part in the Rutgers Advocacy Corps in spring 2021, which is accepting applications through November 20 and offers 1.5 elective credits.
"Accessibility in higher education is a nonpartisan issue – it impacts everyone," he said. "Taking your personal experiences, voicing your opinion, and following through with civic duty holds representatives accountable. They are in their positions to serve your interests, and they need to hear your voice."