Rutgers Professor Joan Bennett Elected to American Academy of Arts and Sciences  
Plant biologist studies the genetics and physiology of thread-like fungi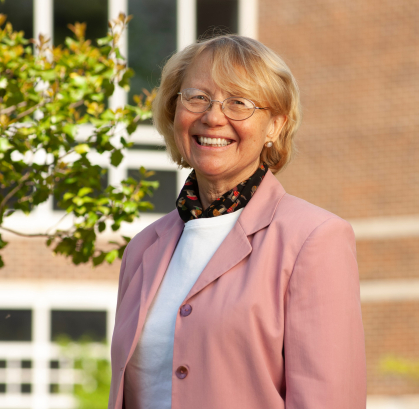 Joan W. Bennett, a Distinguished Professor of Plant Biology and Pathology at Rutgers University–New Brunswick, has been elected to the American Academy of Arts and Sciences. She joins neurosurgeon and CNN medical correspondent Sanjay Gupta, NASA's Goddard Space Flight Center atmospheric scientist Ann Thompson and media entrepreneur and philanthropist Oprah Winfrey.
"Receiving this honor would not have been possible without the support of my mentors, professional peers and, most especially, the many wonderful students who have worked in my laboratory over the years," said Bennett, who works in the Department of Plant Biology in the School of Environmental and Biological Sciences. "Moreover, it gives me particular pride to see that this year, 55 percent of the people elected to the American Academy of Arts and Sciences are women."

Bennett and 251 other new members were recognized for helping to solve the world's most urgent challenges, creating meaning through art and contributing to the common good from every field, discipline and profession. The academy was established in 1780 by John Adams, John Hancock and others who believed the new republic should honor exceptionally accomplished individuals and engage them in advancing the public good. The academy's dual mission remains essentially the same today with members from increasingly diverse fields working together to share ideas and recommendations in the arts, democracy, education, global affairs and science, according to an academy statement.

Bennett joined Rutgers in 2006 after serving on the faculty at Tulane University for more than 30 years. Her laboratory studies the genetics and physiology of filamentous (thread-like) fungi. In addition to mycotoxins (natural toxins produced by some fungi) and other secondary metabolites, her research focuses on the volatile organic compounds emitted by fungi.
These small molecules give molds and mushrooms their characteristic odors. The Bennett lab has found that one fungal volatile organic compound known as "mushroom alcohol" is a neurotoxin in Drosophila melanogaster, the common fruit fly, and retards the growth of Arabidopsis thaliana, a flowering plant. It also inhibits growth of the fungus that causes deadly "white-nose syndrome" in bat populations. In other studies, the lab has demonstrated that volatile organic compounds from living cultures of Trichoderma, a known biocontrol fungus, can enhance plant growth. Bennett has also been involved in studying the genomes of fungi.

Bennett was associate vice president for the Office for the Promotion of Women in Science, Engineering and Mathematics at Rutgers from 2006 to 2014 and continues to serve as senior faculty advisor to the group, which is known as "SciWomen." She is committed to supporting and advancing women in science and served as chair of the National Academies Committee on Women in Science, Engineering and Medicine from 2018 to 2020. She also served as editor-in-chief of Mycologia; vice president of the British Mycological Society and the International Union of Microbiological Societies; and president of the American Society for Microbiology and the Society for Industrial Microbiology and Biotechnology. She was elected to the National Academy of Sciences in 2005.

The new academy members join previously elected members who include Benjamin Franklin (elected in 1781), Alexander Hamilton (1791), Ralph Waldo Emerson (1864), Maria Mitchell (1848), Charles Darwin (1874), Albert Einstein (1924), Robert Frost (1931), Margaret Mead (1948), Milton Friedman (1959), Martin Luther King Jr. (1966), Anthony Fauci (1991), Antonin Scalia (2003), Andrea Ghez (2004), Bryan Stevenson (2014), Nicholas Kristof (2017), John Legend (2017), Viet Thanh Nguyen (2018) and Anna Deavere Smith (2019).