Rutgers Philosophy Professor Analyzes Justice Issues in New Podcast
Derrick Darby brings problem-solving framework to political, economic, cultural issues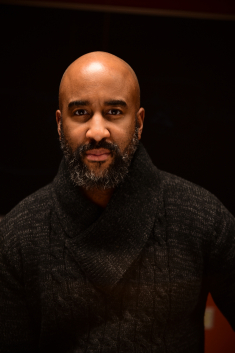 Century-old insights from W.E.B. Du Bois about racism as a capitalist tool. An analysis of Ice Cube's Contract with Black America. Deep dives into a nationwide survey that suggests approximately one-third of Americans are willing to abandon elections and let the president decide "everything."
These topics and more are up for discussion during A Pod Called Quest, launched Oct. 28 by Rutgers University-New Brunswick philosophy professor Derrick Darby and University of Michigan political scientist Christian Davenport. The new podcast seeks to impose logic and data on the struggle for justice in America and globally.
Darby, who co-taught a course on Black political thought with Davenport before joining Rutgers in January, said the podcast reflects their desire to connect with audiences interested in entertaining serious but accessible conversations about politics, wealth and culture, and the long-term stability of our democracy.
"If we don't come to a real diagnosis of what the populace of citizens is thinking and feeling, if we don't come to a real understanding of why people are losing faith in our institutions, our democracy is in trouble," Darby said. "One reason our podcast exists is to engage people in that discussion and help us get to a better place."
Pulling from historic and recent works to launch discussions, the hosts analyze topics through the lens of politics, economic and sociocultural factors across three domains: the diagnosis of a problem, the proposed solution and the method of getting from one to another.
For example, a recent discussion mines Du Bois's book, Darkwater: Voices From Within the Veil, and essay Georgia: Invisible Empire State, to explore the issue of industrialists' use of racism as a tool to turn white laborers against their Black peers to exploit all workers with poor conditions and wages.
Du Bois's work prompted a conversation about whether the American left – and especially the Black left – should downplay its fight against racist rhetoric or symbols to address issues such as pay inequality and access to health care to win over voters who embraced the outgoing president's populist message.
"If we don't look back to lessons from neglected giants like Du Bois and other voices from within the veil, we deny ourselves the wisdom they provide on how we can move forward to just futures," Darby said.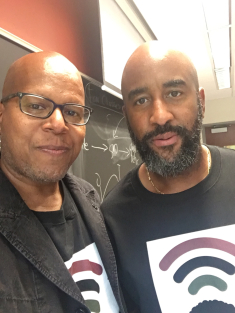 Other recent episodes focused on the presidential election and a survey of political beliefs, conducted by Davenport, Darby, and statistician David Armstrong from Western University in Ontario, Canada, that found that between 20 percent and 42 percent of respondents were open to the idea of abolishing elections, so the president can decide everything – in other words, that they are open to authoritarianism.
"The idea that so many Americans would say this is frightening and alarming, and it's something we will be discussing in future episodes," Darby said. "We will also discuss lessons of the past that suggest we not lose faith in the people to vindicate the promises of American democracy."
Listeners can download episodes of A Pod Called Quest at Podbean, Spotify, and Amazon Music.
On Dec. 2-4, Darby will lead a three-day Darkwater 100 Virtual Conference in which scholars, activists and public intellectuals from Rutgers and beyond will discuss Darkwater, Du Bois's first autobiography and his most political work, on the occasion of its centennial.