As established news organizations shrink, new online entities continue to emerge, but often without in-house legal resources to advise journalists on their risks and rights.  
Thanks to a grant from the Geraldine R. Dodge Foundation, Rutgers Law Professor Ellen P. Goodman has launched the RIIPL News Law Project to help New Jersey and other journalists deal with today's most pressing newsgathering legal questions.  The project trains law students in providing this guidance by establishing an apprenticeship for students at Rutgers Law School's two locations.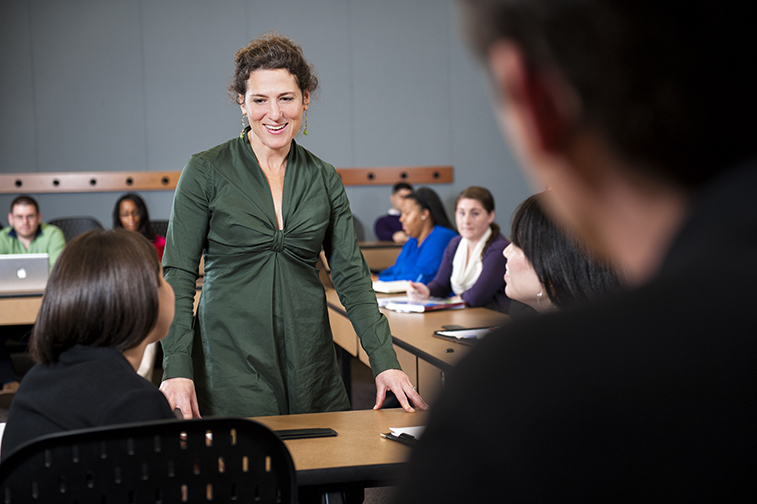 "I'm very excited to be part of the Dodge Foundation's work on sharpening and deepening local journalism in New Jersey.  New initiatives focusing on data journalism and digital platforms are abounding, and we're looking at a real renaissance in reporting," says Goodman, co-director of the Rutgers Institute for Information Policy and Law (RIIPL). "Unfortunately, many of these digital journalists lack access to legal guidance.  They are running into tough and cutting edge questions about privacy, access, user-generated content, etc.  As researchers, we can't provide legal advice, but we can offer general guidance on how the law is evolving in these areas."
Currently the RIIPL News Law Project (newslawproject.rutgers.edu) provides basic information in plain language on topics like New Jersey police and bodycams; authors' responsibilities related to editing website comments; privacy issues when posting videos; and more.  The effort draws on students' research into New Jersey and applicable Third Circuit law and will grow to address other pertinent issues like defamation, social media, and the use of other new technologies like drones.  
According to Ray Alvarez, a second-year Rutgers law student, the project is meant to provide an easy-to-understand explanation of the law.
"We live in a world where almost anyone can report the news from a blog, website, or any other digital medium," says Alvarez, who studies at Rutgers Law School in Camden. "I think this project will go a long way in helping to inform these journalists who might not have access to the same training, education, or resources provided by the more traditional news outlets."
Michael Sheflin, a 2L student based at Rutgers Law's Newark location, got involved in the project to broaden his exposure within various fields of law and levels of its practice. "Looking at state law regarding digital media and privacy sounded attractive and cutting edge," says Sheflin, who recently worked for the Office of Corporation Counsel in Hoboken. "It's interesting to try and predict where courts will go issues with unsettled answers, which in some cases have never even come before the courts," he adds. "I think most journalists are probably unaware of the true scope of their rights to observe, record, and disseminate information.  Knowledge can insulate journalists, in some cases, from unnecessary and unwarranted liability."
The RIIPL News Law Project partners with the NJ News Commons and the Local News Lab with grant funding coming from the Dodge Foundation's journalism sustainability project as well as support from the John S. and James L. Knight Foundation.
Goodman, who specializes in information policy law, served in 2013-14 as a senior visiting fellow at the London School of Economics. Previously, she was a distinguished visiting scholar at the FCC and helped in the production of a pathbreaking report titled "The Information Needs of Communities." A Ford Foundation grantee conducting research on media policy principles for a networked age, Goodman has served as an expert before the National Academies of Science and Technology, the Brookings Institution, and the Aspen Institute.
"At Rutgers Law, we are uniquely positioned to do this for journalists in New Jersey.  We expect to build a model that can be scaled up and applied elsewhere for identifying and answering frequently asked questions.  Hopefully, by training students to research in this area, we will also help to develop the field for the future," says the Rutgers legal scholar.   
The RIIPL News Law Project is seeking feedback from journalists to continue to enhance the scope of the initiative.