Rutgers Middle States Reaccreditation Process Advances
The university community is being asked for feedback to the draft self-study report as Rutgers prepares for spring 2018 reaccreditation visit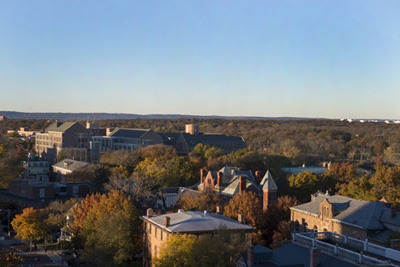 For the past year a team of more than 100 faculty, administrators, students and members of Rutgers' governing boards has been conducting an intensive self-study of the university as part of the Middle States Commission on Higher Education reaccreditation process.
The comprehensive reflection on Rutgers' strengths and challenges touches every aspect of the university – from academic programs, planning and governance to support for the student experience.
Now the rest of the Rutgers community has an opportunity to weigh in. A draft of the self-study report is available for review and public comment as the university makes sure it has crafted an accurate and thorough assessment. The draft self-study report is available for viewing or download with Rutgers NetID and password at middlestates.rutgers.edu/.
Rutgers started preparing in the fall of 2015 for the culmination of the current 10-year reaccreditation cycle with the Middle States Commission on Higher Education, a peer-based membership association dedicated to promoting standards of excellence and improvement in higher education. A university must be accredited to be eligible to receive federal education funding, such as grant money for research and financial aid for students, President Robert Barchi noted during his recent address to the Rutgers University Senate. Rutgers last completed the process in 2008.
A 25-member self-study steering committee was appointed last year led by co-chairs Barbara Lee, the university's senior vice president for academic affairs, and Ann Gould, a faculty member in the School of Environmental and Biological Sciences' Department of Plant Biology and immediate past chair of the Rutgers University Senate. The steering committee is charged with overseeing and organizing the self-study process, including establishing working groups that examine various aspects of the institution and gather evidence to demonstrate that the university fully meets the commission's seven standards. These include:
Assuring the university's mission and goals are clearly aligned
A review of policies and practices that pertain to ethics and integrity
A look at the rigor and coherence of all learning experiences
An analysis of support provided for students from admission through graduation and their pursuits beyond their current studies
A review of educational effectiveness and learning assessment
A look at the alignment of strategic planning efforts, resource distribution, and institutional assessment and improvement
A review of the university's governing structure, leadership and administration.
The self-study report is limited to 100 pages and includes additional information in appendices and links to hundreds of policies, procedures, contracts, websites, reports and other documentation.
The final self-study report will be presented to a team of educators from peer universities in the mid-Atlantic region who will visit Rutgers in March of 2018 to conduct its own assessment. The team chair, Eric Barron, president of Penn State University, made a preliminary site visit to Rutgers in September  to view the work completed thus far and make initial plans for the team visit in March.
 "The accreditation process is a protection for students and the public, ensuring that accredited institutions are educationally sound and financially stable," said steering committee co-chair Gould. "It means that if you attend an accredited institution, you can be certain that the academic work you complete will be recognized as valid by employers, by other institutions of higher education and by licensing agencies.''
The steering committee encourages the Rutgers community to submit comments on the draft report to middlestates2018@rutgers.edu. Such feedback will help ensure that the final self-study report is accurate and complete.  "We fully expect that we will be reaccredited, but this is an important process that we take very seriously,'' said Lee, steering committee co-chair. "Not only does this help us emphasize and appreciate our strengths, it also helps us identify areas where we can do better.'' 
The process will be completed in June 2018, when Rutgers receives the results of the reaccreditation assessment.