Rutgers Hosts Conference on Gun Violence Prevention
Gov. Murphy highlights efforts by New Jersey's Center on Gun Violence Research at Rutgers University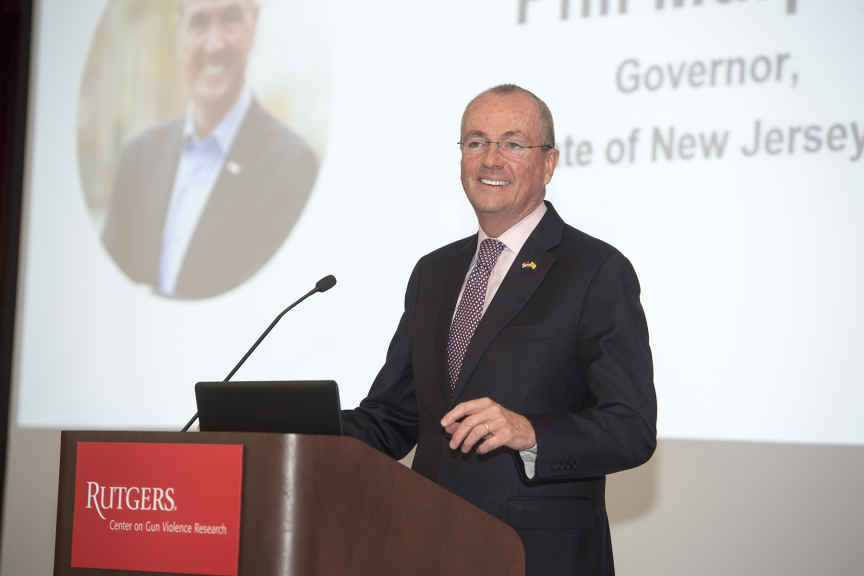 "The fight against gun violence isn't about violence, and in many ways it isn't about guns. It's about reaching for change in public policy."

 

- Gov. Phil Murphy
Gov. Phil Murphy urged the public to view gun violence prevention as a public health issue, not a political issue, and stressed the importance of using data-driven research to address the epidemic during the first public event of the New Jersey Center on Gun Violence Research.
"The fight against gun violence isn't about violence, and in many ways it isn't about guns. It's about reaching for change in public policy," Murphy said, adding that it is cheaper to get a gun permit at $2 than it is to get a license to own a pet. "It's about how we support victims of gun violence through recovery, and how we work together with community groups and law enforcement to create trust to prevent problems before they occur rather than after."
Murphy announced that the new Rutgers center and the Brady Center to Prevent Gun Violence, a nonprofit organization based in Washington, D.C., plan to convene the mayors of five New Jersey cities where gun violence is most prevalent – Jersey City, Newark, Trenton, Paterson and Camden. The goal is to discuss strategies and develop specific plans for reducing gun violence.  The summit will take place in the coming months and will commence a concerted effort by the governor's office to collect data, identify causes and address the factors that lead to a disproportionate share of firearm violence occurring in major cities.  
Tuesday's event was held at the Douglass Student Center at Rutgers–New Brunswick before a crowd of about 300 people including activists wearing red T-shirts from Moms Demand Action for Gun Sense in America and representatives of other advocacy groups.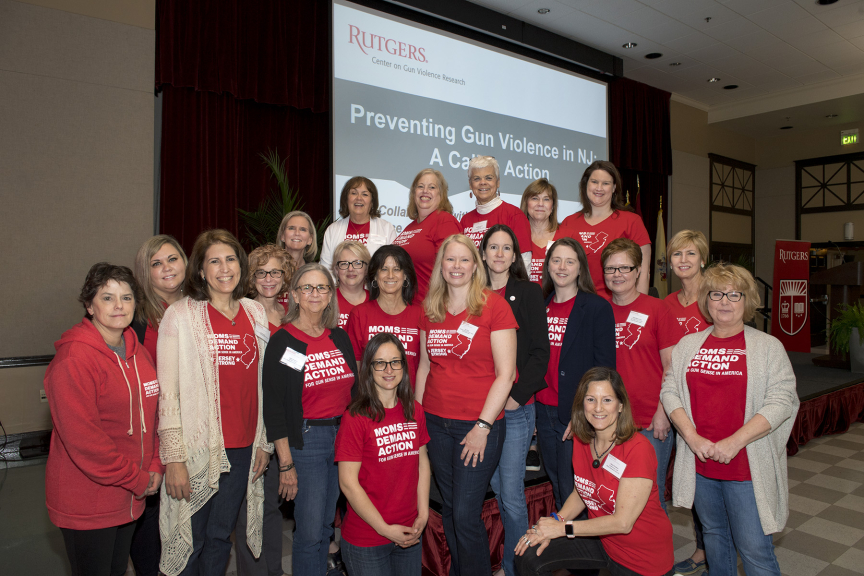 The conference focused on developing interventions based on research and statistics to facilitate policy changes. Brian Strom, chancellor of Rutgers Biomedical and Health Sciences, said because data from the center showed that gun violence had different and disproportionate effects among those living in urban areas, people of color, children and women, it is important to use data to aid discussions and find solutions to this "complex and deeply rooted problem."
Bernadette Hohl, codirector of the Center on Gun Violence Research and assistant professor in the School of Public Health at Rutgers Biomedical and Health Sciences, said the only way to create policy changes that work on gun violence prevention is through the use of data to remain unbiased.
"We built the center because gun violence is the leading cause of death and disability in our country. Gun violence is not a random event," Hohl said. "We need a stream of prevention, including social determinants like structural racism and poverty that drive these issues, and we need to partner with local and state experts, identify factors of gun violence, identify interventions and translate science into policy."
Michael Ostermann, associate professor in the School of Criminal Justice at Rutgers–Newark and codirector of the Center on Gun Violence Research, said that while the Centers for Disease Control and Prevention has issued statistics on the number of firearm deaths, there is vital data missing about the number of people injured, and this is where the center's data is needed.
"More than one million people have died from gunshot wounds over the last three decades. This is more than all the wars in U.S. history. More people are hospitalized for nonfatal injuries and those numbers put the issue in front of people,'' Ostermann said.
The New Jersey Center on Gun Violence at Rutgers is only the second center dedicated to research on gun violence in the nation, which Rutgers President Robert Barchi said is a testament to the research conducted at the university.
"Rutgers' goal is to train citizens for civil democracy, and we have to be part of the solution to then take solutions into the community and create groundswell enough for the governor to get those initiatives passed," Barchi said.
Announced in October 2018, the New Jersey Center on Gun Violence Research focuses the university's expertise in public health, criminal justice and other fields on a nationwide problem. The Rutgers-led center conducts multidisciplinary research on the causes, consequences and solutions to firearm-related violence, including homicides, assaults, suicides and accidental shootings.
The center gathers community-level data on gun violence and other public health factors, conducts research on efforts to reduce gun violence across the nation and the world, considers innovative technologies to improve gun safety and creates policy recommendations for gun violence prevention and public education.
The center is led by the Rutgers School of Public Health within Rutgers Biomedical and Health Sciences and the School of Criminal Justice at Rutgers University–Newark. It draws on expertise from across the university, including Rutgers University–New Brunswick and Rutgers University–Camden, in fields such as psychology, sociology, medicine, law, nursing, social work, public policy, engineering and others.
The center's public health approach to gun violence includes a focus on root causes such as intimate partner violence, interpersonal violence, substance abuse and mental health. The center considers the individual, community-based and societal factors that place some members of the population at greater risk than others. The center focuses on ways to reduce the incidence of all forms of firearm injury and death, while protecting the rights of legal, safe firearm ownership and use.
Firearm violence remains a public health problem throughout the United States with nearly 100,000 firearm-related incidents annually, about one-third of which end in death. New Jersey, which has more comprehensive firearm laws and fewer deaths than other states, has an average of 475 firearm deaths each year and countless more injuries.