Erica Armstrong Dunbar ensured the show brought to life authentic characters of color
HBO's new period drama, The Gilded Age, based on the late 19th-century battle between Manhattan's old-money elite and new-money tycoons showcases the silk dresses, sprawling mansions, high-society soirees and over-the-top opulence enjoyed by the wealthiest New Yorkers.
But Rutgers University-New Brunswick historian and series co-executive producer Erica Armstrong Dunbar made sure the show – which debuted Jan. 24 – also brought to life authentic characters of color who too often have been reduced to stereotypes or entirely overlooked in media portrayals of American history.
"The parallel story in Black America at that time is that there is a Black elite, a Black middle-class community who have managed one, two or three generations removed from slavery to amass status and wealth," said Dunbar, the Charles and Mary Beard Distinguished Professor of History with the School of Arts and Sciences. "The fragility of that status and wealth is palpable, and that narrative has to be referenced in one way or another if we are going to talk about wealth, progression and oppression in New York at that time."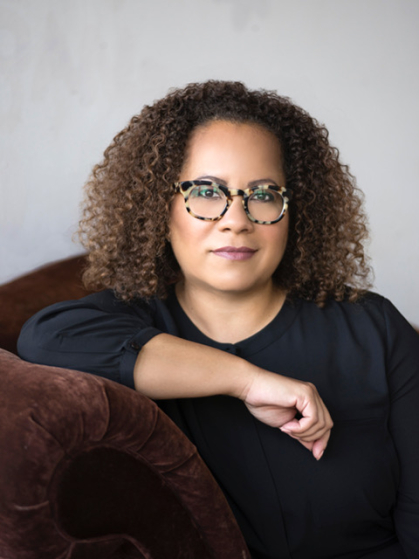 The absence of accurate Black representation on screens big and small until recently, said Dunbar, has everything to do with who is sitting at the table – writers, producers, directors – deciding which stories get told. It's important to have multiple voices behind every production, she said, and more networks and studios are beginning to understand this. Television is about world-making, and this is a place where scholars, such as Dunbar, can collaborate with the industry to help create engaged storytelling, especially for period pieces that cover difficult topics.
"For those of us who teach African American history, this time represents the nadir in race relations – it's the promise and the tragedy of Reconstruction, it's the beginning of legal inclusion and then the removal of it, it's the expansion of racial terror with lynching," she said. "These are the things that often keep historians like myself from referencing that time period as the Gilded Age."
Dunbar, who studies and teaches African American, United States, and women's and gender history, with a specialization in late 18th-century and 19th-century history, is the author of critically lauded books, including Never Caught: The Washingtons' Relentless Pursuit of Their Runaway Slave, Ona Judge (Simon and Schuster, 2017), She Came to Slay: The Life and Times of Harriet Tubman (Simon and Schuster, 2019) and most recently, Reckoning with History: Unfinished Stories of American Freedom (Columbia University Press, 2021). She also serves as Rutgers-New Brunswick's campus director of the Institute for the Study of Global Racial Justice and as the national director of the Association of Black Women Historians.
Initially hired by HBO via the production company as a historical consultant, Dunbar began working on script notes for the series in 2019. Just before the series was set to shoot in March 2020, the COVID-19 pandemic shut down everyday life, requiring Dunbar and her Rutgers peers to pivot to fully remote instruction. Thanks to her previous experience teaching online at the University of Delaware, Dunbar said she felt confident in her ability to simultaneously teach, coauthor her latest work and devote her expertise to The Gilded Age.
The series is not Dunbar's first foray into television and film and likely won't be her last. In 2018, she, along with several historians, launched History Studio, a company that partners history consultants with projects in film, television and publishing that require historical authenticity. Once filming for The Gilded Age resumed in September 2020, Dunbar's role expanded to co-executive producer. She traveled to the show's sets in New York City, Newport, R.I., and Troy, N.Y., working with the cast and crew, including Audra McDonald, Denée Benton, John Douglas Thompson and Sullivan Jones. Her work ensured the composite and real-life characters they portray, such as Black journalist T. Thomas Fortune, ring true on screen. The experience, which Dunbar considers a manifestation of her public-facing scholarly work, was a gratifying one.
"I'd say the most important moments for me were seeing the interior spaces of Black life represented on this show. What it meant for a daughter and her mother to sit around the lunch table. What were the conversations these people were having about life, about love, about death, about progress, about oppression?" said Dunbar.  "There are glimpses of these spaces that mean so much to me as a person who worked on the show but also as a historian who has dedicated my life to exactly this kind of representation."
Though set in the 1880s, Dunbar predicts viewers will easily draw parallels to today of the wealth inequality and social justice themes explored in The Gilded Age.
"Don't forget, gilded isn't gold; it's gold-covered, superficial. It references that there were very few Americans at that time who could have the mansions and carriages and wealth, and that inequity is something we are all wrestling with right now," she said. "Prejudice and segregation, these are issues we still talk about today. The place of women in the public sphere and work, these are issues we are still talking about today. These themes will be familiar and will resonate."