Rutgers Highlights the Multifaceted Perspectives of Paul Robeson in Art Exhibit
Zimmerli Art Museum exhibit commemorates centennial celebration of Robeson's Rutgers College graduation
Scholar, athlete, actor, singer and global activist. These are the faces of Paul Robeson, whose graduation from Rutgers College in 1919 is the subject of a yearlong centennial celebration by Rutgers University-New Brunswick.
The Zimmerli Art Museum will feature six portraits of Robeson highlighting the different facets of his identity. The exhibit was commissioned as part of a joint project between the university's Robeson Centennial Celebration Committee, Rutgers-New Brunswick and the museum. The portraits will be on display from Feb. 9 through April 14.
Here are the paintings that celebrate Robeson and the artists behind them.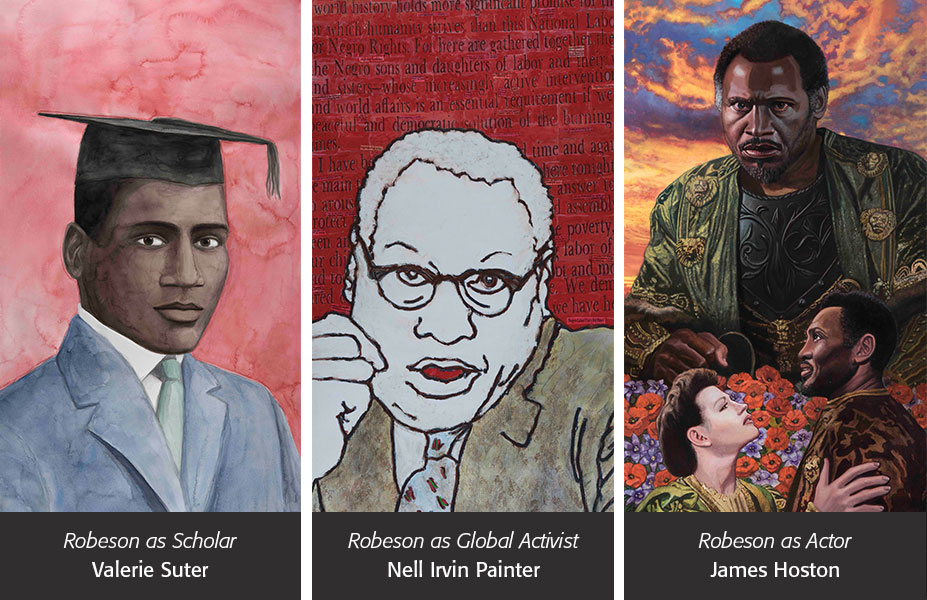 ---
Robeson as Scholar, by Valerie Suter
Valerie Suter is an MFA student and part-time lecturer at the Mason Gross School of the Arts, and the second Mason Gross student to be awarded an Eagleton Graduate Fellowship to study politics and government at the university's Eagleton Institute of Politics. Her work crosses the intersection of visual art and other forms of expression with sociopolitical history, government and law.
"I am fascinated by Robeson's ability to be professional in so many different capacities. So few people have that ability," said Suter, who said her painting helped visualize Robeson's deep connection to Rutgers.
Robeson as Global Activist, by Nell Irvin Painter
Nell Irvin Painter, an artist, emerita professor of American history at Princeton University and a Mason Gross alumna, is the author of several books including The History of White People, Sojourner Truth: A Life, A Symbol, and Creating Black Americans. She lives and works in Newark.
She said her depiction of Robeson as a global activist mirrors aspects of her own life.
"I've admired Robeson's dedication to black and working people around the world. The project let me visualize Robeson as an activist, the dimension of him I treasured the most, through my own way of working manually and digitally, with drawing and text. I thoroughly enjoyed the challenge of making the work and combining the strength of Robeson's image with the passion of his words," said Painter.
Robeson as Actor, by James Hoston
James Hoston is an adjunct professor at the Fashion Institute of Technology and formerly a visiting assistant professor at the New York Academy of Art and the Pratt Institute in Brooklyn, New York.
His works have been exhibited at major galleries around the country and he has collaborated with artist Jeff Koons and was an artist at Marvel Comics.
"Robeson has been a huge hero of mine ever since I found out about him back in high school. His life and career are so poignant to the African-American community and American history that every child should read his autobiography," Hoston said. "Robeson was an enigma to the American public, a polyglot of the world, a didactic leader to his followers and he made many personal sacrifices for our country and culture.''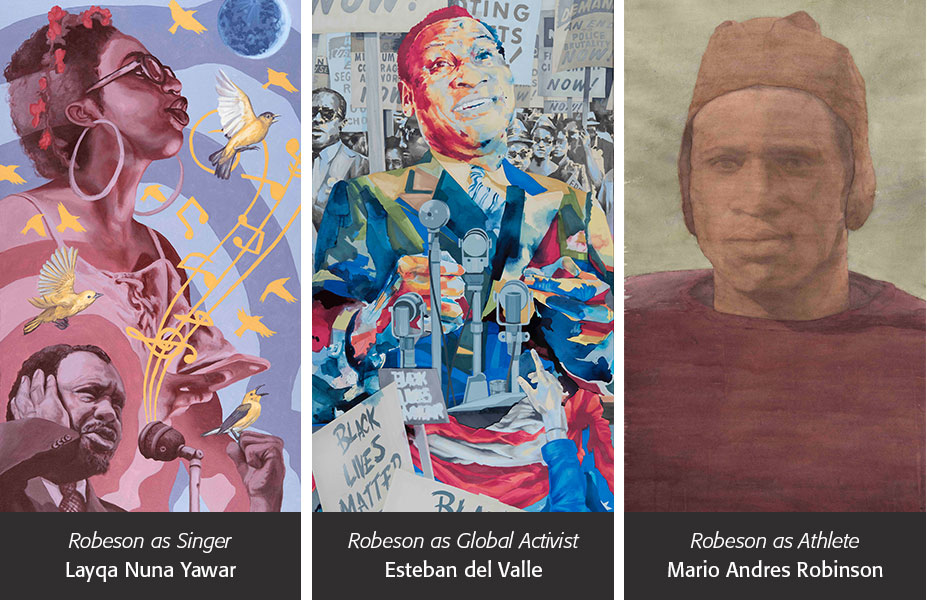 ---
Robeson as Singer, by Layqa Nuna Yawar
Layqa Nuna Yawar is a migrant artist, muralist and educator born in Ecuador and a graduate of Rutgers' visual arts program.  His large‐scale murals, paintings and projects question injustice, racism and xenophobia, while celebrating cross‐cultural identity and migration to amplify the silenced narratives of people of color around the world.
"Paul Robeson's legacy is alive in the U.S.A. inside of every person of color who attends school and aims to exceed any limitations placed upon them. It is the same iron will that pushed Robeson to pursue sports, acting and the arts that I see in the eyes of today's students across Rutgers campuses the same students who celebrate their otherness and create radical art, poetry and music in order to represent themselves with pride and love," Yawar said.
Robeson as Global Activist, by Esteban del Valle
Esteban del Valle is an artist from Chicago. His work explores the role of the artist as a public figure, and the effects of class and privilege on institutions in the form of paintings, murals, sculpture and video art.
Del Valle is a second‐year Visual Artist Fellow at the Fine Arts Work Center in Provincetown, Mass., whose work has been exhibited internationally.
"I found myself not only inspired by the range of Robeson's creative and academic talents and achievements, but I was also moved by the generosity of his spirit. In everything he did, he exuded a presence larger than life. I believe his radiant energy was a direct result of the love he felt for his communities. His unwavering integrity and faith in his efforts is something that I think all artists, and people in general, should value and practice."                                                          
Robeson as Athlete, by Mario Andres Robinson
Mario Andres Robinson studied at the Pratt Institute in Brooklyn, N.Y., and in 2014 was chosen to be a brand ambassador for Winsor and Newton art materials. He is the author of Lessons in Realistic Watercolor.
His work has been featured in various art publications and on the cover of American Artist magazine.
"Paul Robeson's life is a shining example of the power of perseverance in the face of systemic oppression. His ability to overcome obstacles in mainstream culture inspires me to continue to strive for greatness," Robinson said.
In 2019, Rutgers marks the centennial anniversary of Paul Robeson's graduation from Rutgers College in 1919. In recognition, our community honors his achievements as a scholar, athlete, actor, singer and global activist in a yearlong celebration featuring lectures, performances, art exhibitions and more. Learn more about the celebration by visiting robeson100.rutgers.edu or by following #Robeson100 on social media.
---
For media inquiries email Cynthia Medina at c.medina@rutgers.edu.