The university's flagship event, on Saturday, April 29, boasts a slew of activities. Here are itineraries for students, alumni, parents and families with children.  
UPDATE:  Rutgers Day programming has been moved to indoor locations due to the forecasted rain and wind on Saturday. Programs are still running on Busch, College Avenue, and Cook/Douglass campuses. Get the latest information at https://newbrunswick.rutgers.edu/rutgers-day
____________________________________
The days are getting longer and spring has sprung, which means Rutgers Day is fast approaching. 
The premier spring event at Rutgers University–New Brunswick is set for 10 a.m. to 4 p.m. Saturday, April 29, on Busch campus in Piscataway and the College Avenue and Cook/Douglass campuses in New Brunswick. More than 500 events and activities are planned across all locations.  
Whether it's your first time or you're a Rutgers Day veteran who has been coming for years, with so much going on you might need some planning to make the most of the day.  
Here are some recommendations for alums, families bringing young children or people interested in visiting Rutgers for the first time. (Look at the full list: you may want to mix and match our suggested itineraries.) 
Alumni 
Rutgers Day is the perfect opportunity to reconnect and reminisce with your classmates and fellow graduates. 
First stop: Alumni Central (College Avenue) – Meet up with others in the Rutgers Alumni House in Van Nest Hall. Learn more about the Office of Alumni Engagement, the Rutgers University Foundation and the alumni house. 
Paul Robeson's 125th Birthday (College Avenue) – Celebrate the 125th birthday of Paul Robeson, one of Rutgers' most notable alumni, near Paul Robeson Plaza. The party, sponsored by the Rutgers African-American Alumni Alliance (RAAA) Inc., will feature Scarlet R cookies (provided by the Rutgers Alumni Association) and performances – including dance, song and poetry – as well as Robeson-themed quizzes.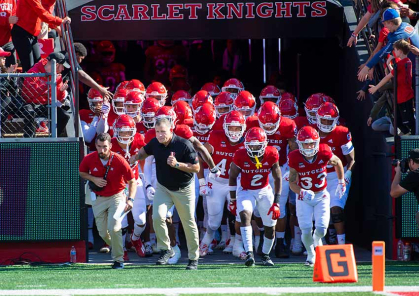 Don't Miss the Spring Football Game (Busch) – Rutgers Day 2023 will include the annual Scarlet-White Game, a preseason scrimmage between members of the Rutgers football team. The action kicks off at 3 p.m. at SHI Stadium, 1 Scarlet Knight Way, Piscataway. Fans are encouraged to arrive early to take part in pregame festivities beginning at 2 p.m. and featuring some favorite elements of The Rutgers Boardwalk, including rides, games, giveaways and an NFL Knights autograph session. Parking and admission are free. 
For the Afternoon: Ag Field Day (Cook/Douglass) – Presented by the Rutgers School of Environmental and Biological Sciences, this is an opportunity for members of the Rutgers community to learn more about and participate in the university's environmental and agriculture-related programs. Ag Field Day features: 
Student exhibitions of dairy cattle, goats, horses, pigs and sheep
Arts and crafts
Plant and flower sales
Student club activities 
High-Speed Horses (Cook/Douglass) – Watch a horse gallop on a high-speed treadmill during demonstrations at 1 p.m. and 2 p.m. at the Equine Science Center. The Rutgers Equestrian Team also will feature horseshoe decorating and face painting. 
Community 
Rutgers Day isn't just for students and their parents: It offers something for everyone in the community, including live performances, exhibits, plenty of children's activities and demonstrations. (Plus, it's all free.)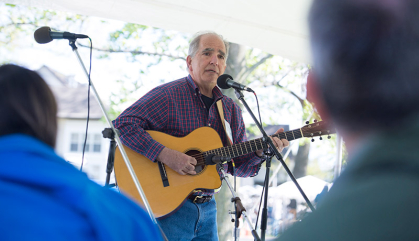 Enjoy the New Jersey Folk Festival (Cook/Douglass) – Here's a Rutgers Day staple presented by the Department of American Studies at the Rutgers School of Arts and Sciences that draws more than 10,000 people. This celebration of the arts and traditions of the cultures throughout the state, held on the great lawn of the Eagleton Institute of Politics at 131 George St., New Brunswick, runs from 10 a.m. to 5 p.m. and features food and craft vendors. This year's theme is "New Directions in Folk." 
Get Involved at the Eagleton Institute of Politics (Cook/Douglass) – Enjoy "Teach a Girl to Lead" story time, register to vote and reimagine New Jersey's legislative and congressional districts. 
Health Village (Busch) – Returning after its 2022 debut is the Health Village – a space focused on Rutgers Biomedical and Health Sciences programs and other health-related initiatives. In addition to free blood pressure and other health screenings, attendees can learn more about the university's health and wellness resources, plus:  
See a surgical robot in action 
Put together a brain model 
Get emergency preparedness tips 
Experience what it's like to use a prosthetic arm 
A popular attraction and prime photo opportunity is a giant, inflatable colon that people may walk through. ("The chancellors even love it," said one organizer.) 
Free Movie: The Invisible Extinction (Busch) – Learn about the critical functions that bacteria carry out in our body during this free viewing of the documentary The Invisible Extinction, presented by the Rutgers Center for Advanced Biotechnology and Medicine. Visit the New Jersey Kids Study table to get your free movie ticket for 12 p.m. and 2 p.m. viewings at the Busch Student Center. 
Engineering Science Fair (Busch) – The School of Engineering and related organizations will host an array of programs, demonstrations and cool experiments, including: 
What's it like to be a civil engineer? Learn about engineering clean water and check out a pervious concrete demo. Also on display: A robot dog. 
Members of the Department of Industrial and Systems Engineering will host demos involving robots, an artificial intelligence-driven smart factory and a 3D printer. 
Representatives from the Department of Materials Science and Engineering will demonstrate how novel design piezoelectric composites are used to harvest otherwise-unutilized energy from sources, such as the weight of vehicles passing over roadways. 
Think packaging is all about boxes? Think a bit outside the box with help from experts from the university's packaging engineering program. 
Fun With the Business School Groups (Busch) – Programs include playing Plinko with members of the Rutgers Business Governing Association, playing a round of mini golf with Future Business Leaders of America and making a bracelet with members of the Business Association of Supply Expertise. 
Families With Children
Rutgers Day is all about family fun and features hands-on, engaging activities for children and parents alike.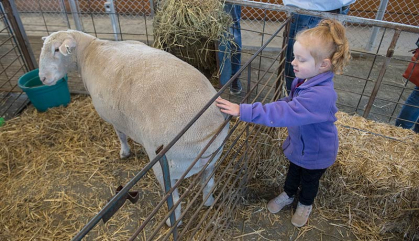 Petting Zoo (Cook/Douglass) – Piglets, lambs and kids, plus a goat and a sheep, will be on hand for visitors young and old to meet in the Round House at the Cook campus farm, 65 Sheepfold Lane, New Brunswick. Presented by the Veterinary Science Club. 
4-H Camp (Cook/Douglass) – Learn about Rutgers University's overnight summer camp – a classic, rustic, tech-free, sleep-away experience in Stokes State Forest near Sandyston Township – and, new for summer 2023, the 4-H Camp at Rutgers Gardens at 130 Log Cabin Road, New Brunswick. The day camp is a mix of hands-on outdoor education and carefree games. 
Insects (Cook/Douglass) – Bugs will be the big attraction here as the Rutgers Entomology Department presents live insects, insect racing, insect art, insect informational sessions and general insect fun. 
Seeing Eye Dog Show (Cook/Douglass) – Meet puppies in training to become guide dogs and watch them demonstrate their skills in the ring. Presented by The Seeing Eye Puppy Raising Club, which raises puppies for The Seeing Eye Inc., a Morristown-based national nonprofit group. 
Faraday Physics Lecture (Busch) – This lecture is a humor-charged physics demonstration and talk for children of all ages. The lecture – held in the Physics Lecture Hall at 120 Frelinghuysen Road, Piscataway – is named after Michael Faraday, a British scientist and inventor who discovered electromagnetic induction and developed the first electric dynamo, a device that converts rotational mechanical energy into electrical energy. 
Build a Piggy Scientist (Busch) – Create your own version of the Cognition and Learning Center's lab mascot: a cartoon pig equipped with scientific and mathematic accessories such as a ruler, protractor and magnifying glass. 
Marathon Reading (College Avenue) – Staff, students and Rutgers Day visitors are welcome to take the stage on Voorhees Mall to read passages from "The Adventures of Pinocchio." Presented by the Department of English and the Writer's House, an undergraduate learning community. 
Rutgers Day at the Zimmerli Art Museum (College Avenue) – Children and families are welcome at the Jane Voorhees Zimmerli Art Museum, 71 Hamilton St., New Brunswick, for art activities and guided tours. 
Prospective Students and Their Parents 
Thinking about going to school here? Rutgers Day is a fantastic way for prospective students and their families to experience what the university has to offer. 
Visit the R Garden (College Avenue) – Here's a Rutgers Day staple (and a fun photo opportunity). Walk through the "R" garden, an art installation made of 3-D Rutgers "R" sculptures and decorate your own paper "R." 
University Departments Fill Voorhees Mall (College Avenue) – Professors, staff and students from various school departments at Rutgers-New Brunswick are on hand at Voorhees Mall to highlight their programs and offer some Rutgers Day fun, including The Mind and Body Shop: Philosopher's Puzzle Extravaganza at Plato's Cave and Philosophy Puppet Time, presented by the Department of Philosophy.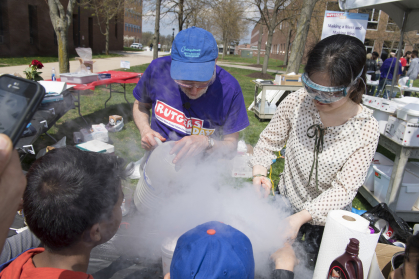 DICE Pre-College Outreach and Upward Bound Math-Science Programs (College Avenue) – Learn how the Pre-College Outreach and Upward Math-Science programs provide supportive and educational resources to assist college-bound middle school and high school students in navigating the admissions process. Presented by the Division of Diversity, Inclusion and Community Engagement. 
Rutgers Band Program: Parade Performance and Table (College Avenue) – Members of the Marching Scarlet Knights will strut their stuff at the Rutgers Day parade (starting at Seminary Place at the College Avenue campus). The marching band also will host a table featuring drums for visitors to play. 
World's Largest Egg Toss (Cook/Douglass) – Join this annual Rutgers Day tradition: An egg toss hosted by Rutgers Recreation. This event, which starts at 3 p.m. and is open to all ages, is held near Passion Puddle.
Douglass College Information Session and Student-Led Walking Tour (Cook/Douglass) – Discover the empowering, close-knit community within Rutgers that enhances the college experience for all majors by adding a feminist lens to your education. Plus, there will be giveaways. Presented by the Douglass Residential College and the Office of Enrollment. 
Drone Demos (Busch) – Interact with robots, take in live demonstrations of drones, try your hand at a flight simulator and participate in activities and games with Rutgers Formula Racing. Presented by the School of Engineering.
Liquid Nitrogen Ice Cream (Busch) – Take a moment to "chill out," watch chemists and engineers employ science to make ice cream and enjoy a sweet treat. Presented by Department of Materials Science and Engineering and the Rutgers Chemistry Society, a student organization. 
CSI: Rutgers (Busch) – Channel your favorite crime-scene investigator using new-fangled forensics and old-fashioned police work. Presented by the Program in Criminal Justice. 
Students 
Rutgers Day is a time for students of this New Jersey institution to shine brightly – and have some fun, too. 
Global Pavilion (College Avenue) – Learn about opportunities to study abroad – in countries such as Argentina, Australia, China, Italy, South Africa, Spain and Thailand – at this large tent on Voorhees Mall. Presented by Rutgers Global, a unit of the university committed to developing and promoting international and global initiatives. Learn about international internships, global research opportunities and online global courses.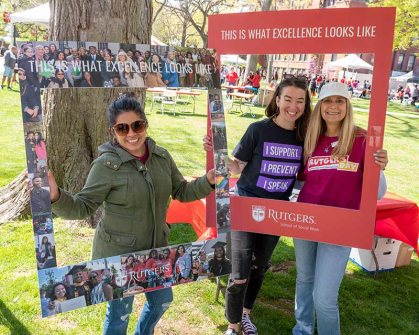 Human-Size Bubbles (College Avenue) – Make a human-size bubble and learn about programs for LGBTQA+ (lesbian, gay, bisexual, transgender, queer, asexual and other identities) students. Presented by the Center for Social Justice Education and LGBT Communities. 
Drunk Goggles (Cook/Douglass) – Know your limits: Drive a golf cart while wearing "drunk goggles" to see how your perception changes under the influence of alcohol and learn about the potential consequences. Presented by the Center for Communication and Health Issues, Rutgers University Police Department and the Center for Alcohol and Substance Use Studies. 
Fire Sprinkler Demonstration (Cook/Douglass) – This safety demonstration features a two "dorm room" trailer: One room will have fire sprinkler protection; the other will not. At 2 p.m., see how fire sprinklers contain a real fire and how a fire can burn out of control. Presented by Rutgers Emergency Services, the New Jersey Fire Sprinkler Advisory Board and members of the Local 696 fire sprinkler fitter union. 
Strawberry DNA Extraction (Busch) – Collect DNA samples from strawberries and learn about the graduate school program in the biomedical sciences. Presented by the Molecular Biosciences Graduate Student Organization. 
Racing and Bowling With Mini Robots (Busch) – Try your hand at tinkering, coding, racing and bowling with robots. Presented by the Center for Mathematics, Science and Computer Education.