Rutgers Celebrates Outstanding Work of Student Employees
Four student employees win awards, Rutgers Student Life recognized as employer of the year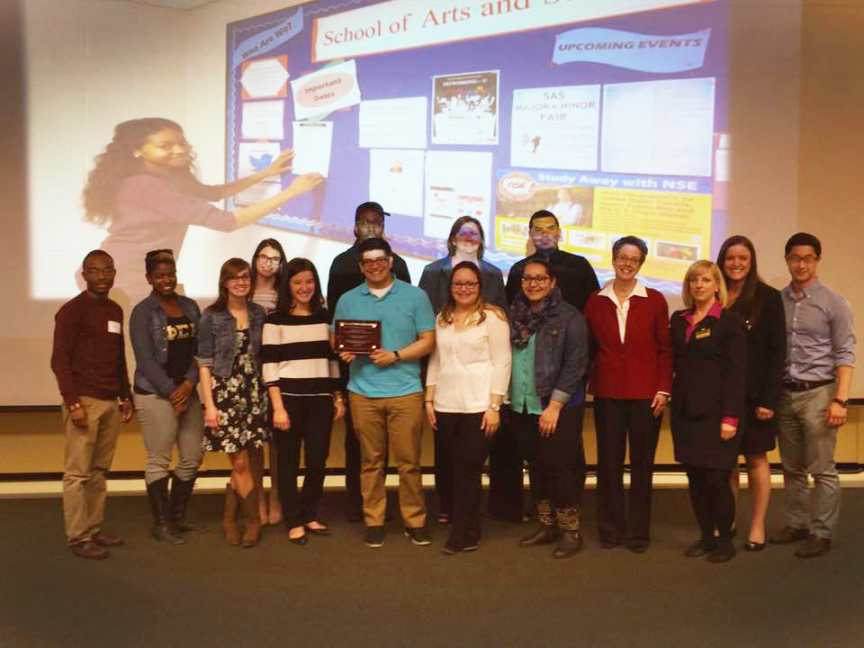 With 12,500 student employees working in several hundreds of university departments, it is only fitting that Rutgers go big when honoring student workers for National Student Employment Week.
This year the Student Employment Office celebrated the outstanding work ethic of its most successful young employees at its annual Student Employee of the Year Award Celebration Luncheon.
Undergraduate Student Employee of the Year: Kwame Phillips, a Student Life student employee, received the 2015 Student Employee of the Year Award for spearheading the design of Seeking Success, a program that encourages undergraduates to develop leadership skills. He also organized the Peer Leadership Mentor Program, which connects upperclassmen with first-year students, as well as Men's Forum, a program in which men can talk openly about such issues as academics, personal relationships and sexuality.
Graduate Student Employee of the Year: Alexis White, who served as a graduate assistant for the Department of Spanish and Portuguese Studies, was recognized for her intellectual curiosity and professionalism. The former undergraduate Spanish major plunged further into her studies as an aid to the coordinator of interpretive training for the 2014-2015 year. She is known by the department as someone who always completes her tasks with a smile on her face.
Special Recognition Award: Undergraduate student, Sabrina Del Piano, was honored for her exceptional organizational skills. The English Department's Writing Program, the Plangere Writing Center and Writer's House have all benefitted from Del Piano's work.  As an assistant for the Writing Program, she coordinated 250 faculty members to teach 13,000 students in 600 sections. She also developed a system to train student employees on how to schedule course sections for part-time lecturers. In addition, she managed more than 500 high school students who attended the Rutgers Future Scholars Summer Program 2014.
The Nadia Schuman Above and Beyond Award: Undergraduate student, Brian Snyder, was selected by the Student Employment Office in the Office of Financial Aid as a student employee who has shown incomparable commitment to the workplace beyond delegated responsibilities. Snyder is a graduate of the Mountainview Program, a Rutgers initiative that provides the opportunities for criminal offenders to pursue a four-year degree at a university after release. As Senior Student Manager, Brian has written and presented ten FWSP 101 Information Sessions every fall, and ten JLDP 101 Information Sessions every year, presented six, Basic Office Skills Seminars, which provide students with job skills. He did so for New Brunswick, Newark and Camden. Every summer, Brian provides approximately 8,000 students and parents with pertinent information on student employment, and more recently, he has played an enormous role in the in the New Brunswick - Student Employment Office development of more than 500 new part-time jobs for Newark and Camden students.
Supervisor of the Year Award: Michael Gradin, known as "Maka," received an impressive record of eight student nominations for the award. Gradin is the supervisor of the Sakai Help Desk, and also works as a unit computing specialist in the Office of Instructional and Research Technology. According to the eight student nomination letters, Gradin placed students in appropriate positions correlating with their skills and majors. This enabled them to gain valuable experience for their future careers.
Employer of the Year Award: Student Life, which employs more than 400 student employees, with 250 of those students being Federal Work Study Program students. They have an enviable training module for student workers, called the PRIDE Principals, which consists of a solid set of core values, and they host an annual comprehensive training retreat for their student employees. Student Life student employees managed the hosting of sixteen thousand booked events, and served an astounding seven million people.
This year's Student Employee of the Year nominations came from employers such as, the Eric B. Chandler Health Center for the New Brunswick Community Interpreter Project, RBHS Human Resources in Newark, Housing and Residence Life in Camden, the Institute of Jazz Studies in the Dana Library in Newark, the Rutgers 250th Anniversary Office, Intercollegiate Athletics, SEBS Educational Opportunity Fund Program, the Department of Spanish and Portuguese Studies, Trio Programs:  Student Support Services, the Asian American Cultural Center, Residence Life, the Animal Care Program, the Office of Student Conduct, the NJAES Soil Testing Laboratory for Plant Biology, the Rutgers English Department and Writing Program, and University Career Services.
"I think what strikes people most is how integral student employee labor is to the success of the university community, as well as to the greater-New Brunswick, Newark and Camden communities," said Cynthia Meekins, manager for student employment, "it's impressive and inspiring how much student work is a catalyst to the continuous advancement of Rutgers University."