Former U.S. Poet Laureate Natasha Trethewey addressed graduates during a virtual ceremony shaped by the pandemic
Two-time Poet Laureate Natasha Trethewey told the Rutgers Class of 2021 graduating during a global pandemic and racial unrest that has gripped the nation over the past year that they can use the convergence of these two difficult moments in our history to build a more hopeful future.
"With you, the graduating class of 2021 who have been through so much, we have an opportunity to change the path from one of convenient forgetting and willed amnesia – which is a kind of indifference – to one of reckoning and remembrance in order to contend with our past and shape our future," Trethewey, an award-winning author, told the 13,329 graduates of Rutgers University-New Brunswick and Rutgers Biomedical and Health Sciences (RBHS) in a recorded message.
During the 255th anniversary ceremony viewed Sunday on the university's commencement website, Facebook and YouTube channel, Trethewey said that whatever their calling or vocation, graduates can chart a path that resists past mistakes of forgetting in favor of empathy and connection, while serving justice and the common good.
"It requires a willingness to contend with the truth, with facts, with evidence even if it is difficult and undermines the comfortable stories we've told ourselves about how we've gotten here," said Trethewey, the daughter of a biracial couple who married in 1965, two years before the U.S. Supreme Court ruled that laws against interracial marriage were unconstitutional. "We can't have a history if we only want to recount our best moments, and we certainly can't have a hopeful future without remembering and reckoning with our difficult past."
The university's second virtual ceremony kicked off Sunday with greetings from students from across New Jersey and around the world who shared their proudest moments and thanked friends, family and mentors for their support. The new graduates also shared stories of the challenges they overcame working toward their degrees and how they adapted since the pandemic shifted most of Rutgers to remote learning in the Road to Graduation segment.
President Jonathan Holloway, speaking at his first commencement as Rutgers University's president, told graduates that although the last 15 months have been defined by a litany of challenges, disappointments, frustrations and tragedy, through hard work, focus and determination, they are now at the "cusp of becoming."
"This may sound like an incomplete thought: The cusp of becoming what?" Holloway asked. "This is a question for you to answer; and it is my hope that during your time at Rutgers you have developed the tools and sense of self that will propel you toward the first of what will likely be many different answers to that question in the years ahead."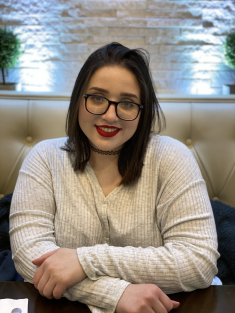 Alyse Greenough, who graduated with a degree in criminal justice from the School of Arts and Sciences and plans to go to law school, said missing out on an in-person graduation complete with regalia was not the worst thing that has happened since most classes at Rutgers shifted to remote learning more than a year ago.
"It is almost surreal graduating with everything that is going on in the world. The most devastating part for me was not missing out on that in-person graduation with a cap and gown, it was missing out on my last years at Rutgers University," said Greenough, who planned to watch the virtual ceremony with her vaccinated family at home in Wood-Ridge in Bergen County. "I wish I had known that the last day when I went to grab lunch at the dining hall with friends would be my last day at Rutgers."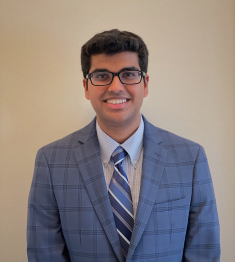 Atul Bhattiprolu, president of the Asian student council who graduated with a degree in cell biology and neuroscience from the School of Arts and Sciences and plans to go to medical school, said he doesn't think anyone expected to be attending classes online for three semesters.
"It has certainly been a strange and surreal experience this past year," said Bhattiprolu, who lives in Sayreville in Middlesex County and planned to watch the ceremony with his parents and younger sister. "But finishing my degree means that I can pursue my career goals and begin the process of becoming a real adult, both of which I have been looking forward to for a really long time."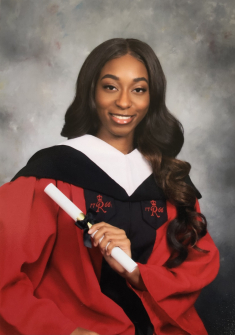 Chinelo Ossai, who graduated with a degree in biological sciences from the School of Arts and Sciences and plans to go to medical school and become a cardiologist, said she wasn't sure when she started at Rutgers whether she would continue on this path.
"There were plenty of times when I thought I should change my major because of the course load but my degree is a testament to my hard work and dedication," said Ossai, who lives in Union and planned to watch the ceremony with her parents, grandparents and four siblings. "Although I hoped for a different celebration, I think being able to celebrate with the people who have supported me for the past four years makes it all worth it."
Before Trethewey addressed students, Holloway bestowed upon her an honorary doctor of letters degree. Three others also received honorary degrees, including scientist and politician Rush D. Holt Jr., who received an honorary doctor of laws degree; Pulitzer Prize-winning journalist Laurie Garrett, who received an honorary doctor of science degree; and comics writer, essayist and journalist G. Willow Wilson, who received an honorary doctor of letters degree during the ceremony.
In total, an estimated 19,543 graduates received degrees, certificates and diplomas from Rutgers-New Brunswick, RBHS, Rutgers-Newark and Rutgers-Camden, including approximately 12,825 baccalaureate degrees, 4,742 master's degrees and 1,861 doctorates. Rutgers-Newark also held a virtual ceremony Sunday. Rutgers-Camden is celebrating virtual commencement and convocations ceremonies from May 19 through June 4. The university will hold in-person celebrations for the Classes of 2020 and 2021 during the fall 2021 semester.
Trethewey, whose mother was murdered by her stepfather when she was in her first year of college, reiterated Holloway's message, saying personal adversity or a traumatic experience like the pandemic often can change the course of a person's life.
She said images of hate and suffering, devastation and destruction, in a year of "shared national and international mourning," remind us of the links we have to each other: morality, justice, shelter, companionship, sustenance, sanctuary and air to breathe.
Still, she said: "As challenging as much of what I have said sounds, the uncertain future ahead of us, in this moment we have so much cause for celebration. In spite of this most difficult year, you are here. Along with the knowledge you've acquired through your academic studies, you've triumphed over great odds and gathered a great deal of existential knowledge along the way."
Holloway encouraged students to thank the family members who supported them "with unabashed enthusiasm", letting "your accomplishment be theirs as well." He also asked them to acknowledge the contributions of their Rutgers network – from roommates and classmates, to faculty, academic advisers, counselors, coaches, librarians, dining hall workers, custodians and shuttle drivers who aided them along the way to make this moment possible.
Holloway conferred degrees on Sunday after Rutgers-New Brunswick Chancellor Christopher Molloy and Rutgers Biomedical and Health Sciences Chancellor Brian L. Strom virtually presented the Class of 2021.
"As you continue on your journey to become a teacher, a consultant, a financier, a poet, a scientist, a musician, a pharmacist, an artist, a nurse, a dancer, a professor, a dietician, a philanthropist, an attorney, a doctor, an agitator or a Tik Tok influencer, remember the people who brought you to this cusp, reflect upon the obligations that accompany this great accomplishment, and dare to dream of ways to make your home, your neighborhood, your university, your state, your nation, and your world a better place,'' Holloway said. "You have the skills and intellect to do this – and don't you dare let anyone tell you otherwise.''