Rutgers and the City of New Brunswick Partner to Improve Safety
Rutgers will provide dispatch services to the city while both team up to install cameras in the city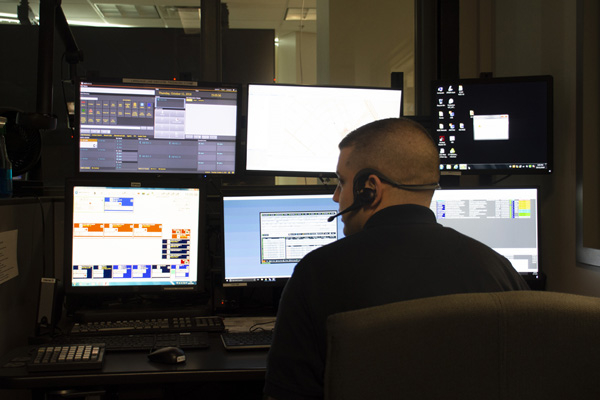 Rutgers and the City of New Brunswick have entered into a shared services agreement to improve safety and security for students and residents.
The Rutgers University Police Department (RUPD) agreed to provide 9-1-1 and emergency dispatch services for the city's police and fire departments through the RUPD Dispatch and Communications Center. 
"They serve the community, 24 hours, seven days a week and are emergency medical dispatchers, emergency communication officers and National Crime Information Center terminal operators," said Deputy Chief Michael Rein, who oversees the 9-1-1 Emergency Dispatch Center at Rutgers. "The center's staff each possess the skills, knowledge and abilities to make this sharing of service a resounding success."
The university's emergency call center answers 9-1-1 calls, monitors alarms and dispatches police, fire and emergency medical services for the university's properties statewide.  In addition, the center hands all SMS Text Messages sent to 9-1-1 within Middlesex County.  
"Shared services and consolidation is the future, not just here but throughout the country," said Chief of University Police Kenneth Cop. "It just makes sense and benefits both communities as well as first responders."
In addition to the shared services agreement, Cop, executive director of public safety, and New Brunswick Mayor Jim Cahill announced another partnership on a camera project designed to deter criminal activity and improve safety and security at Rutgers.
The cameras, installed through a partnership between the RUPD, the Rutgers-New Brunswick chancellor's office, Rutgers University Student Assembly (RUSA) and the City of New Brunswick, are intended to deter crime and aid in investigations.
"These cameras bolster our commitment to the safety of our off-campus community, and are an important new step in the RUPD's longstanding partnership with the Rutgers-New Brunswick chancellor's office and RUSA," Cop said. "For our partnership with the City of New Brunswick, these cameras are a valuable new investigative tool."
"This advanced technology has been a proven asset to the law enforcement community," said New Brunswick Police Department Director Anthony A. Caputo. "The addition of these cameras will strengthen our resources and commitment to keep our students and residents safe in New Brunswick," he said.
For the past decade, Rutgers University Public Safety has implemented several state-of-the-art security technologies that combine traditional and nontraditional policing strategies that enhance safety at Rutgers.
The RUPD coordinated the strategic installation of security cameras on utility poles in New Brunswick's fifth and sixth wards, through a pilot program funded by the chancellor's office and RUSA. 
"The implementation of off-campus cameras is critical in creating a safer environment for Rutgers students and members of the greater New Brunswick community," said Suzanne Link, president of the Rutgers University Student Assembly. "Off-campus cameras will deter crime and allow the Rutgers and New Brunswick police departments to share information, which is necessary in order to solve crimes and stop repeat offenders."
Collaborations such as joint patrols in the off-campus neighborhoods, the shared 9-1-1 service agreement between Rutgers and the City of New Brunswick, and the camera project will make our departments even better positioned to work in sync and respond to public safety concerns, Cahill said.