Fabiana Pierre-Louis is a trailblazer who hopes to inspire others 
With her recent confirmation to the New Jersey Supreme Court, Fabiana Pierre-Louis not only became one of three Rutgers alumni serving on the state's highest court, the daughter of Haitian immigrants also blazed a trail as the first Black woman and the youngest justice currently on the bench. 
In June 2020, the news that she was Gov. Phil Murphy's choice to fill a vacancy drew an outpouring of support from Rutgers alumni far and wide and reminded her what it meant to be part of the beloved community that helped put her on the path to success.
"When my nomination was announced I received emails from all over the country from Rutgers alumni who were so proud that someone from their university was nominated for this role," said Pierre-Louis, who went on to be unanimously confirmed by the state Senate Judiciary Committee and later sworn in as an associate justice on September 1, 2020, just eight days before her 40th birthday. 
 
"It feels like you're a family of folks who went to this wonderful place and shared some of the same experiences, even though you might not know each other or were not there at the same time," she said of her Rutgers experience. "You really feel like you're part of a family."
Her ties to Rutgers run deep. Pierre-Louis earned her undergraduate degree in political science at Rutgers-New Brunswick and launched her legal career with a degree from Rutgers Law School in Camden. 
Her time at Rutgers helped pave her road to success, she said, starting off with the support she received through the Educational Opportunity Fund (EOF) – which provides financial assistance and services to students from educationally and economically disadvantaged backgrounds – and where her interest in law grew.
"There are so many opportunities available at Rutgers because it's such a wonderful institution of higher education," Pierre-Louis said. "I might not have taken the path I did if not for the wonderful folks who gave me advice and told me not to limit myself and to really take advantage of all the opportunities available.''
Pierre-Louis, who previously served in the United States Attorney's Office for the District of New Jersey, was already a barrier breaker when she was an assistant U.S. attorney and the first Black woman there to be the attorney-in-charge at both the Camden and Trenton offices.
There are so many opportunities available at Rutgers because it's such a wonderful institution of higher education.
Rhasheda Douglas, assistant dean of the Minority Student Program at Rutgers Law School, described her friend Pierre-Louis as a compassionate leader with an incredible work ethic, and said that her story of humble beginnings, hard work, and drive is an inspiration for a whole generation of young people. 
"She was born and raised in a predominantly Black inner-city area," said Douglas. "To see her be able to navigate and to ascend to the positions she has secured in her career, it's a dream come true for her parents – I'm sure – and for her community members, and other Black boys and Black girls to look at her and see that it is possible to achieve their dreams. I also believe that it's imperative for white children and male children to see Black individuals and women in positions of leadership so that they understand that leaders can come from various communities and be of a different gender."
When Pierre-Louis was eight years old, her parents, who came to the United States from Haiti in 1969 and 1970, moved the family out of a cramped, two-bedroom apartment in Brooklyn and into their own house in Irvington, New Jersey, where she would grow up with three siblings.
"Having come to this country looking for a better life for their family, my parents really stressed the importance of education on us and always tried to ensure that we could obtain the best education possible," Pierre-Louis said.
 
While she was a student at Union Catholic Regional High School, her older sister enrolled at Rutgers University-New Brunswick and became the first one in her immediate family to attend college. 
"Once my sister got there, I had the opportunity to visit her and see the campuses and really fall in love with Rutgers," Pierre-Louis said. "When it came time for me to make a decision about where I wanted to go to college, it was kind of a no-brainer." 
Her undergraduate years were spent mostly on the Busch, Douglass, and College Avenue campuses. She lived in campus housing for four years, and spent a lot of time in Alexander Library, where she held a work-study job. She mostly ate meals at the dining halls but also enjoyed the occasional trip to the grease trucks that were on campus at the time.
"I have really fond memories of being in New Brunswick, trying to chase down that Rutgers bus to the next campus, attending and working football games, and taking wonderful classes that I believe prepared me for my career path," she said. 
She found her calling during a summer prelegal studies program at Seton Hall University between her sophomore and junior years. The experience made up her mind that she wanted to become an attorney. Back at Rutgers she took every law-related course she could find that would prepare her for law school.
"The history of this country is so rooted in the law. That sparked my interest. Having the opportunity to see the law and understand the change that can occur through the law was something I was very interested in," she said. "Reading case law, being able to apply the law, make arguments about the law—to me that was fascinating."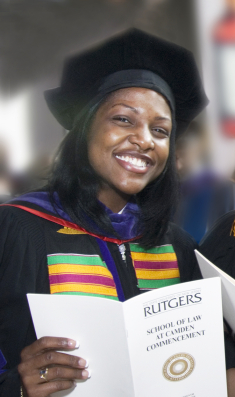 A daughter of New Jersey, Pierre-Louis said she wanted to stay in the Garden State for her career, so she naturally gravitated to Rutgers Law School. Finding a community and support network was key to her success in law school, she said, and many of the people she met at Rutgers were instrumental in guiding her down her path.
"I was the second person in my family to go to college, but I was the first to go to law school," she said. Immediately following law school, she was a law clerk for former New Jersey Supreme Court Justice John Wallace, when he was the high court's sole Black jurist. Wallace would become a mentor for Pierre-Louis as her career took flight.
"It was really helpful when I met and got to know alumni and some of the professors, and folks at career services who just really helped me get an understanding of the profession and some of the things to think about moving forward,'' she said.
Her confirmation has been celebrated throughout Rutgers.
"It's always wonderful when great things happen to good people, and Fabiana Pierre-Louis is a good person," said Kimberly Mutcherson, co-dean of Rutgers Law School.
"Justice Pierre-Louis is not the first Rutgers Law graduate to sit on the New Jersey Supreme Court, but she is the first to make history in this way," Mutcherson said. "She is obviously bright and accomplished, and I have no doubt that she will be a conscientious and empathetic justice during her years on the court. She will serve New Jersey and its people well." 
Pierre-Louis, who said she still believes in the American Dream, wants others to be able to draw from her experience. She hopes young people can find inspiration in her story.
"The ability for my parents to come to this country with really not much of anything, not being able to speak the language, but have the ability to own their own home and see their children go to college, that's something that's not possible everywhere, but it is here," she said. "I am a product of that dream."