Congressman joins industry and academic leaders to examine energy and climate issues at Rutgers Energy Institute symposium
Innovative research and technological advances can help the United States reduce its dependency on fossil fuels. But first elected officials and the public will have to overcome their reluctance to engage in energy and climate policy issues.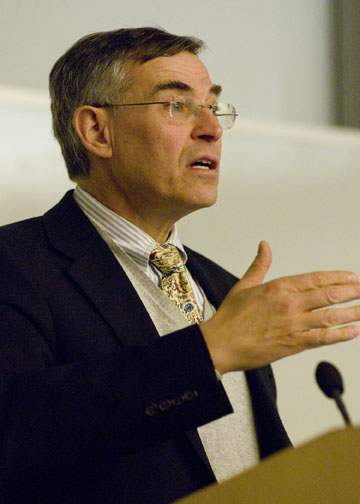 At an energy symposium at Rutgers this month, U. S. Representative Rush Holt challenged the federal government to lead the effort by making investments in science that will lead corporations and businesses to change their practices.
"If you are looking for new energy technologies, if you are looking for an understanding of climate measures, there are things that can best be done from the federal level," said Holt, who represents New Jersey's 12th Congressional District, which includes part of Rutgers in New Brunswick.
Holt was one of four speakers to address the 9th annual Rutgers Energy Institute Symposium, focused on the challenge of transitioning to a new world view of energy science, economics and engineering.
Federal funding does more than just pay for research, Holt said. It promotes competition among business and academic innovators to come up with the best ideas for energy technologies and climate measures.
Holt's and the other panelists' desires to promote sustainable energy production, efficient consumption and climate policy matches the goals of the Rutgers Energy Institute (REI), said founding director Paul Falkowski, Board of Governors professor in geological and marine science.
"We are a solutions-oriented group," said Falkowski, highlighting the university's expertise in technologies, such as biofuels, photovoltaics, wind energy and energy storage as well as in energy policy and urban planning. "The REI is a place where faculty across the campuses can communicate with each other, develop new courses and integrate research."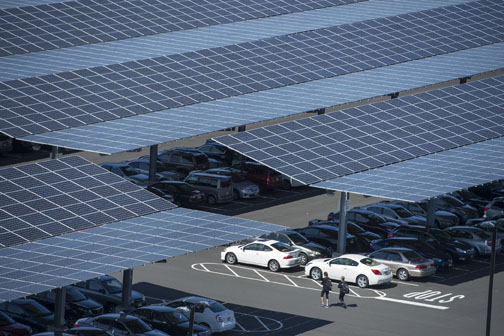 Other symposium presenters included utilities finance executive Frank Napolitano discussing new aspects of energy finance, Rutgers policy expert Frank Felder examining how falling electricity rates may hinder much-needed improvements in power systems, and Princeton climate and environmental expert Robert Socolow addressing the challenges of living with global warming.
The symposium also showcased winners of its annual undergraduate energy innovation contest, which encourages Rutgers students to promote energy conservation and eco-friendly practices on campus. Engineering students Joe Woo, Matthew Lu and Moiz Rauf received the first prize of $2,500 for their work on underground thermal energy storage. Rachel Alm from the School of Environmental and Biological Sciences earned a second-place prize of $1,500 for her work with rooftop gardens. Sharing the third-place prize of $1,000 were engineering students Rachit Mehta and Timothy Yong, who worked on energy recycling.
"In an age where hundreds of millions of dollars are being funneled into the latest Silicon Valley innovations, it's important to recognize that some of the most practical schemes are already right under our fingertips, said Rauf, a two-time top prize winner in the contest. "There is still plenty of low-hanging fruit when it comes to energy conservation."