From Robeson to King: Black Lives Matter Cofounder Discusses Civil Rights Giants
Opal Tometi, cofounder of the nationwide activist movement, helps launch Rutgers' yearlong celebration of the Paul Robeson centennial
Today's civil rights movement would not be possible without the work of Paul Robeson and Martin Luther King Jr., Black Lives Matter cofounder Opal Tometi said during the official kickoff of a yearlong celebration marking the 100th anniversary of Robeson's graduation from Rutgers.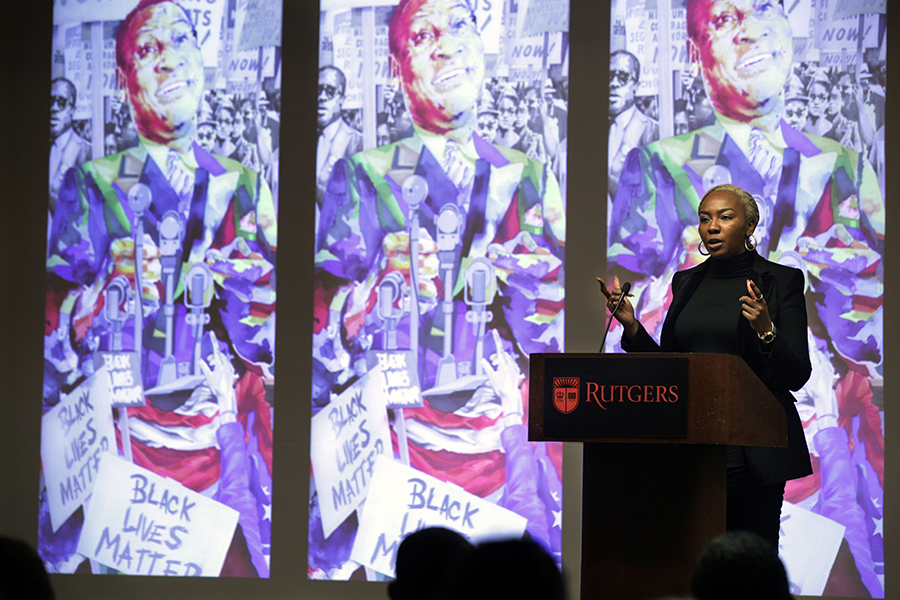 Opal Tometi, cofounder of Black Lives Matter, speaks at "From Robeson to King," honoring the legacy of Paul Robeson and Martin Luther King Jr. (Photo: Melvin Evans/Rutgers University)
---
"Robeson is so important because he paved the way for us to have a global perspective on our movements," Tometi said. "Coming from a Nigerian family, I feel so strongly that we are able to advocate for all our lives."
Tometi spoke about Robeson's legacy in the context of the civil rights movements that followed him to launch Rutgers University-New Brunswick's celebration of the centennial of Robeson's 1919 graduation.
The lecture, "From Robeson to King," merged the #Robeson100 commemoration with the university's RU Dream Week celebration of Martin Luther King Jr.'s legacy. Tometi, now executive director of Black Alliance for Just Immigration, delivered the speech Tuesday night at Busch Student Center before an audience of 375 students and others.  The event was organized by Rutgers Cultural Center Collaborative.
In keeping with Robeson's vision of universal humanity, Tometi said the only way to fix the problems of systemic injustice is for different marginalized groups and their allies to join together.
"There has to be structural change. We have to address the root cause of the injustice, not just fix the small biases. We have to address classism, sexism, racism and immigration issues," Tometi said. "Justice is not inevitable. We need all hands on deck to make it happen."
Tamaj A. Nicholson, president of the Rutgers chapter of Black Lives Matter, preceded Tometi's speech by discussing the intersection of Black History Month and the #MeToo movement, and challenged listeners to include queer, transgender, non-binary and other groups in the struggle for equality. "Black lives won't matter until all black lives matter," Nicholson said.
Felicia E. McGinty, executive vice chancellor for planning and administration and chair of the Robeson Centennial Committee, noted that the yearlong #Robeson100 commemoration will spread overdue awareness and understanding of Robeson's message across the campus community.
"There are recipients of the Paul Robeson Scholarship who are unaware of who he was. We intend to make his name, life and legacy synonymous with Rutgers University," McGinty said.
In 2019, Rutgers marks the centennial of Paul Robeson's graduation from Rutgers College in 1919. In recognition, our community honors his achievements as a scholar, athlete, actor, singer and global activist in a yearlong celebration featuring lectures, performances, art exhibitions and more. Learn more about the celebration by visiting
robeson100.rutgers.edu
or by following #Robeson100 on social media.