Robeson Institute Gives First-Year, First-Generation Rutgers-New Brunswick Students a Boost
Twenty-one future leaders connect with the past, present and each other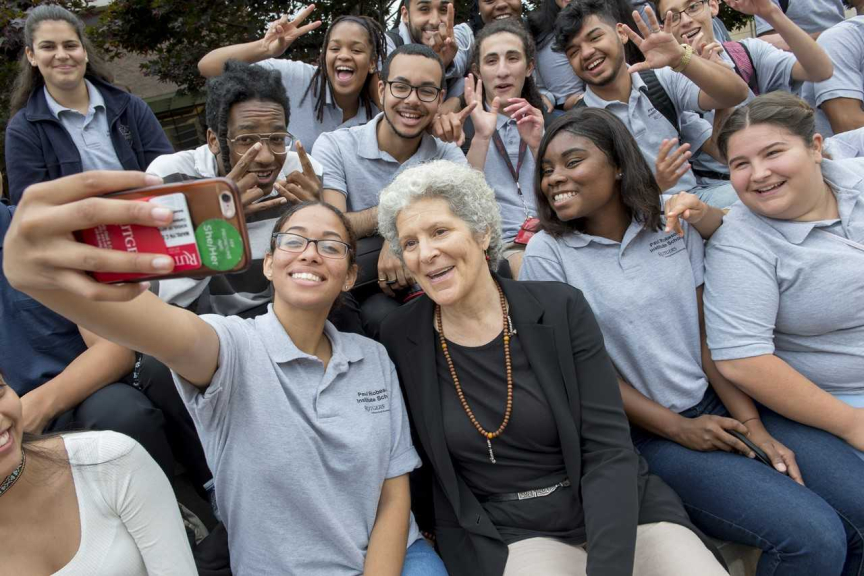 Juan Ariza knew he had the brains and energy to succeed in college; Veronica Smith, an outstanding high school student, always had college in her sights. But as they prepared to enter Rutgers University-New Brunswick, they both felt they needed something more.
"I felt I needed some program that would really prepare me for the college experience," Ariza said.
For Ariza, Smith, and 21 other incoming first-year students at Rutgers' flagship campus, the Paul Robeson Leadership Institute is that program.
The program's namesake, Paul Robeson, was a world-renowned singer, actor and civil rights activist – and perhaps Rutgers' most famous alum. The third African-American to attend Rutgers College, he distinguished himself as a scholar and All-America football player before graduating in 1919.
Rutgers created the institute in his honor to help students who are the first in their family to attend college and who belong to demographic groups that have been historically underrepresented in higher education.
Participants, known as Robeson Scholars, participate in a summer institute, specialized training and leadership workshops, career and post-graduation planning, and intensive research opportunities.
This summer, Ariza, Smith and the other first-year scholars met three times with Susan Robeson, Paul Robeson's granddaughter, a documentary filmmaker and activist.
In one wide-ranging discussion with the students about discovering one's own voice, authenticity, altruism and becoming a global citizen, Robeson asked, "How  do you discover your authentic self?" she asked. A student batted the question back to her: "How did you gain authenticity?" the student asked. "I was always curious, and I read voraciously," Robeson said. "I lived in my grandfather's library. I wanted to understand the world around me."
Smith was no stranger to Rutgers, having participated in the Upward Bound program on campus through high school. But the Robeson Institute still held some surprises for her. "I was unaware of the intensity of the actual college experience," Smith says. "This stuff is real." Just how real can be gauged by Smith's research project. She studied the provision of health services to incarcerated women in New Jersey. A political science major, she plans to be a lawyer.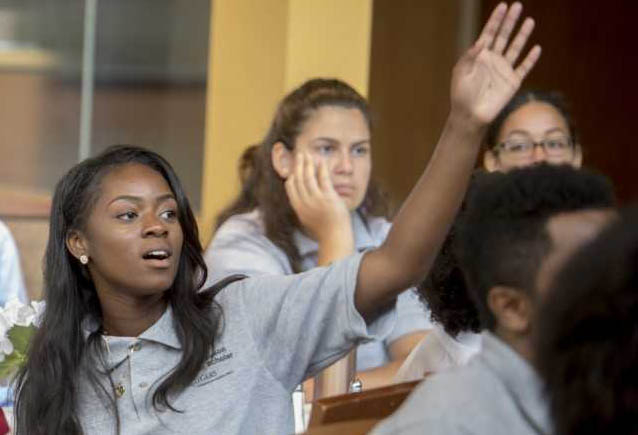 Ariza is undecided between philosophy and psychology. As part of his Institute reading, he read Viktor Frankl's Man's Search for Meaning, a memoir of life in Nazi concentration camps by a psychiatrist who survived it, and was deeply affected by the book. "It made me understand that you can make something good come out of the most terrible situation," Ariza remembers.
Jason Moore, director of the institute and of Student Support Services at Rutgers-New Brunswick, says the Robeson Institute aims to develop the students' "soft skills" to help them succeed in college – how to ask for help when they need it, how to make use of the resources available.
Moore, a first-generation college student himself, grew up in New Jersey but was intimidated by Rutgers' size and went to a small, liberal arts college. Even there, he spent three years working toward a degree he didn't need, changing only in his senior year. "Many of our (Robeson) students are low-income, and they face barriers to success in college that wouldn't be barriers for other people," he says.
---
Media Contact: Ken Branson, 848-932-0580; cell 908-797-2590; kbranson@rutgers.edu