Linda Bassett, Rutgers' longtime senior director of Community Affairs who launched Rutgers Day and several signature events for the Rutgers 250th celebration among a host of successful university outreach programs, died on Saturday after a long battle with cancer.
Bassett, known for her creativity, tenacity, advocacy and joyful embrace of challenges in work and life, was a graduate of Florida State University and a Harvard Loeb Fellow. She joined Rutgers University Communications and Marketing in 1989, where she worked to meet the community engagement goals of three Rutgers presidents until her retirement in 2017, which she timed to coincide with the culmination of the university's yearlong 250th anniversary celebration.
"Linda was a visionary who helped imagine these events, and because she was a hard worker and team player, she made them happen," said Richard L. McCormick, president emeritus of Rutgers. "Everyone who knew her appreciated her because she had a tremendous amount of enthusiasm for Rutgers and connecting it to the community. She believed in what she was doing and exuded that belief."
It was Bassett's charge to create a logistically complex program to take McCormick and a busload of newly appointed faculty for weeklong treks around the Garden State after commencement. The Rutgers Faculty Traveling Seminar tours, which ran annually from 2003 to 2008, built camaraderie between faculty members – many of whom were new to the state – while introducing them to the communities where their students were raised.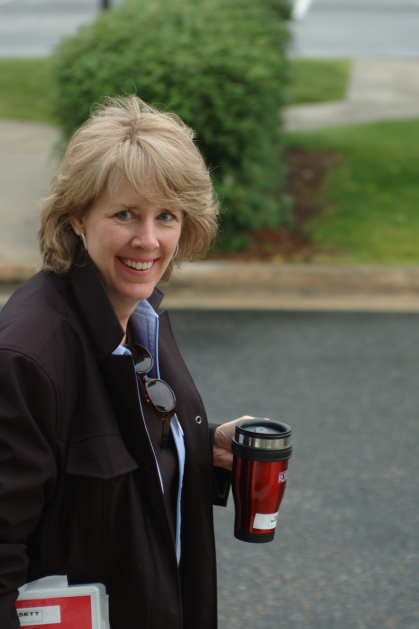 "We'd start each week in Trenton with our legislators. Then we'd see the high tech and the low tech, farms and factories, main streets, mountains and the beach," said McCormick of the tours, which earned the Rutgers President's Bridge Award in 2006 as well as a national Gold Award from the Council for the Advancement and Support of Education (CASE). "It was a wonderful way of connecting faculty with each other, with the state and the state with Rutgers."
Melissa Selesky, the current senior director of Strategic Events and Programs who launched Rutgers Day with Bassett in 2009, said she will always remember her longtime colleague for her creativity, tenacity and commitment to Rutgers.  
"When I first started working for Linda, we'd go out and scout locations for the faculty tour. We were driving by the big cogeneration plant by the airport, and she said, 'Get us in there. Everyone knows that place but doesn't know what it is,'" said Selesky. "That was Linda: If she had an idea, she didn't let it go."
Those who knew Bassett agree that saying "no" to her was next to impossible.
"It was hard to say no to someone so full of good ideas and so focused on contributions she thought we could make," said Barry Qualls, emeritus University Professor of English.
In the early 1990s, Bassett tapped Qualls to help her develop the Rutgers Academic Challenge to meet President Francis L. Lawrence's goal of engaging more deeply with New Jersey's high schools. The challenge, which also earned a CASE Gold Award, brought students from across the state to Rutgers for an annual college bowl contest.

"Her career here is proof of what one person can accomplish," Qualls said. "She had ideas; she knew how to motivate her beloved staff to help develop these ideas; and she found ways to sustain so much, even amidst budget cuts."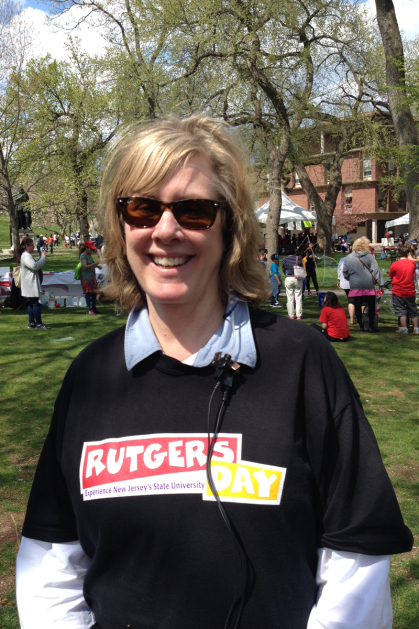 One of those ideas, Rutgers Day, remains Bassett's legacy at the university. An ultimate celebration of everything Rutgers, the event marks its 14th anniversary on April 29. The annual opening of Rutgers' doors to the state each spring is credited with introducing the university's faculty, staff, students, farm animals, folk music and myriad academic programs to hundreds of thousands of New Jerseyans. 
Toward the end of her career, when Rutgers was on the cusp of a major milestone, Bassett was undergoing cancer treatment, recalled Kim Manning, vice president of University Communications and Marketing. But before retiring, she saw through the signature events she developed for the yearlong Rutgers 250th anniversary celebration commissioned by President Robert Barchi.
Those festivities included a massive outdoor kickoff party and the creation of the now-iconic "RevolUtionary" sculpture that – after multiple stops around Rutgers and the state – stands in front of the Rutgers Visitors Center in Piscataway.
"Linda and I worked together for more than 25 years and shared a commitment to strive to make everything the department did on behalf of Rutgers the best it could possibly be," Manning said. "She was bold, incredibly smart, innovative and fun. She was just a great person, and it was my honor and pleasure to work with her."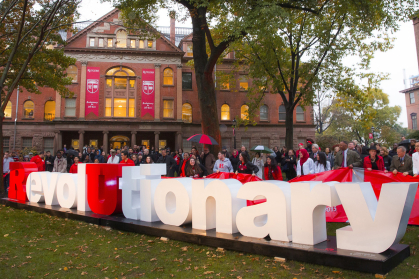 After her retirement, Bassett helped inspire the creation of the first-ever Patient and Family Advisory Council at Rutgers Cancer Institute of New Jersey (CINJ), where she served as an advisor from April 2022 until her death, said Diane Haley, director of patient experience at CINJ.
"She was hugely invested in seeing CINJ be the best of the best in terms of patient experience, and I saw her as a partner in that endeavor in every sense of the word," Haley said.
A memorial service for Bassett will be held later this spring. Those who would like to donate in her name are encouraged to support the Rutgers Cancer Institute of New Jersey or the Rutgers Future Scholars.