PBS Documentaries Demistify Harriet Tubman and Fredrick Douglass With Help From Rutgers Historians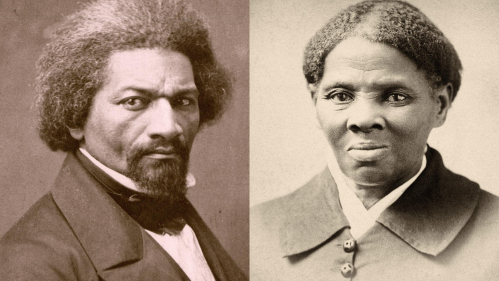 PBS audiences will get a rare glimpse into the ordinary lives of extraordinary abolitionists Harriet Tubman and Frederick Douglass in a pair of new documentaries featuring two Rutgers-New Brunswick historians.
Charles and Mary Beard Distinguished professor of history Erica Armstrong Dunbar, who studies and teaches African American, United States and women's and gender history, and Marisa Fuentes, Presidential Term Chair in African American history, were tapped by the filmmakers to provide little known anecdotes and everyday details about these larger-than-life figures in Harriet Tubman: Visions of Freedom and Becoming Frederick Douglass, which premier at 10 p.m. Tuesday, Oct. 4 and Oct. 11, respectively, on local PBS stations.
The pair have often been venerated for their heroism. Tubman liberated nearly 70 enslaved people from Maryland plantations and Douglass, who was born into slavery, became one most influential voices for democracy in American history. Dunbar said these documentaries strive to dig deeper and humanize the two legendary figures, especially Tubman.
"We are less familiar with the story of Harriet Tubman as a child, a young Araminta, a Harriet Tubman who was a wife two times, a Harriet Tubman who was a mother by adoption. Those lesser-known details allow viewers to connect with her in ways that feel very relatable," said Dunbar, who is the author of critically lauded books, including She Came to Slay: The Life and Times of Harriet Tubman (Simon and Schuster, 2019), and serves as co-executive producer of HBO's period drama The Gilded Age.
"The immense challenges that Tubman faced are almost unbelievable and demonstrates what it means to provide for your family when times are hard, and what it means to age with dignity with little in the ways of financial resources," she said.
Though they were contemporaries, Douglass and Tubman led very different lives, said Dunbar. Douglass' friends purchased his freedom when he was abroad, so he returned home a free man able to denounce slavery publicly and as a writer continued to document his own life, whereas Harriet Tubman "remained a fugitive and the property of someone else" until Maryland moved to eradicate slavery in 1864, which limited her public appearances.
"She also was a woman. She was illiterate. She was not an orator. She shrank from the public space, and for those reasons she did not have a platform," said Dunbar.
As with most U.S. history, early African American scholars were mostly men who focused largely on the narratives of men. But with more women entering the field, the rich stories of Black women are being pieced together and elevated by writers and filmmakers, said Fuentes, who specializes in the study of 18th century Caribbean and enslaved women and published Dispossessed Lives: Enslaved Women Violence and the Archives (University of Pennsylvania Press, 2016) in 2016.
"It's the tenacity of Professor Dunbar, and before her Board of Governors Distinguished Professor Deborah Gray White, to say, 'I don't really care how long this takes, I'm going to do the hard work of excavating little bits of fragments and sit with this scant archive until the figures of these women appear to me enough that I have something to say about them," said Fuentes, crediting White's 1985 book Ar'n't I a Woman?: Female Slaves in the Plantation South (W. W. Norton & Company; Revised edition (February 17, 1999) with kickstarting a genre.
"An entire field of Black women's history emerged from that book,'' Fuentes said. "It is growing to such astronomical heights that Black women's history is the cutting-edge field in American history in terms of innovation and reach and the creative way in which Black women historians are telling these stories."
Both Fuentes and Dunbar said they make it a priority to contribute to public-facing projects – including books, films, television and podcasts – always with the goal of educating wider audiences. That these documentaries are airing on PBS – not a premium channel – provides even greater reach.
"I think this is really one of the most important ways that we can democratize education in this nation," Dunbar said. "If we can watch a documentary about two of the most well-known freedom fighters of the 19th century, I hope it will energize people today to continue the social justice work we require in the 21st century."