New vice chancellor for diversity, inclusion and civic engagement is building relationships between the university and its surrounding community 
Growing up in Camden, the ninth of 11 children, taught Nyeema Watson the importance of community.
"One of the lessons I learned early on is that you are responsible for those around you, whether they are your blood or not," said Watson, who was one of six children her parents adopted and raised alongside their five biological children. "I come from a family of women who were very focused on providing love and support for children in need."
To her mother, who also was adopted, that meant opening her heart and home to additional children in the foster system. To Watson, that means opening educational and enrichment opportunities for underserved students as vice chancellor for diversity, inclusion and civic engagement at Rutgers University-Camden.
"Being able to provide access and experiences to children in need, that has guided me in the work I've done here at Rutgers," said Watson, who ascended to her new role in October and has helped put thousands of children on the path to college in her 15 years with Rutgers-Camden.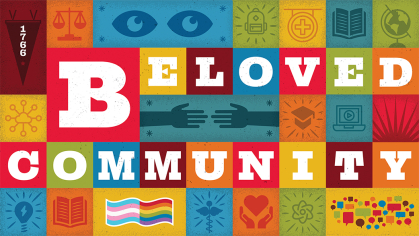 In the last five years, Watson has worked in the Office of Civic Engagement, most recently as associate chancellor for civic engagement, developing campus and community collaborations for service, engagement, partnerships and research opportunities for faculty, staff, students and the larger Camden community.
"I believe you can't be successful in your quest for diversity inclusion and equitable communities inside the campus if you don't pay attention to what's happening outside the campus because that's where your students live," Watson said. "Being in a majority minority city that has been systematically oppressed through economic, health policy and educational disparities, when you aim to do the work, you have to come at it with a critical lens and ask yourself: Where are we going to intervene in a way that leans toward justice?"
Watson sees herself in the students and community she serves. Her family sometimes struggled to make ends meet on her father's salary as a custodian for Woodrow Wilson High School, which she attended before enrolling in Rutgers-Camden as an undergraduate.
"I didn't know I was poor until I went to college," she said. "The Black euphemism about making a way out of no way is true. We always had what we needed – clothes, food, support – and education was very important to my mother."
But now that she and her fiancé are parents to 2-year-old Zora, Watson imagines the nights her mother must have spent worrying about the well-being of everyone under her roof. Knowing that so many other caregivers experience similar situations drives Watson as she works to foster vital connections between the university and the city and surrounding South Jersey communities.
"It warms my heart that I am able to play a small role in that work for my city," she said. "But it comes with the weight of knowing that there's always more that can be done, and always another kid who needs access to college."
Though she eagerly embraced Rutgers-Camden's commitment to student community service as an undergraduate, it wasn't until she was approaching graduation when Watson learned she could turn that passion into a career. It happened during a conversation with then provost Roger Dennis about a new role the university had created: associate provost for community outreach.
"I was intrigued about the position because of the title and what it seemed to convey, that this person was a link between the university and the community," she said. "He told me, 'you'd be great, Nyeema, but you have to continue going to school.'"
Watson followed Dennis's advice. After graduating in 2000 with a double major in African American studies and psychology, she earned a master's in education from the University of Pennsylvania, before joining the New Jersey Department of Education as an education program development specialist. There she managed state and federal grants, including a $13 million before-and-after-school program for children attending low-performing schools.
In 2004, Watson returned to Rutgers-Camden and her goal. She started as associate director for the Center for Children and Childhood Studies. In 2008, she served as the special assistant to the interim chancellor Margaret Marsh planning and implementing campuswide civic engagement initiatives.
With the arrival of chancellor Wendell Pritchett, Watson moved on to manage campus collaborations with the Camden City Public Schools, charter schools and non-public schools in Camden as the director of Public School Partnerships. During this time, she also earned her doctorate in philosophy in 2015.
By prioritizing civic engagement over the past 11 years, Rutgers-Camden has fostered a commitment to the community that feels woven into the fabric of the university, said Watson. She notes annual efforts include more than 400,000 student volunteer hours, an educational pipeline established through the LEAP Academy Charter school, and free legal and health clinics that benefit hundreds of residents. And when expanding their footprint in the city, Watson said the university considers the needs of Camden residents as well as staff and students, which is why a Walgreens – the only pharmacy downtown – was added to the ground floor of the new School of Nursing building.
"It really does feel full circle. We've come to a place now where civic engagement is imbedded in every office and unit on campus," she said. "It's not in a way that is circuitous. It's thoughtful, intentional and built on mutually beneficial relationships. It really has evolved in a way that I never could have anticipated but makes me proud to work at Rutgers-Camden."
In her current role as vice chancellor, Watson is building on that work, identifying areas for growth and partnering with the Office of the Senior Vice President for Equity to develop and execute a strategic plan for diversity, inclusion and engagement at Rutgers-Camden that is tailored to the specific needs of its staff, students and surrounding communities.
Within the campus, she plans to take a hard look at recruitment, promotion and retention of faculty and staff based on gender, race, physical ability, faith and sexual identity and assess whether everyone has access to educational opportunities and appropriate wages that make them feel supported. Her office is also holding listening sessions throughout March for those in the external community and will assess the results of the campus equity score card, due out this spring.
"This is every day holding up a mirror and asking ourselves: Are we doing the best we can do? If not, how are we going to go about changing it?" she said. "I think our campus at Camden is ready for this conversation. What people want to see is action and accountability."