Nurses Helped Rutgers Grad Through Difficult Times. Now He Joins Their Ranks.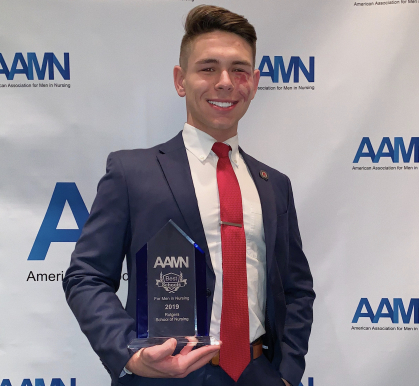 What Jeremy Baptista recalls most about growing up with a port wine birthmark on his left cheek is not the curious stares it attracted, but the kindness of nurses during the painful procedures intended to lighten it.
Some years later, when Baptista was 15 years old, a tumor in his stomach's lining had to be surgically removed. He and his family waited for biopsy results to learn if it was cancerous. "It was a very emotional time," he recalled. "Would I be able to go to school, or play sports? Would I lose my hair? Those were among the hundred questions that rushed through my mind."
Nurses again helped him through the ordeal. "They treated me so well," said Baptista, whose tumor was benign. "That experience solidified my drive to pursue a career in nursing."
In spite of hurdles – he didn't get accepted to Rutgers School of Nursing in Newark straight out of high school – Baptista is about to achieve his goal, graduating from the school's highly selective honors program with a bachelor of science degree.
"Jeremy is exceptional. He has a great intellect and a love for learning, but his best attributes are how he connects with others and his leadership style," said Kyle D. Warren, senior vice dean for administration and student services.
About 160 students are chosen from more than 5,000 applicants each year. Less than 20 second-year students are invited to apply to the rigorous honors program, and it's especially rare for a transfer student to earn one of the coveted spots, Warren said.
"He's overcome obstacles, and is 100 percent focused, in the present moment, in everything he does," Warren said. "And what's more amazing, he does so while doing so much outside the program."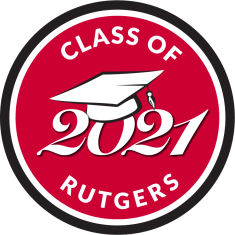 Baptista works part time as a nursing assistant at Memorial Sloan Kettering Cancer Center's intensive care unit in New York City. Memorial Sloan Kettering hired Baptista following his ICU externship at the hospital during the early months of the COVID-19 pandemic. The health crisis "only made me even more driven and inspired to be a nurse," he said. Baptista caught the COVID-19 virus at the end of December, and missed two weeks of work while quarantining.
He is also a Memorial Sloan Kettering patient, receiving annual screenings. While the intestinal tumor he had as a teenager was benign, Baptista tested positive for a gene mutation that puts him at greater risk for developing others.
The pandemic altered the nursing program, like most everything else. Both lectures and clinicals went virtual last spring, with clinicals resuming in person in the fall, Baptista said. Virtual learning was an adjustment, but he took it in stride. "Nurses have to be flexible; the pandemic definitely taught us flexibility," he said.
Baptista is president of Rutgers' chapter of Men in Nursing, an organization that provides supports to help men excel in the field. The American Association of Men in Nursing awarded Rutgers School of Nursing the Best Schools for Men in Nursing Award in 2018, 2019 and 2020. Under Baptista's leadership, the chapter has expanded membership, especially among students from the New Brunswick campus. Women have been welcomed into the organization.
Baptista's honors research investigated the importance families of ICU patients put on their loved one's physical appearance and the environment in which they are being treated. His review of seven peer-reviewed articles found that families valued both.
Baptista's faith in God is strong, and he is active in his church, which streams weekly services in Portuguese from his family's home in Kearny, New Jersey. His father, Antonio, a native of Brazil, is the pastor of It is Written Church of Jesus Christ, and Baptista is a worship leader and translator. He believes his faith has helped him achieve his goals. "It's wonderful to be able to lean on someone bigger than I am," Baptista said.
That doesn't mean he hasn't faced disappointments. "It was tough, not getting into Rutgers School of Nursing out of high school," he said. But he was determined. He enrolled instead in the School of Arts and Sciences-Newark as a freshman. He took the nutrition and statistics courses nursing students take, and aced them, and then signed up for anatomy and physiology over the summer.  Baptista trained as an emergency medical technician and then logged 1,075 hours as a volunteer EMT.
"I wanted to make myself a competitive candidate," said Baptista, who completed his freshman year with a 3.9 grade-point average. "When coursework in the nursing program became intense my junior year, I'd think, 'I can't let Dean Warren down!'" he said.
The 22-year-old hopes to land a full-time job working in an ICU unit, and he said he may pursue advanced degrees in the future.