Nicholas G. Rutgers IV, Descendant of Namesake of Rutgers University, Dies at 92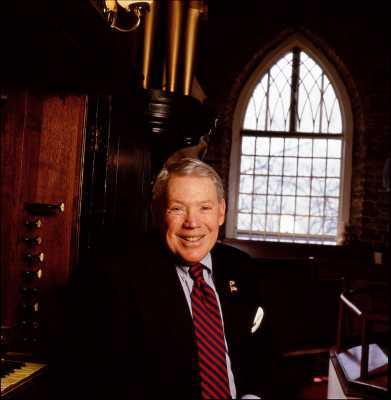 Nicholas Gouverneur Rutgers IV, a descendant of the namesake of Rutgers, The State University of New Jersey; a former publisher of the Tahiti Bulletin; and an emeritus member of the Rutgers University Foundation Board of Overseers, died Dec. 29 at his home in Greenwood Village, Colo.  He was 92.
Mr. Rutgers' great-great-great-great-uncle was Col. Henry Rutgers, a Revolutionary War hero who was one of the most generous philanthropists of his time. Col. Rutgers supported a host of churches, schools and charities in Manhattan and donated a bell and the interest on a $5,000 bond to the struggling Queen's College in New Jersey, which later honored the colonel by taking on the name Rutgers.
Mr. Rutgers was a history buff who loved Rutgers University and the history of his family. Born in New Brunswick, N.J., he served in the Pacific during World War II, flying with the Torpedo Squadron of the U.S. Marine Air Corps from the U.S.S. Block Island, the Marine Corps' first carrier. After returning from duty, he enrolled at Rutgers College, planning to major in history.  He subsequently left Rutgers in 1947 to marry a young woman he had met during his wartime service. She was Nancy Hall, daughter of the writer James Norman Hall, co-author of Mutiny on the Bounty. 
Mr. and Mrs. Rutgers settled in Hawaii, and Nick never returned to finish his Rutgers degree. Although he spent the bulk of his adulthood in the Pacific Islands, he often visited the Rutgers campus and remained highly active in university affairs over the years. He was proud of his affiliation with the university, and he always considered himself a member of the Class of 1950, as did his classmates.
While raising a family in the Pacific, Mr. Rutgers co-founded and published the Tahiti Bulletin, the English-language newspaper on the island. He also became curator for the papers and personal effects of his father-in-law. He and Nancy founded the James Norman Hall Museum in Arue, Tahiti.  It has been described as a "marvelous museum" that is a "required stop for all of us who have ever dreamed of writing successful novels in a lovely lagoonside house." The museum contains a library of more than 3,000 volumes as well as James Norman Hall's typewriter, original manuscripts, heirlooms and memorabilia.
Mr. Rutgers served on the Board of Directors of the Bishop Museum in Honolulu, the largest museum in Hawaii and the premier natural and cultural history institution in the Pacific. In addition, for 40 years, from 1967 to 2007, he served on the Board of Governors of the Hawaii Preparatory Academy, one of the Pacific region's leading independent college-preparatory schools. He provided a financial gift to the academy that created the Rutgers Tennis Center in 1999; the center was honored by the United States Tennis Association as one of the best facilities in the country.
Although he spent most of his adult life thousands of miles from Rutgers, Mr. Rutgers generously donated his time, historical expertise, good name and significant monetary resources to the university. In addition to making financial contributions for nearly four decades to Rutgers, he arranged a significant bequest that will benefit two of his favorite beneficiaries - the Rutgers Center for Human Evolutionary Studies and the Nicholas G. Rutgers, Jr. Soccer Student-Athlete Scholarship.
Mr. Rutgers' knowledge of Rutgers history, his own as well as the university's, has enlightened many. He was a frequent speaker at university events on the New Brunswick campuses and nationally at various Rutgers clubs.  He had also written extensively on the families that make up his genealogy.  His two monographs, The Rutgers Family of New York and New Jersey (1967) and Four Families of New York and New Jersey:  Rutgers, Livingston, Gouverneur, Neilson (1976), are part of the Sinclair New Jersey Collection of the Rutgers University Libraries' Special Collections and University Archives.
Mr. Rutgers was elected a charter member of the Board of Overseers of Rutgers' fundraising arm, the Rutgers University Foundation, in 1975 and served for 30 years until his election as an overseer emeritus.  He helped inaugurate the university's organization for planned giving donors, the Colonel Henry Rutgers Society, and presented the keynote lecture at its first luncheon in 1986. 
Mr. Rutgers was grand marshal of Rutgers' 1989 Homecoming parade and honorary chairman of Homecoming '89, handing out "Oh Henry!" candy bars in honor of his ancestor at the Homecoming festival.  He was also a three-time chairman, 1992–1995, of the Rutgers Fund. The university honored him as a Loyal Son of Rutgers in 1996 and presented him with the Scarlet Oak Meritorious Service Award in 2000.
Mr. Rutgers died peacefully of natural causes, according to his widow, Nancy Hall Rutgers.  "He was a great family man, loved by many and adored by all of his grandchildren and great-grandchildren," she said.  He was visited by family prior to his passing, and Mrs. Rutgers was at his side when he died.
In addition to Nancy, his wife of 70 years, Mr. Rutgers is survived by a daughter, Cynthia Rutgers Overhardt of Englewood, Colo.; three sons and two daughters-in-law, Nicholas G. Rutgers V of Kamuela, Hawaii; Anthony L. and Diane Rutgers of Aspen, Colo.; and James N. and Mele Rutgers of Arue, Tahiti; nine grandchildren; and six great-grandchildren. Brigette Rutgers, the wife of Nicholas G. Rutgers V, is deceased.
Funeral services will be announced.  Mr. Rutgers was cremated, and his remains will be scattered in Tahiti, a "very special place to the Rutgers family," Mrs. Rutgers said.