Board Approves Tuition and Fee Increase
The Rutgers University Board of Governors today approved a $4.8 billion budget that includes a 2.6 percent increase in tuition and fees for the 2021-2022 academic year, following a freeze in tuition and a fees reduction for the past year in recognition of pandemic-related hardships.
"We know that tuition increases are difficult for our students, especially after a challenging year, and we would avoid any increase if the numbers would allow it," said Mark A. Angelson, chair of the Board of Governors. "We are committed to providing an affordable, high-quality education, and we urge our students and their families to focus, as we do, on the average net cost to students who receive financial assistance."
Mark A. Angelson to Serve as Chair, William E. Best to Serve as Vice Chair
The Rutgers Board of Governors today named Mark A. Angelson, an international leader in higher education, business and law, to a third term as chair of the governing body.
The board vice chair for a second term will be William E. Best, a senior vice president at PNC Bank, former chair of Rutgers Board of Trustees and an emeritus trustee.
Angelson is a member of Rutgers Hall of Distinguished Alumni and chairman of the Institute of International Education (IIE), the world leader in international education and training that administers the Fulbright Scholarships and hundreds of other educational programs from offices around the globe.
Best, a graduate of North Carolina Central University, is past chair of the International Economic Development Council, where he developed and instituted comprehensive Ethics Education and Enforcement Policy for global economic development professionals.
Learn more about chair Mark Angelson and vice chair William Best.
 
More News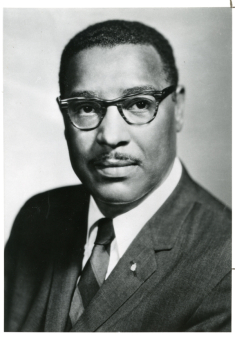 Administrative Services Building 1 at Rutgers University–New Brunswick renamed Dr. Samuel Dewitt Proctor Hall
The Board of Governors voted to rename the Administrative Services Building 1 on Busch Campus at Rutgers-New Brunswick Dr. Samuel Dewitt Proctor Hall for the late Samuel Dewitt Proctor, the Martin Luther King Distinguished Professor of Education at Rutgers, a position he held until his retirement in 1984. An African American minister, educator and humanitarian active in the civil rights movement, Proctor's time on the Rutgers faculty began following a lecture he delivered at Rutgers in 1969 on the assassination of his friend and mentee Martin Luther King Jr.
Proctor was on the faculty of the Rutgers Graduate School of Education for 15 years and was a Visiting Scholar in the Department of Africana Studies in the School of Arts and Sciences at Rutgers-New Brunswick. He was the first African-American faculty member at both the school and university to have an endowed professorship named for him. During his tenure, Proctor recruited generations of students of color to Rutgers University, and mentored many as they went on to pursue graduate degrees.
Recently renovated, the building is a one-stop destination facility serving students from across Rutgers-New Brunswick seeking assistance in a variety of university-related business transactions.
John P. Hughes Named the George A. and Margaret M. Downsbrough Chair in Astrophysics
The Board of Governors named Rutgers-New Brunswick School of Arts and Sciences astrophysics professor John P. Hughes the George A. and Margaret M. Downsbrough Chair in Astrophysics. Hughes is internationally recognized for his contributions to the development and practice of X-ray astronomy. He has garnered numerous distinctions throughout his career, including fellow of the American Astronomical Society, fellow of the American Physical Society, director of the Southern African Large Telescope Board and recipient of the NASA Public Service Medal. Hughes has also served on the editorial board of Advances in Astronomy, the Atacama Cosmology Telescope Guiding Board, the Board of Directors for the Southern African Large Telescope, and the Chandra Users Committee. He remains deeply committed to shaping the future of the field of astrophysics through dedicated mentoring of a diverse set of graduate students and postdoctoral scholars.
Louis Masur Named Board of Governors Professor of American Studies and History
Rutgers-New Brunswick School of Arts and Sciences Distinguished Professor and American Studies chair Louis Masur has been named a Board of Governors Professor of American Studies and History. For his highly novel research on the history of the Civil War and the United States presidency, Masur has served as an expert commentator for leading news programs and won multiple awards, including the Abraham Lincoln Institute's 2013 Book Award for Lincoln's Hundred Days: The Emancipation Proclamation and the War for the Union. He has earned fellowships to the Society of American Historians and the Massachusetts Historical Society and was appointed to the Historians' Council of the Gettysburg Trust in 2012 and as distinguished lecturer by the Organization of American Historians in 2018. Later this year, Masur is set to deliver the Robert Fortenbaugh Memorial Lecture at Gettysburg, the most distinguished endowed lecture in Civil War history. He has over 30 years' experience in teaching and mentoring students.
Christopher Molloy Appointed University Professor
Christopher Molloy, who is stepping down as chancellor of Rutgers-New Brunswick this month, will rejoin the faculty on July 1, 2021, as a University Professor. Molloy joined Rutgers University in 2007 as dean of the Ernest Mario School of Pharmacy. In 2011, he was appointed interim provost for biomedical and health sciences and successfully managed the complex integration of Rutgers and most of the former University of Medicine and Dentistry of New Jersey in 2013. Molloy also served as interim chancellor of Rutgers Biomedical and Health Sciences and then senior vice president for the Office of Research and Economic Development until his appointment as interim chancellor.
Molloy received his bachelor's degree in pharmacy from Rutgers and his doctoral degree from the joint Rutgers Graduate School of Biomedical Sciences at Robert Wood Johnson Medical School/Graduate School–New Brunswick.
Michael Palis Appointed University Professor
Michael Palis, provost and executive vice chancellor at Rutgers-Camden, has been named a University Professor. Palis, an internationally recognized computer scientist and an elected fellow of the American Association for the Advancement of Science, reconfigured academic affairs at Rutgers-Camden through efforts including the creation of the Office of Research in 2015, which almost doubled research funding in its first three years of operation and ensured the success of doctoral education on campus. Palis expanded the campus's international reach with opportunities for experiential learning from engaged civic learning to study abroad, and worked with the Committee on Institutional Equity and Diversity to implement a program of mini-grants that support under-represented faculty across all disciplines. He established the Center for Computational and Integrative Biology and was instrumental in the creation of the Center for Urban Research and Education at Rutgers-Camden.
Samuel Rabinowitz Appointed as a Distinguished Service Professor
School of Business-Camden professor Samuel Rabinowitz has been named a Distinguished Service Professor following approval by the Board of Governors. Through sustained engagement to support students with unique needs, including those with disabilities, Rabinowitz has had tremendous impact at Rutgers University on its culture of inclusiveness, shared governance, and academic and financial success. Rabinowitz has received the Warren I. Susman Award for Excellence in Teaching and the Lindback Distinguished Teaching Award for lifetime contributions to teaching. He has served on the University Senate and as a faculty representative to the Board of Governors, the Board of Trustees and the Camden Board of Directors, and on other committees, such as the Middle States Reaccreditation Committee, Students of Concern Committee, Disability Services Advisory Committee and the Commencement Committee. Among his many awards, Rabinowitz received the Clement A. Price Human Dignity Award in recognition of his commitment to fostering a culture of justice and inclusion.
Camilla Townsend Named Board of Governors Professor of History
Rutgers-New Brunswick School of Arts and Sciences history professor Camilla Townsend has been named a Board of Governors Professor of History. A leading participant of the Rutgers Scarlet and Black project, Townsend is an acclaimed researcher on the histories of Indigenous peoples throughout the Americas from the 16th through the 19th centuries. She has been internationally recognized for her expertise and is a recent recipient of the Cundill History Prize – which recognizes books that best embody historical scholarship, originality, literary quality and broad appeal – for Fifth Sun: A New History of the Aztecs. She is also a recipient of the John Simon Guggenheim Memorial Foundation Fellowship and the National Endowment for the Humanities Public Scholar Award. Townsend regularly contributes her expertise to textbooks on Native American history and has served as a consultant and interviewee for the television documentary Pocahontas: Beyond the Myth for the Smithsonian Channel, among others.
Michael E. Zwick Appointed Senior Vice President for Research

Michael E. Zwick of Emory University will be senior vice president for research at Rutgers University, effective Sept. 1. Zwick, a former United States Navy commander, is trained as an experimental population geneticist. Zwick will arrive at Rutgers after serving as associate vice president for research at the Robert W. Woodruff Health Sciences Center at Emory University and the associate dean of research and professor of human genetics and pediatrics in the Emory University School of Medicine. He spent over 16 years at the Atlanta-based research institution, beginning as an assistant professor in 2005. Read the full release.