Newly Named Campus Landmarks Honor African Americans Linked to Rutgers History
Rutgers University–New Brunswick dedicates Will's Way, the Sojourner Truth Apartments and the James Dickson Carr Library to honor an enslaved man, a renowned abolitionist and Rutgers' first black graduate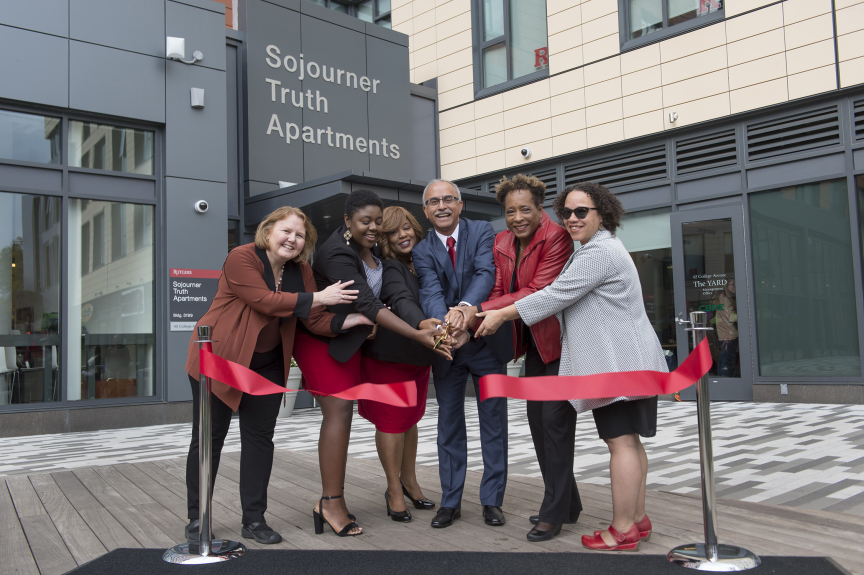 "With the Scarlet and Black project, we reflected upon our history to bring to light new knowledge about those who were marginalized, many of whom contributed to Rutgers' success and growth."

 

– Rutgers–New Brunswick Chancellor Deba Dutta
Will, Sojourner Truth and James Dickson Carr. Three very different African-American lives, each with a close – but previously overlooked – connection to Rutgers University–New Brunswick.
Today, the university made all three individuals a permanent part of the campus landscape by dedicating two prominent buildings and a central walkway in their honor.

The newly named landmarks are Will's Way (the walkway from the Old Queens building to the Voorhees Mall), named for an enslaved man who laid the foundation of Old Queens in 1808; the Sojourner Truth Apartments, a residential building named for the renowned abolitionist who, as a child, was owned by relatives of Rutgers' first president; and the James Dickson Carr Library, named for Rutgers' first African-American graduate.

"With the Scarlet and Black Project, we reflected upon our history to bring to light new knowledge about those who were marginalized, many of whom contributed to Rutgers' success and growth," Rutgers–New Brunswick Chancellor Deba Dutta said. "The dedications will help the university take the next step in its reconciliation with this history. Will, Sojourner Truth and James Dickson Carr deserve their place alongside the other historic figures memorialized on our campus."

The dedication follows the recommendations of Rutgers–New Brunswick's Committee on Enslaved and Disenfranchised Populations in Rutgers History and its Scarlet and Black Project, created to examine the university's ties to slavery and the displacement of Native Americans. These stories are told in the committee's book Scarlet and Black, Volume 1: Slavery and Dispossession in Rutgers History. The Rutgers University Board of Governors approved the new names in February.
Today's event included a libation ceremony at Will's Way in which Rev. Antonia Winstead, a lecturer in the Program in Criminal Justice, poured out water to honor Will, Truth, and Carr. Tiana Ford, a student in the Graduate School of Education, performed a powerful reading of Maya Angelou's poem "Still I Rise." The ceremony ended with the ringing of the Old Queens Bell. In front of the Sojourner Truth Apartments, the Liberated Gospel Choir, a student organization, sang "Lift Every Voice and Sing," also known as the "Black American National Anthem."

New Names, New Landmarks
Will's Way is now marked with a sign near the center of the walkway and a plaque at the north-facing door of Old Queens, which opens onto the newly named area. Inside the lobby of Old Queens another memorial to Will is displayed: a copy of the 1808 accounting book page detailing the college's payment for Will's labor to his enslaver, Dr. Jacob Dunham.

The Sojourner Truth Apartments – which opened in 2016 as the College Avenue Apartments – is a landmark, 442-bed student apartment building. The 14-story building features breathtaking views of the Raritan River and opens onto The Yard, which features green spaces, communal areas, restaurants and other amenities.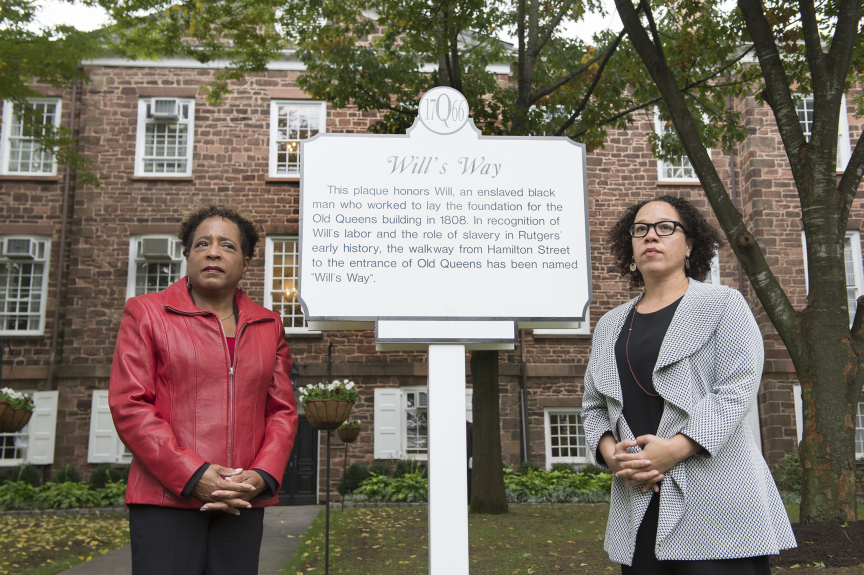 The James Dickson Carr Library in Piscataway, formerly known as the Kilmer Area Library, is a popular spot for students and a hub for academic activity. An archival grade book, featuring Carr's outstanding grades throughout his academic career, is currently on exhibit at the library.

"Will, the enslaved man who helped lay Rutgers' foundation; Sojourner Truth, who fought for the rights of women and African Americans at great personal risk; and James Dickson Carr, the Phi Beta Kappa attorney who spoke unflinchingly for black equality, represent diverse aspects of the African-American experience," Deborah Gray White, a Board of Governors Distinguished Professor of History and chair of the Committee on Enslaved and Disenfranchised Populations in Rutgers History, said. "Our students, alumni and the State of New Jersey should know and be proud of these individuals and their connection to our university. They have contributed to a past that Rutgers can use to chart its course for the future."

In October and November, Rutgers–New Brunswick students in the Public History Internship Program will lead Scarlet and Black historical walking tours of the College Avenue Campus.

Will, Truth and Carr:  Who Were They?

No last name is known for Will, an enslaved man who helped lay the foundation for the Old Queens building in the fall of 1808. The Scarlet and Black Project uncovered his story.  Records show he was enslaved to a physician whose father was an early trustee of Queen's College. The enslaver regularly profited by hiring Will out to perform strenuous labor – including an estimated month and a half's work on the construction of the university's iconic administrative building.

Sojourner Truth lived one of the most remarkable lives in American history. She was born into slavery in about 1797. As a child, she and her parents were enslaved to relatives of Jacob Rutsen Hardenbergh, the university's first president, according to Scarlet and Black.

Truth eventually escaped from slavery and became a prominent abolitionist, women's rights activist and religious leader. She collected supplies for black regiments during the Civil War and advocated strongly for equal rights during the Reconstruction period. She was one of the first black women in America to win a court case against a white man, recovering her son who had been sold illegally. She was a powerful orator; a version of her most famous speech is known today as "Ain't I a Woman?"

James Dickson Carr became Rutgers' first African-American graduate in 1892. Evidence indicates he had a positive experience at Rutgers, was well liked and respected by fellow students and was highly successful academically. He was one of 11 members of his class to join the Phi Beta Kappa Honor Society. Though segregation was common across the country, he shared a dorm room with a white student. Carr went on to Columbia Law School and a successful career as an attorney in New York City government.

Carr appears to have felt connected to Rutgers throughout his life – even writing an angry letter in 1919 to William Henry Steele Demarest, then the university president, after another black student and football player was sidelined from a game at the request of an all-white opposing team. (That student, Paul Robeson, became the third African American to attend Rutgers and perhaps its most famous alumnus).

At his graduation, Carr gave a commencement speech that showed his pride in Rutgers: "Let us play our part in confidence, ever cherishing in fond memory the lessons we have learned at our Alma Mater, resolving never to shame nor forsake her, but where for her danger or dishonor lurks, to guard her, or with her endure the worst."