New Tools and Facilities Greet Students, Faculty and Alumni This Fall
Alumni facilities and streamlined online portal are among this year's upgrades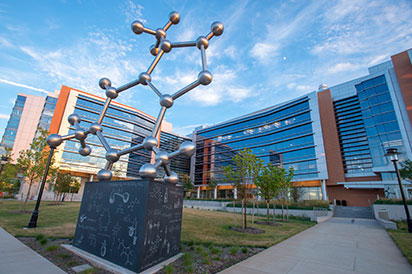 Students, faculty and alumni will arrive on campus this fall to find new or upgraded facilities, resources and amenities, including an online student platform, dedicated spaces for alumni and the highly anticipated Richard Weeks Hall of Engineering on Busch Campus.
Students used to have to visit various sites to successfully navigate to the many student services apps and forms – but not anymore. As part of a student experience improvement initiative, Rutgers recently unveiled an upgraded myRutgers student portal that provides a mobile-friendly dashboard to access Rutgers student services apps, where students can view grades and transcripts, register for courses, manage financial aid, see Rutgers debit card balances, access email and calendar, and view important alerts and reminders.
David Badger, Rutgers director of information technology in the Office of Information Technology-Enterprise Application Services, said the upgraded myRutgers portal reduces the complexity for students to find and use apps. It is designed for students at all Rutgers locations.
"Your dashboard presents only the widgets for the apps you use – it's personalized for every student," said Badger. "For example, if you're a Rutgers Biomedical and Health Sciences (RBHS) student, you'll have access to a student system like Banner in your dashboard when you log in, but if you're a student in the School of Arts and Sciences at Rutgers-New Brunswick, you won't; you'll see the student systems applicable to you."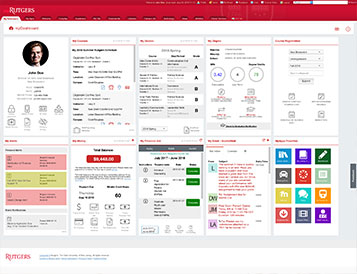 Students can also apply for and track financial aid from the dashboard and see the award amount after an application is submitted.  The team is exploring future enhancements to the dashboard, including information from learning management systems such as Canvas, Sakai, Blackboard and Moodle and advisory services, career services, to-do lists and more.
Students can log in to myRutgers at my.rutgers.edu
Many recently completed physical structures across the university will also streamline academic and social experiences, said John Shulack, vice president of University Facilities and Capital Planning.
"The Richard Weeks Hall of Engineering is the biggest project we've completed this fall, but the newly renovated Artis Building at Rutgers–Camden and Alumni House at Rutgers–Newark are  something to brag about. We breathed life into them by activating unused spaces," said Shulack.

Here are some of the newly completed and currently upgraded buildings and facilities across Rutgers: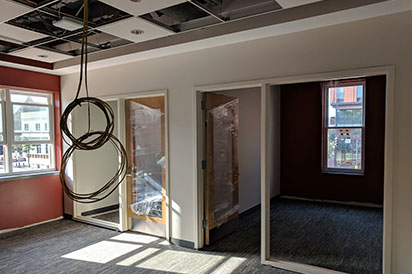 Rutgers University-Camden
The Artis Building at Rutgers-Camden is a series of 170-year-old row houses on Cooper Street that was rehabilitated into approximately 13,000 square feet of new offices, a computer lab, and faculty, staff and student support spaces. The building will centralize the Department of Childhood Studies – the first childhood studies Ph.D. program in the United States.
Status: Opens summer 2018
Students will find a One-Stop Student Service Center on the main level of Armitage Hall that offers front-desk services for financial aid, student accounting, registrar, cashiering and parking payment services.
Status: Opens summer 2018
Rutgers University-New Brunswick
The environmentally sustainable Richard Weeks Hall of Engineering, conceived as an interdisciplinary "Engineering Gateway," is a state-of-the-art 104,000 square foot facility that offers students, faculty and researchers an advanced infrastructure of smart classrooms and collaborative laboratories for robotics, urban and coastal water systems, geosystems, environmental process and molecular analysis, energy and more.
Status: Opens fall 2018
The new four-story, 145,000-square-foot, state-of-the-art home of the Department of Chemistry and Chemical Biology provides teaching, laboratory and support space that will enable Rutgers–New Brunswick to expand and accelerate its innovative research in drug design, alternative energy, biomaterials and nanotechnology.
Status: Opens fall 2018
The Alumni House at Rutgers-New Brunswick at Van Nest Hall, located at 19 College Avenue opens its doors this fall. This first-ever dedicated alumni space at Rutgers–New Brunswick offers meeting space for alumni groups and a warm welcome to all visiting graduates.
Status: Opens fall 2018
Rutgers University-Newark
The Alumni Center at Rutgers University-Newark opens its doors for the first time this fall after a series of rehabilitation projects that created a conference room, a meeting room, and a parlor and living room in a 19th-century house at 72 Washington Street.
Status: Opens fall 2018
Rutgers Biomedical and Health Sciences 
The 7th floor renovation of the Clinical Academic Building provides more than 26,000 square feet of administrative and laboratory space for the Robert Wood Johnson Medical School Department of Medicine, including a flexible, open lab space for increased visibility, collaboration and interaction among RBHS researchers, administrators, clinicians and residents. Updated spaces include new offices, tissue culture rooms and a microscopy suite.
Status: Opened spring 2018