Music Defined Senior's Time at Rutgers as Marching Band Drum Major
Harrison Farrugia was one of three marching band drum majors during his final years at Rutgers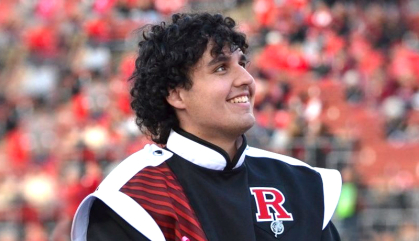 In his last two years as a Rutgers undergrad, there was no place Harrison Farrugia would rather have been than center podium – the small metal platform eight steps above the 50-yard line that gave him a unique view of the Rutgers Marching Scarlet Knights (MSK) – close enough to be a part of the band, but at a slight elevation that allowed him to oversee it all. 
During his junior and senior years, Farrugia was one of three marching band drum majors – a position, he's quick to point out, that has pretty much nothing to do with drums and, at Rutgers, nothing at all to do with tossing a baton or executing flashy choreography. 
With a flick of a wrist, Farrugia is the one who starts the machine up, and keeps it whirring throughout the entire football season.
 "The satisfaction of being a drum major," he says, "comes from knowing that the machine is a lot better oiled because of what we do."  
While the field major gets a lot more attention and applause for the band's glitzy performances, Farrugia conducts the band from the center podium, overseeing the leaders of each section to make sure that they know what to do and when and where to do it.  He tracks equipment as it goes on and off the trucks, conducts at rehearsals, helps with recruitment and ensures that all the machine's myriad pieces are running as one.
The satisfaction of being a drum major comes from knowing that the machine is a lot better oiled because of what we do.

Harrison Farrugia
Farrugia has been readying himself for this role since fourth grade when he took up the clarinet and taught himself how to play guitar, bass and drums. He spent three years at Chatham High School playing clarinet in its marching band.
"I've been into music for a very long time," Farrugia says, "though I never expected it to be such a big part of my life."
When he got to Rutgers-New Brunswick, he played clarinet in the marching band for two years, leading the clarinet section in his sophomore year, before being tapped as drum major. Finding out that he'd gotten the nod, he notes, was probably the most exciting moment in his four years with the band. "It was something I'd wanted even before I got to Rutgers," he says. 
Farrugia, who will graduate with a degree in computer science and a minor in music, has relished all of the 28 halftimes he's performed with the Knights, but a couple stand out.
Last September the band played with a gospel choir to commemorate the centennial graduation of Rutgers alumnus Paul Robeson, the great African-American actor, singer and activist. He also found himself at the center podium at a nationally televised Jets-Cowboys game at MetLife Stadium where, he acknowledges, a black cat who ran onto the field and halted play for 30 minutes got more attention than he did.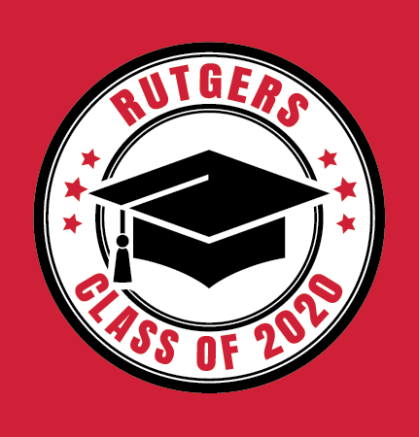 "Performing in front of so many people is something I may never have the opportunity to do again in my lifetime," Farrugia says.  "I expect that my days with the Marching Scarlet Knights will be what I remember most about my years at Rutgers."
While he expected his last performance with the band, in November 2019, to be the most memorable, he admits that, "there wasn't a lot of time to just stop and think."
Now that his final season has ended, Farrugia is mulling over what he learned during his tenure as drum major: accountability, the need to communicate clearly and the ability to work with different types of people.
He's currently putting those abilities to work in the tech department supporting software at the Warner Music Group, one of the world's leading music publishers. It's a position, he explains, that turns out to be the perfect blend "of my two different skill sets, and passions." He has been working remotely even before the COVID-19 pandemic.
Farrugia is also in the process of completing a certificate in the recording arts.  "Music is certainly going to play a major role in my life moving forward, as it did prior to joining the band," he says. "While my time with the band is over, I like to think that my musical journey is just beginning."