Mobile Town Hall Brings Students to Capitol Hill
Rutgers University-New Brunswick students get a lesson in civic engagement in Washington, D.C.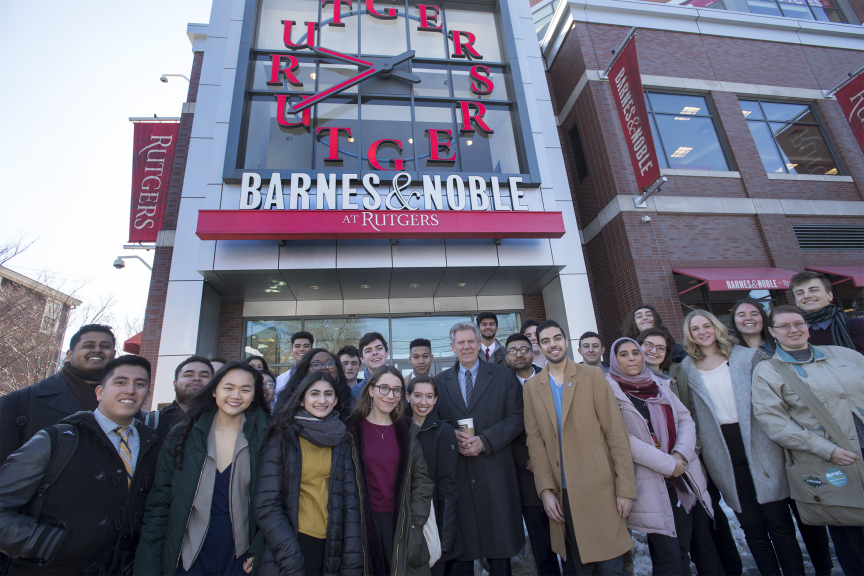 Climate change, free speech and the environment were on the minds of students when they had a chance to meet with members of Congress and their staff on Tuesday on Capitol Hill as part of a trip to spark civic engagement on campus.
More than 30 students from Rutgers-New Brunswick boarded a Megabus with U.S. Rep. Frank Pallone for the "mobile town hall" trip from New Brunswick to Washington, D.C. The day included meetings scheduled with Rep. Donald Norcross and Rutgers alumni U.S. Rep. Darren Soto of Florida and Adam Minehardt, chief of staff to New York Rep. Nydia Velázque. Students also had a chance to meet with other congressional staffers for the New Jersey delegation.
The event was organized by the Rutgers University Student Assembly (RUSA), the Rutgers University Office of Federal Relations, Rep. Pallone's office and the bus carrier. The day gave students a chance to talk with members of Congress and congressional aides about the issues that matter most to them, learn how policy is made and lobby for student needs.
Marc Younker, a first-year student with a double major in philosophy and political science, wanted to use the opportunity to speak with Pallone and other leaders about "climate change, which is an overarching issue that involves public policy of our generation, as well as free speech on college campuses and issues pertaining to environmental sustainability."
Younker said he planned to ask, "What is the government going to be doing now that we've pulled out of the Paris Climate Accord? How will we try to reduce carbon emissions and manage the environment?"
The student assembly was involved with the trip to introduce students to members of Congress.
"We wanted to give students the opportunity to have an innovative and unique civic engagement opportunity," said Julien Rosenbloom, a sophomore studying political science and economics who was one of the lead organizers for the trip for the student assembly. "And in the longer term, this event positions RUSA as a leader of civic engagement on campus and in New Jersey and hopefully nationally, and develops a strong relationship with the office of the Congress member who represents us."
RUSA President Suzanne Link, a senior studying human resource management and labor studies and employment relations, said, "We're hoping to spark an interest in all things legislative and government affairs in the students that participate in RUSA and those who might not be current RUSA members but may have an interest in joining. I'm excited to see us give students an opportunity to be on the Hill physically, and to generate more interest in our legislative affairs committee."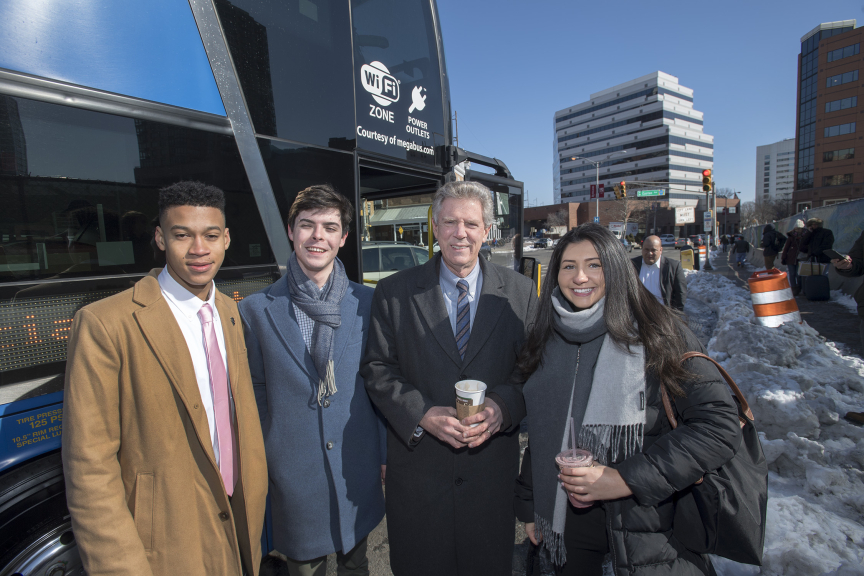 Francine Newsome Pfeiffer, vice president for federal relations at Rutgers, said, "This is such a unique opportunity for our student leaders to spend time with their congressman and have a dialogue about the current federal policy issues important to Rutgers students.  Rep.Pallone has been a champion for Rutgers in the nation's capital, and we are pleased and grateful that he is keeping the interests of Rutgers students in mind in Congress."
Pallone said his main focus for the mobile town hall was to learn about the issues that matter most to students – and get them thinking about careers in public service.
"We always worry that young people supposedly aren't that interested in government or have lost faith in the democratic system," Pallone said. "So I'd like to find out why that's true and what we can do to change it. And since so many of these students are involved in student government, they're probably the best people to tell me."