Meet the Sports Psychologist Who Helps Scarlet Knight Student-Athletes Excel on and off the Field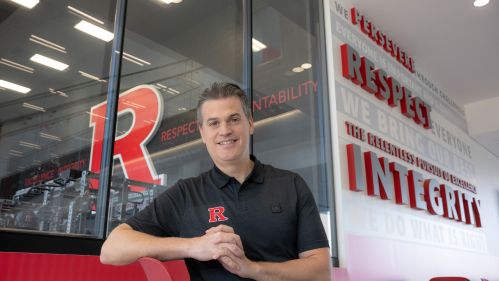 Tough on the field, vulnerable on the sidelines: According to sports psychologist Peter Economou, that's the secret to athletic success.
Economou is doing his part to support that dynamic as leader of a behavioral health and wellness program embedded within Rutgers University Athletics in Piscataway. In partnership with RWJBarnabas Health, Economou and his team of eight mental health professionals are helping student-athletes weather a host of challenges – from the pressure of playing Big Ten games to the frustration of living with injuries and the imperative to excel in the classroom and in competition.
The providers offer one-on-one counseling, support groups, mental skills training, team interventions, substance abuse counseling and assessment, body image and eating guidance and academic learning evaluations and intervention.
"It's the whole gamut of what a psychologist can do, and that's why ours is the most integrative, comprehensive program in the country," said Economou, director of organizational psychology programs and an assistant professor in the Rutgers Graduate School of Applied and Professional Psychology.
The program is also distinctive as one of just two at Power 5 conference schools that feature embedded tenure-track research faculty; the other is at the University of Kentucky. That gives Economou the opportunity to conduct studies with the consent of participating students. His ongoing investigations are focused on antiracist initiatives within sports; the applications of mindfulness to brain healing after concussion; and how endorsement deals affect the mental health of student-athletes.
As a cognitive and behavioral therapist who founded the Counseling & Wellness Center in New Jersey and New York before joining Rutgers five years ago, Economou considers delivering effective therapy the most straightforward aspect of his behavioral health initiative. The hard part is ensuring that services reach everyone who needs them.
"There's a stigma associated with getting mental health services, and Dr. Economou has done an incredible job of reducing that for our teams," said Joshua Bershad, an assistant clinical professor of medicine and an executive vice president at RWJBarnabas Health who serves as chief medical officer for Rutgers University Athletics. "He has numerous efforts aimed at creating an environment of acceptance, and these go a long way toward decreasing barriers to care."
One strategy puts the team of psychologists and master's, doctoral and post-doctoral students exactly where they need to be to show solidarity with athletes – in the stands at practices and games.
"Sometimes we just cheer them on, but there have been times where somebody has needed a quick redirect," said Economou, affectionately known as "Dr. Pete" by his athletes. "More often than not, that involves providing moral support and helping athletes recognize they can let go of a bad moment."
Economou and his team also normalize their services through a weekly athletics newsletter, by sharing waiting rooms with medical doctors so it's not obvious when someone is receiving counseling, and by encouraging coaches to tout the benefits of mental help. Economou even makes therapy more palatable by counseling students during campus strolls.
Having previously shaped the athletic behavioral health program at his alma mater, Seton Hall University, Economou helped elevate the program at Rutgers into a cutting-edge, modern sports psychology program based on an embedded model in January 2020. The timing was fortuitous, he said, as the need for mental health services escalated two months later when the COVID-19 pandemic hit. But even before that, with only one dedicated provider, the school's more than 730 student-athletes needed more support.
Today, they have a variety of programs at their disposal, including Economou's Meditation Mondays.
"There's little else we can do to change our brains so quickly," said Economou, a guru in the White Plum lineage of Zen Buddhism. "It makes us less reactive to situations, allowing athletes to regulate their emotions so they can do what they know how to do."
A former Big East champion swimmer who competed in Olympic trials, Economou also piloted a program to help athletes learn to swim.
"Disadvantaged groups have less access to pools, and people who have never learned to swim can build an unhealthy relationship with water," he said. "Our athletes are performing at the highest level, and I don't want this one neurological block to stand in their way."
The fact that his team treated nearly 200 athletes last year indicates not only that help is more available, but that members of Rutgers teams are more willing to accept it, Economou said.
"One of the beautiful things about working with high-performing student-athletes is that they're really committed to trying to improve and be the best version of themselves," he said.
Just as promising is that numerous students have told Economou they want to study sports psychology at Rutgers once their athletic careers have ended.
"It's validating to be part of the bridge between the athletic and academic worlds," Economou said. "To know that my behavioral health program is cultivating an interest in sports psychology among athletes is both remarkable and rewarding."