Mathematician Renowned for Prime Number Theory Wins Shaw Prize
Henryk Iwaniec says prime numbers are 'beautiful, elegant and mysterious' at the same time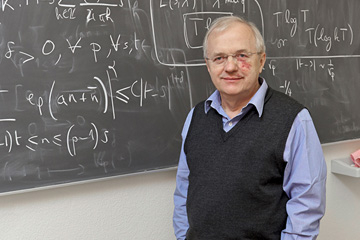 Henryk Iwaniec, a Rutgers University mathematics professor, has received the 2015 Shaw Prize in Mathematical Sciences, an international award honoring scholars who have pioneered significant breakthroughs in their field.
Iwaniec, New Jersey Professor of Mathematics in the School of Arts and Sciences at Rutgers-New Brunswick, received the award during a ceremony in Hong Kong. He shares the prize with Gerd Faltings, managing director of the Max Planck Institute for Mathematics in Germany.
The Shaw Foundation noted that the two scholars introduced and developed fundamental tools in number theory that allowed them as well as others to resolve longstanding classical problems.
"It's overwhelming," Iwaniec said in a recent interview. ""I'm extremely happy."
A Rutgers professor since 1987, Iwaniec is known for his work studying prime numbers, which are numbers that can be divided only by themselves or the number one to arrive at a whole number. While no formula can represent all prime numbers, Iwaniec and John Friedlander of the University of Toronto proved that an infinite number of primes can be generated by the formulaX2+Y4.
"Prime numbers are my favorite subject, because they are beautiful, elegant and mysterious at the same time," Iwaniec said. "They are fundamental elements of arithmetic like elementary particles are in physics.
"It's not easy to get some new insight, so if you have some progress you are very happy."
Simon Thomas, chair of the mathematics department, described Iwaniec as a world leader in one of the oldest and deepest fields of mathematics.
"His expertise has contributed to our department's reputation as one of the country's leading mathematics programs, and his presence has attracted talented graduate students and junior faculty to Rutgers," Thomas said.
A native of Poland, Iwaniec studied at the University of Warsaw, obtaining his Ph.D. in 1972. He then held positions at the Institute of Mathematics of the Polish Academy of Sciences until 1983 when he left Poland. Before coming to Rutgers he held visiting positions at the Institute for Advanced Study, Princeton, the University of Michigan, and the University of Colorado at Boulder.
– John Chadwick