Richard Deane has been performing with the New York Philharmonic pop-up concert series
Richard Deane played his last concert with the New York Philharmonic on March 12, and then, like the rest of the city, hunkered down to endure the COVID-19 crisis.
Four months later, with New York reeling in the pandemic's aftermath, Deane, the orchestra's principal acting horn and member of the music faculty at Mason Gross, began to feel his own sense of personal anguish without the creative outlet of performing.
"It was a feeling of unfulfillment," says Deane. "[Creativity] is a part of us, and it got ripped away. Once you don't get a chance to be creative, as a creative person, you really start feeling like there's something wrong."
Enter the NY Phil Bandwagon, a mobile musical experience dreamed up by Anthony Roth Costanzo, a Grammy-nominated countertenor described by Deane as "a local star," who has performed at opera houses around the globe.
Costanzo reached out to the orchestra to talk logistics and gauge members' interest in participating in outdoor pop-up concerts around New York City. The idea, says Deane, caught on immediately with members of the philharmonic.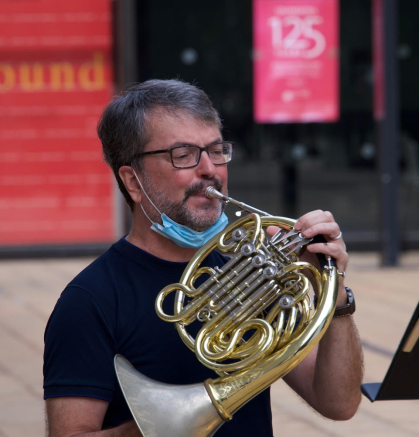 "Once things start getting a little momentum in a group like that, with all those people who really know what they're doing, they took the bull by the horns," Deane says. "It was a really good idea by someone outside of the philharmonic, and then it took hold and everyone on the team made it happen."
Costanzo and a team from the philharmonic rented a pickup truck, complete with a custom logo wrap, and secured outdoor venue locations and permits. By the end of August, the Bandwagon and orchestra musicians set out on a whirlwind tour across New York City to perform works ranging from Beethoven to Bernstein in more than 90 concerts.
Deane performed with the Bandwagon over two weekends, in three concerts each day, first in a brass quintet September 25–27, which included Mason Gross music faculty member Alan Baer, the philharmonic's principal tuba, and again October 16–18 in a horn quartet, which included music faculty member Leelanee Sterrett, acting associate principal horn.
Musicians were responsible for getting themselves to each venue, where the truck would be waiting with equipment including chairs, music stands, and amplification, along with the orchestra's stage manager and crew to set it all up.
The only challenges to the arrangement, Deane says, were playing in a mask and, by mid-October, the cold.
"All of us brass players have played outside, going back to high school, when we played in marching band, and we've all played outdoor concerts throughout our careers," says Deane. "So we're used to the logistics of the wind, and to some degree the cold. But for any musician, once you get cold, it's a little hard to play."
The mask proved to be less comfortable than the temperature drops, says Deane, who wore a face-covering that included a horizontal slit covered by a flap to allow the horn's mouthpiece to fit through.
"We're really sensitive about our lips and our mouths, and how the mouthpiece fits right on our lips, so to have that extra layer of stuff there was just distracting," Deane says. "That aspect of it was something that was hard to get used to."
Still, that level of safety allowed the musicians to get closer to audiences who showed up at city parks, in Herald Square, and in front of schools and libraries across New York City.
The first rehearsal for the Bandwagon, I felt so nervous, I was kind of sick to my stomach And then we started playing, and I got so happy. Riding the bus back across town, I'll never forget, I was high as a kite—I hadn't been that happy since March.

Richard Deane
In addition to getting to play music again with his colleagues, Deane says the best part of the Bandwagon experience was that interaction with the audience—something he misses out on in a concert hall, where he usually is seated at the back of the stage.
"Most of my emotional experience when I'm playing my instrument is through the music itself. It's very hard to feel what the audience is feeling, that intuition that it's really doing something," says Deane. "But what happened when we were out there, I could actually look up and see people's faces and feel what they were feeling—it was really quite an inspiring experience."
While concerts and events with the New York Philharmonic are canceled through early June 2021, there are plans to restart the Bandwagon tour in April.
Deane hopes to go on the road again (in warmer weather), especially, he says, after such an uplifting—and much-needed—experience.
"The first rehearsal for the Bandwagon, I felt so nervous, I was kind of sick to my stomach," Deane says. "And then we started playing, and I got so happy. Riding the bus back across town, I'll never forget, I was high as a kite—I hadn't been that happy since March."