Mason Gross Dean Draws on Experience to Help Students Navigate Unprecedented Time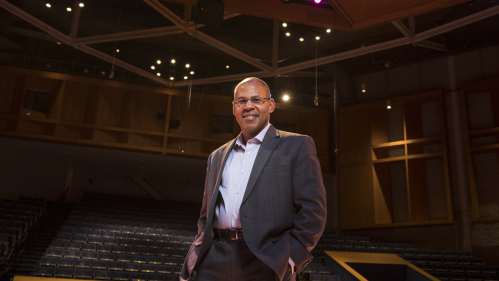 Jason Geary is working to foster a more inclusive environment and prepare students for the challenges of being an artist in the 21st century 
Jason Geary is a musician born into a family of athletes.
While his parents fully supported their son's passion for piano, they had a limited understanding of what it took to prepare for a career in the arts. So it was largely up to Geary to figure out how to pursue his dream.
"That has colored my thinking to this day and helped spark my interest in administration," said Geary, who started as dean at Mason Gross School of the Arts on July 1, 2020, and uses his experience navigating the arts to help him lead. "I realize looking back that I – like many of our students – didn't have a lot of the networks and support systems that some of my peers had. Those are really important for getting a leg up in the arts because it is such a competitive field."
Raised in a middle-class family in Bakersfield, Calif., Geary's introduction to his "first love" came in sixth grade when he taught himself to play piano on an old Cable Nelson Spinet his parents inherited from his grandmother. Within a year he was accompanying his glee club.
"The teacher said, 'You are pretty good. Who do you study with?'" said Geary. "I told her I didn't study with anyone, and she said, 'Well you should.' I knew then my love of music would be paramount."
While studying piano performance as an undergraduate at the San Francisco Conservatory of Music, Geary had two introductions that changed his life: The first was to Helen Xie, a fellow pianist who became his wife and mother of his two sons; the second was to musicology, which compelled him to veer from his original plan of becoming a concert pianist and instead dedicate his career to the study and analysis of music.
"It was not always an easy or direct road because I struggled for a long time with whether I wanted to pursue performance or the academic study of music," said Geary, who received an M.A. in musicology from the University of Michigan and a Ph.D. in musicology from Yale University. "When I took my first music history course, I was blown away. It was a revelation for me, connecting all of the history and cultural context with the music that I loved and had performed."
Before arriving at Mason Gross, Geary served as director of the School of Music, professor of musicology and special adviser to the dean for the arts in the College of Arts and Humanities at the University of Maryland. Prior to Maryland, he was associate dean and a faculty member in musicology at the University of Michigan School of Music, Theatre and Dance.
"The context of being an arts school within a larger research university is an animating source of inspiration and imagination for me. It opens up opportunities to think about ways in which the arts intersect with a range of disciplines – from the sciences to engineering to business and medicine," he said.
Identifying and capitalizing on those interdisciplinary opportunities is part of the plan Geary outlined to Mason Gross staff and students this summer. That vision also includes supporting more arts engagement with the university, the surrounding community, public schools, and arts organizations and fostering a more equitable and inclusive environment within the school.
Working with the newly established Office of the Senior Vice President for Equity, he is also hosting Zoom chats and town halls with faculty, students and staff to identify ways to expand recruiting efforts and broaden curriculum to allow for greater diversity. He wants to highlight works by Black artists and other artists of color, and has created a space on the Mason Gross website that articulates the school's commitment to inclusivity and anti-racist measures.
"We need to ensure that the diversity of our student population at Mason Gross is reflected in the curriculum," he said. "That extends to the programs that we are performing on our stages and exhibits displayed in our gallery spaces."
Though he is looking forward to experiencing the arts in person again, Geary sees Mason Gross continuing to embrace new technology and ideas adopted during the pandemic to attract new audiences and better position students for success in an industry reeling from loss.
"We need to think in different ways about how we train students and how the arts are at the center of solving important societal challenges. If you had told the faculty or students a year ago that we are going to move to all-virtual performances and courses, they would have laughed you out of the room," Geary said. "Yet we did it, and in a way that our students are still thriving and gaining valuable experiences. If we can pivot that quickly, that should give us hope and encouragement about meeting the challenges of our time."
Outside of work, Geary is settling into his new home in Metuchen with his family. His wife started a new job at Rutgers as a part-time China exchange specialist for Rutgers Global. Their two sons, ages 12 and 14, both studied instruments and sing in choir, but right now Geary said their priorities are "all soccer all the time" and traveling with their team up and down the East Coast for games and tournaments.
He still plays the piano – if mostly for a home audience.
"It is centering. It reminds me why I got into this field in the first place," Geary said. "It helps remind me of where the students are now, and where I was when I was their age, and all the things I was trying to figure out. It's also a chance to play and hear beautiful music, and for me that's where it all begins."