Labor Studies Professor Overcomes Near Fatal Crash to Complete 50 Half-Marathons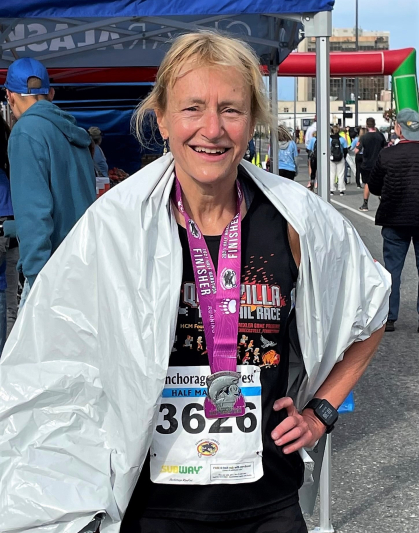 Yana van der Meulen Rodgers has painful, disjointed memories of the accident that nearly killed her. The pick-up truck smashing into her from behind. The mangled bicycle lying on the ground. The agony in the emergency room.
"I was screaming in pain in the hospital," Rodgers said. "Both of my legs, my pelvis, and an arm were broken in multiple places. I had lacerations filled with gravel."
Doctors implanted a rod in her thighbone and a plate in the broken arm. With casts on both legs, she used a wheelchair for three weeks before transitioning to a walker and, eventually, specially designed crutches. It was a two-year recovery process.
"They fixed me up like the Bionic Woman," she said.
Rodgers knew she was fortunate to survive the accident and still be able to walk, but her passion was running and now she could hardly break into a sprint.
Born in the Netherlands, Rodgers immigrated to the U.S. with her family at age 7 and competed on the cross-country and track teams throughout high school. She continued running recreationally as an undergrad at Cornell University, where the accident happened in 1986.
Initially, the doctors feared she would never run again. The collision had snapped or fractured numerous bones in her lower extremities, and the healing process left one leg an inch shorter than the other, requiring corrective shoe inserts and heel lifts to this day.
But Rodgers, faculty director of the Center for Women and Work in the School of Management and Labor Relations, applied the same grit and determination to her recovery as she does to her work on women's empowerment. Once the rod and plate came out, she slowly resumed running and never looked back.
After moving to New Jersey in 2004, Rodgers started training with the group Run Around Princeton. Five years later, she competed in what's known today as the SHAPE + Health Women's Half-Marathon, a 13.1-mile double loop around Central Park.
"I crossed the finish line and a volunteer put a beautiful medal around my neck," she said. "I was with my sister and asked her, 'What's this? Why do I get a medal?' She said the magic words. 'When you finish a half-marathon, you get a finisher's medal no matter how slow you run.'"
Rodgers was hooked. She began competing in more and more half-marathons, always pacing herself to avoid complications from the leg-length imbalance. Somewhere along the way, one of her kids had a great idea. Why not run a half-marathon in all 50 states?
One by one, she began crossing them off the list.
The hardest course was in New Mexico, a trail race that started at 10,000 feet above sea level and ascended a mountain peak 12,000 feet up. Her personal best came in Nebraska, churning over the flat terrain in just 1 hour, 35 minutes. The most meaningful race was in Alaska, where the melting glaciers and endangered wildlife offered a bittersweet backdrop.
The last race – state number 50 of 50 – was in Hawaii just seven weeks ago.
Rodgers' partner, Jay, and two of her children, Billy and Charlie, were waiting at the end of the course. Billy pointed his smartphone in mom's direction and caught the final steps of a journey that started more than 35 years ago next to skid marks and a mangled bicycle.
"I cried at the finish line because they were there," Rodgers said. "It was a powerful moment."
Rodgers, 56, isn't slowing down. When she's not running or spending time with loved ones, she's doing research on women's health and well-being. She has traveled the world to share her findings on gender pay gaps, the disproportionate burden of care work, and the benefits of women's empowerment for child health.
"One of my favorite parts of the job is talking about my research and its relevance for policy, especially for the empowerment of people who have been marginalized like LGBTQA+ individuals, people with disabilities, women seeking abortions, and low-income women," she said.
Rodgers, who holds a Ph.D. in economics from Harvard, has done consulting work for the United Nations, the World Bank, and the Asian Development Bank, and she served as president of the International Association for Feminist Economics. CNN, NBC and other news organizations routinely seek her expertise.
On this International Women's Day, Rodgers sees a strong link between her personal and professional success. Just as runners support each other in clubs like Run Around Princeton and in races, she believes the power of collective action can overcome the rampant inequities in society today.
And she keeps it all in perspective, remembering how hard she worked to overcome her injuries and how empowering it's been to leave it all in the dust that's forever swirling behind her running shoes.
"I'm lucky to be alive and even luckier to be able to run," Rodgers said. "I recognize that every day."