Jewish Genetic Screening Raises Awareness for Students
Successful genetic counseling and screening is a model for future programs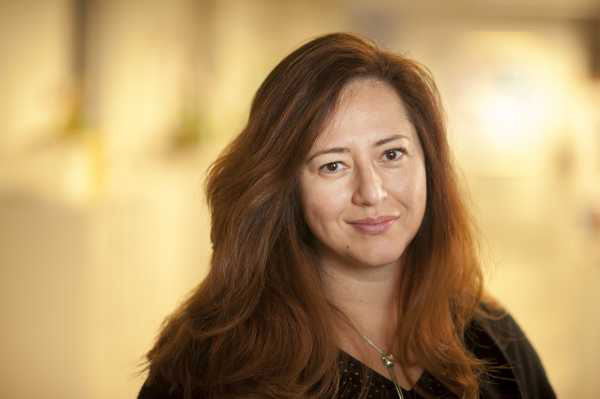 'Knowing your carrier status has multiple benefits.'

 

- Elena Ashkinadze, Robert Wood Johnson Medical School
When genetic counselors from Robert Wood Johnson Medical School and community members teamed up with Rutgers Hillel's Orthodox Union-Jewish Learning Initiative on Campus (OU-JLIC) to hold the first Jewish Genetic Awareness and Screening Event, the results were striking.
Nearly 80 students came to a mid-October information session, where genetic counselors explained why pre-pregnancy genetic carrier screening benefits anyone, particularly those of Jewish descent. A rabbi presented the Jewish point of view about why genetic screening is an important step to take before starting a family. The students were then asked to discuss the information with their parents.
"We wanted buy-in from families before the screenings," says Elena Ashkinadze, supervisor of reproductive genetic counseling in maternal fetal medicine at Rutgers Robert Wood Johnson Medical School. "If a student comes back as a carrier, it impacts the whole family."
Ashkinadze, who has been providing reproductive genetic counseling for nearly 20 years, says most couples find out that they are carriers once they are pregnant. Her goal is to give couples access to this information before pregnancy.
The screenings revealed that 35 percent of the students tested were carriers for at least one genetic condition. Of them, 60 percent were carriers for a Jewish genetic disorder, including Tay-Sachs and Gaucher disease, while 40 percent were carriers of disorders unrelated to Jewish heritage. "That was our message all along – everyone benefits from this, regardless of their ethnic background," Ashkinadze says.
The results of the screening are as interesting as the story of how the event took shape.
Ashkinadze long wanted to provide genetic testing and counseling for all young adults. She met Zelda Wildman, a Rutgers alumnus, when Wildman's daughter, Temima Wildman-Lebowicz, interned for Ashkinadze in the summer of 2010.   Zelda Wildman took her first genetics class at Rutgers University and went on to study torsion dystonia, a Jewish genetic disease, as a National Institute of Health fellow.  During her fellowship, Wildman learned that a close friend was diagnosed with the same Jewish genetic disease she was studying. That's when she set a goal to help young Jews become genetically aware and help make screening accessible.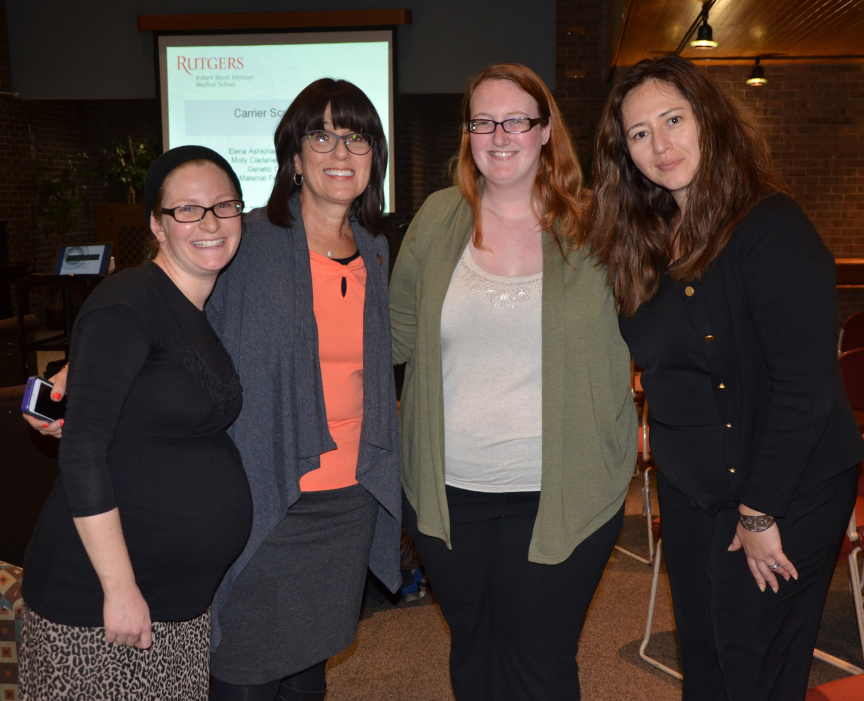 Wildman connected Ashkinadze with Sara Frieberg, OU-JLIC co-director at Rutgers Hillel, who agreed that screening for genetic diseases would be essential for college students because many are in serious relationships or may begin serious relationships during, or soon after, college.
"While we have options for a carrier couple nowadays to go on to start a family, if the individual, or a couple, has this knowledge early, they can make informed decisions and go into a marriage with the knowledge of what is to come," says Frieberg, who played a key role in getting the word out to students and organizing the event.
Following the October session, 100 students signed up for screenings at the Hillel house. Bioreference Laboratories in Elmwood Park, N.J., offered to do the testing with no out-of-pocket costs to students and their families and provided a phlebotomist to take blood samples when saliva tests proved insufficient. A grant from Pfizer Pharmaceuticals helped with other expenses, and a team of pre-med and genetics students helped organize and run the event, along with the post-screening follow-up.
Genetic counselors Molly Ciarlariello, Jennifer Muhammad, Shama Khan and Christina Botti volunteered and provided free individual counseling sessions to students. They reviewed that they were being tested for 165 different genetic conditions and that, typically, being a carrier has no impact. For genetic conditions such as Tay-Sachs disease and cystic fibrosis, both partners need to be carriers. If both are carriers for Tay-Sachs, a disorder that progressively destroys nerve cells in the brain and spinal cord, there's a 25 percent chance for each pregnancy that a baby will be born with the disease.
"Knowing your carrier status has multiple benefits," Ashkinadze says. If people find out they're carriers for diseases like blindness, color blindness or congenital deafness, they know to have their children tested after birth and get intervention right away if these conditions develop. For disorders like Tay-Sachs, in vitro fertilization allows disease-free embryos to be implanted for carrier couples.
An intensive follow-up coordinated by the Robert Wood Johnson genetic counselors came next for students who tested positive as carriers. Charts were created, counseling sessions set up and the students were encouraged to share results with their families and doctors; siblings of carriers have a 50 percent chance of being carriers, too. If the students had partners, they were encouraged to bring them in for counseling and screening.
Elijah Reiss, a Rutgers University-New Brunswick junior, was grateful for the opportunity. "It is imperative to be informed early on about genetic diseases so you can make choices later in life regarding having children in a well thought-out manner," Reiss says.
Following the pilot program's success, Wildman, of Edison, is working with her daughter, Temima, now a genetic counselor, to bring a similar counseling and screening program to other college campuses. Meanwhile, Ashkinadze is pursuing grants to provide genetic counseling and screening to anyone interested at Rutgers and, eventually, throughout New Jersey.
"I would like to remove as many barriers as possible – awareness first, access and financial," Ashkinadze says. 
---
For media inquiries, contact Dory Devlin, dory.devlin@rutgers.edu or 973-972-7276.