Cites challenges and opportunities in three-year plan to close deficit while protecting core mission
At a financially challenging time filled equally with promise and opportunity, Rutgers University will be taking steps to eliminate a $125 million budget deficit over the next three years by reducing administrative costs and increasing revenues in various ways, President Jonathan Holloway said in his second annual budget address to the University Senate.
"We need multi-year solutions and structural reforms. While I am focused on the current budget, I will not endorse a plan that requires draconian cuts so that we can close a budget hole in a single year," Holloway said. "I've seen what that can do to universities, and I won't inflict that on this community."
Efforts to close the deficit, estimated at $125 million at the end of fiscal year 2022, will require shared sacrifice, Holloway said, noting that he has ordered central administrative units to cut budgets by about 9.5%. Chancellor and academic units also will increase revenues and pare costs, he added.
Holloway began the tradition of presenting a budget address to the University Senate last year to help bring more clarity to the complex $5.1 billion annual university budget. Planning for the fiscal year 2024 budget, which will be presented to the Rutgers Board of Governors in June, is underway.
One-time Money
The president acknowledged that discussion of a deficit can be surprising in the same year Rutgers received a generous state appropriation, which included an additional $300 million in capital funding. The nonrecurring funding will be entirely used to build the translational research facility and other space at the Innovation Hub in New Brunswick, as well as a new medical building in New Brunswick; to outfit lab space at the Life Sciences Center in Newark; and to provide incubator and other academic space at the Cooper Street Gateway in Camden.
"We are eternally grateful to Speaker Coughlin, Senate President Scutari and Governor Murphy for adding this important one-time capital money to the state budget," Holloway said. "But please understand, this is one-time money, for specific capital construction purposes. It is not operational support, and it will not be part of the next state budget."
Rutgers also received one-time COVID relief funds in the past two fiscal years from federal and state governments. Holloway noted that much of that funding went directly to students and families to ensure students' continued attendance, quickly stand up the university's COVID testing program, cover gaps in housing and auxiliary funds and fund technology for remote instruction and clinical care. The funds also went toward student success programs for the return to campus and helped cover some operational costs, including student physical and mental health support programs.
"These essential funds minimized disruption during one of the most difficult periods this institution and so many others have faced," Holloway said. "And they are gone. We deployed those funds judiciously and carefully … but we no longer have access to the one-time money that closed what otherwise would have been gaps in our last two budget cycles."
Contributing to the challenging financial outlook are rising costs, including the university's share of employee health benefits, which have increased more than 20% in the past year for many plans; a post-pandemic drop in enrollment, including a 14% decrease in transfer students; and inflationary pressures that drive up the cost of utilities, goods and services.
Budget Basics
Most of the revenue for the university's $5.1 billion budget comes from tuition and fees (28.1%), patient care services (21.5%), state appropriations (20.1%), sponsored research (14.5%), and miscellaneous sources including parking revenues, facility rentals, ticket sales, donor gifts and endowment income (15.8%).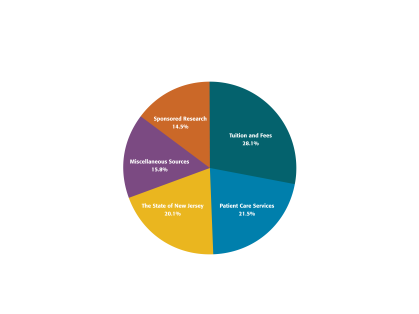 More than 77% of expenditures are for Rutgers' core mission of academic instruction and support, research, patient care and public service. Other expenses include administration (15.2%), auxiliary costs, including dining and housing (4.8%) and athletics (2.7%).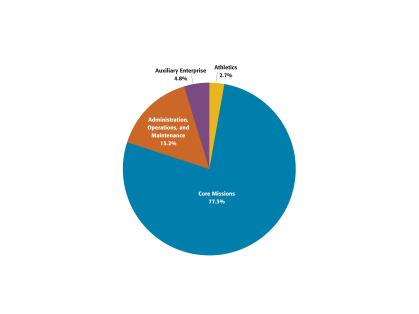 Holloway said the budget reflects the university's priorities, including nearly $14 million committed to faculty hiring as part of an ongoing diversity hiring initiative, $3 million for faculty and graduate student fellowships, funding of the Office of Climate Action and the Rutgers Future Scholars program in each of Rutgers' host communities.
Priorities as Rutgers looks ahead include improving recruitment and admissions practices, reaching the university's potential in online education for students at all stages in their education and developing practices to eliminate duplicative academic and administrative activities "to know where to invest and where to pull back," Holloway said.
The president said he is confident in Rutgers' ability to rise to the challenges facing the university as it continues to serve the state of New Jersey, the nation and the world.
"I am clear-eyed about our challenges, and I have confidence that the Rutgers community can continue to deliver on our mission, calling on the curiosity and enthusiasm of our students, the brilliance and commitment of faculty members and the excellence and steadfastness of our talented staff and clinicians," Holloway said.