With a Head Start at Age 9, Summer Scholar Georgette Burrell Taking the Fast Track to Rutgers
Rutgers summer institute hosts high school juniors – and younger students – who want to get an early jump on college courses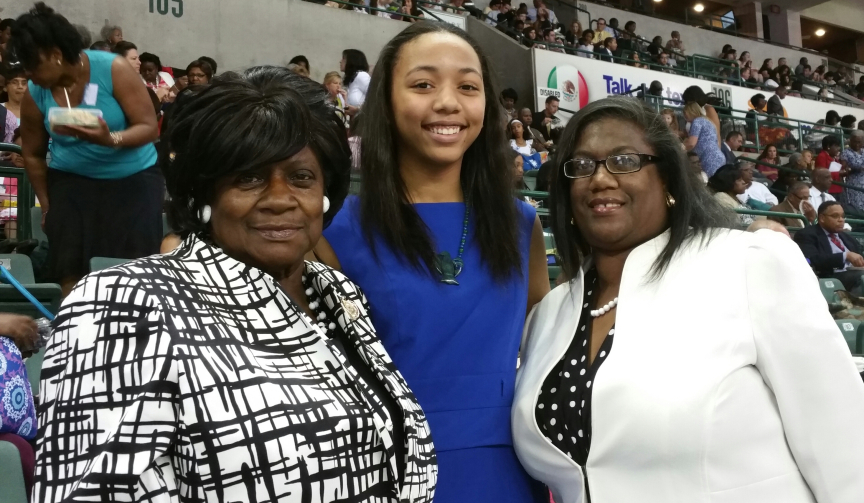 'She was a progressive learner, a fast learner. They had skipped her but it was still not enough. So she was frustrated. ... They were going over certain aspects they would normally go over in third grade, which she already knew.'  

 

– Michele Burrell
Georgette Burrell took her first college biochemistry course at age 9. Now 13, the Asbury Park youth is already eyeing her dream school: Rutgers University, where she wants to study oceanography with a minor in journalism.
When she hits campus for her summer courses, Georgette often arrives with an entourage: her mother, Michele Burrell, and her grandmother, Eunice Burrell.
"We usually come as a trio, and it's funny because it's three generations," said Michele Burrell."I was not going to just leave my 9-year-old!"
Her mother said it made no sense to drive all the way back to Asbury Park and then return to pick Georgette up at Rutgers. "So we usually just sit and read, or stay there. And her grandmother comes often. We sit and wait for her to come out," said Michele. "When I can't be there because I'm working, usually her grandmother comes with her. That's why everybody knows Grandmother Burrell."
The Rutgers Summer Scholars program is a summer institute typically hosting high school juniors who want to get an early jump on college courses. But Georgette, a gifted learner, came to the program prior to hitting double digits in age. 
Georgette is enrolled this summer in two classes: medical terminology and Chinese. She first came to campus to attend a "HEROES" (Higher Education, Resources and Opportunities for Exceptional Scholars) program for middle-school students hosted by Rutgers.
"She was a progressive learner, a fast learner," said Michele. "And she was kind of outgrowing school. They had skipped her but it was still not enough. So she was frustrated, and being a mother, I was getting frustrated. They were going over material they would normally go over in third grade, which she already knew."
In New Brunswick, Georgette met William Ward of the biochemistry faculty, who was teaching a biochemistry session at a Rutgers-hosted event. Recalled Michele: "Georgette begged Dr. Ward: 'Could I please come to the class? And he looked at her and said: 'Oh, you want to be with the big kids?' She said: 'Please let me take "Special Topics in Biochemistry!"'
Georgette was accepted into the program by Elizabeth Beasley, director of the Rutgers Summer Session-New Brunswick. "And from then on she realized that she just loved the classes," said Michele. "She ended up loving the Rutgers classes more than school."
After leaving the traditional school setting at age 9, Georgette attended home school taught by her mother and other teachers; she now attends an online high school. Georgette's pace of one Rutgers Summer Session course per year has doubled.
Michele owns a dance studio in Asbury Park, and Georgette is focused on that pursuit, too. She's attended summer courses at Bolshoi Ballet Academy in New York, has been accepted to American Ballet Theater School, Bolshoi School and French Academy School and Joffrey Ballet School. 
"She's determined to graduate [high school] by age 15," Michele said, "and hoping to transfer straight into Rutgers."
---
For media inquries, contact Charles Wasilewski, Division of Continuing Studies, at 908 647-2216 or cwasilewski@docs.rutgers.edu