When Rutgers 2021 graduate Alex Freeman first began college, he was hoping to find an academic community where he could be anonymous, get an education and move on to the next part of his life.
Four years later, graduating with a degree from the Department of Women's, Gender and Sexuality Studies in the School of Arts and Sciences, Freeman, who transitioned before coming to Rutgers University-New Brunswick, is out front, graduating after being recognized for a senior project he completed on medical norms facing the transgender community.
"I was really interested in the idea of visible transness and visible queerness," said Freeman, who was named first place in the New Jersey Women's and Gender Studies Consortium and received the Henry Rutgers Scholar Award and the Dorothy Hamilton Balliet Award for Outstanding Research in Women's and Gender Studies. 
Coming to Rutgers after he transitioned gave Freeman the space to move freely in a big academic environment while also providing him the chance to find a place where he felt comfortable.
"I knew I wanted something where I could kind of get lost in a sea of people a little bit but that also had a lot of opportunities. It was the perfect mix," Freeman said.
When Freeman first got to Rutgers, he did not know what direction he would take until he found a course that piqued his interest: Introduction to Gender, Race, and Sexuality (formerly Women, Culture, and Society).
"There were only five of us in that class. It was unlike any high school experience I had," he said. "The space was open for us to talk about different issues and after that class, I declared my major."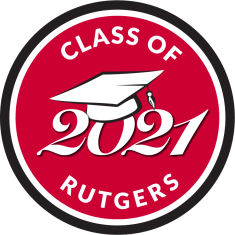 For his senior award-winning thesis, Kyla Schuller, undergraduate director, helped Freeman develop his ideas around visible queerness for his project. Schuller says, "He shows how trans people access medicine on their own terms, revealing their agency and even creativity. It is a terrific project, much needed in this moment as many voices still loudly insist that trans people are mere dupes of gender and medicine."
The medical connection came from his experiences as a trans person in doctors' offices and other health care facilities.
"Something as simple as going to see a dermatologist for eczema becomes much more of an ordeal when the focus shifts from your skin to your gender. My being trans should not affect a doctor's ability to evaluate and treat skin, but it did. And it still does," he said.
His project, called The Transition Regime: Illegible Gender and Medical Adjustment, investigated the rise of medical norms that legitimizes some trans people as proper subjects and delegitimizes others as unintelligible.
"When you walk down the street and you see somebody and, in your mind, say, 'oh, they're queer,' what about them is signaling that to you? What signals masculinity or femininity? How does one understand visible gender? That's what I wanted to investigate."
His thesis, including the award-winning second chapter titled "Constructing and Policing the Transnormative," looks at the history of trans body in medicine, with a lens on the 1970s through the '90s and the medicalization of the trans body. His research explored the Stanford gender dysphoria program, a trans health center that opened at Stanford University in 1968 to facilitate legal name changes, counseling, hormone therapy, and surgical care.
"The program had an emphasis on modifying things like speech patterns and inflection, grooming practices, and comportment in the goal of appearing more normatively feminine or masculine and I remember asking myself, 'what does it even mean to be feminine?' and it snowballed from there," he said.
In addition to his research, Freeman is also president of Iota Iota Iota (Triota), the women's and gender studies honor society, as well as the interim president of Rutgers Students with Children until a permanent president with a child is elected.
On the BA/MA track in Feminist Practices for Social Change, Freeman will graduate with a master's degree in the spring of 2022 and wants to go on to conduct research and teach in the academy.
Having spent the pandemic living off-campus with his partner, Olivia, Freeman feels privileged to have been able to continue his research, classes, and other activities. "It was definitely tough at first, I think, but it was for everyone. Once I got used to it, I remember thinking, 'I'm fortunate, I have a place to live that's comfortable.' I didn't have to deal with the precarity that made quarantine really difficult for other people."
His outlook, he says, was influenced by his grandmother, Diane, who passed away last summer from cancer at age 74. "I definitely credit her with my ability to say this is what I'm going to do even if it's tough and to stick with it. She's always in the back of my mind."
His greatest gift, he said, has been his support system. "My grandpa, dad, step-mom, brother, partner and her family really helped me get through losing her," Freeman said. "But I know she's proud of me. My grandpa tells me all the time that he still talks to her picture in his office and tells her about everything I'm doing. My family is always the first to encourage me and it means the world."