Aline Holmes, an advocate for advanced nursing education, says she needed to 'walk the walk'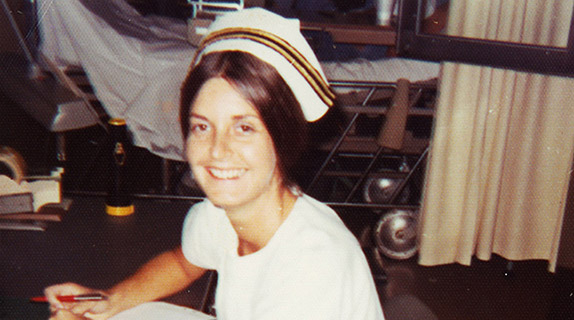 'It was on my bucket list. And I figured if I am going to help transform nursing education, I should walk the walk.'

 

– Aline Holmes

 
Halfway through her premed track at the University of Massachusetts, Aline Holmes learned her family could not afford to send her to medical school.  Though disappointed, she quickly changed course, earned a degree in nursing and enlisted in the U.S. Navy Reserves Nurse Corps to help pay for her education.
It was 1969, and Holmes reported to the Navy's trauma center in Pensacola, Fla.,where she fulfilled her four-year military commitment treating wounded sailors and marines arriving from Vietnam.  Many of her patients became amputees.
"In Vietnam, if you were injured in the field, they got you stateside fast," says Holmes. "We learned how to get them off the battlefield and save them. We learned a great deal from treating war veterans and put that into practice in health care."
Exiting the Navy, Holmes earned a master's degree, and then developed a resume of achievements and accolades that have kept her in New Jersey's health care spotlight for years. Her proudest personal milestone will come in May when she receives a Doctor of Nursing Practice degree from Rutgers College of Nursing.
"It was on my bucket list," says Holmes, 67, senior vice president for clinical affairs for the New Jersey Hospital Association (NJHA) and director of the association's Institute for Quality and Patient Safety, supporting nearly 400 hospitals and health care organizations in providing quality patient care. "And I figured if I am going to help transform nursing education, I should walk the walk."  
Separate from their full-time vocations, Holmes and Susan Salmond, dean of the Rutgers School of Nursing, are co-leading the education strategy to meet the state's projected need for nurses in the 21st century. "Part of that strategy is preparing more nurses with doctorates," Holmes says.
Confronting the horrors of combat shaped Holmes's early training, but an experience soon afterward influenced her resolve to improve large-scale patient outcomes. While on duty in an intensive care unit, she watched a severely injured 20-year-old man die when an attending physician and a medical student failed attempting a tracheotomy.
"They pulled out the intubation tube before the tracheal tube was in place," Holmes says. "That incident really caused me to start looking at patient safety."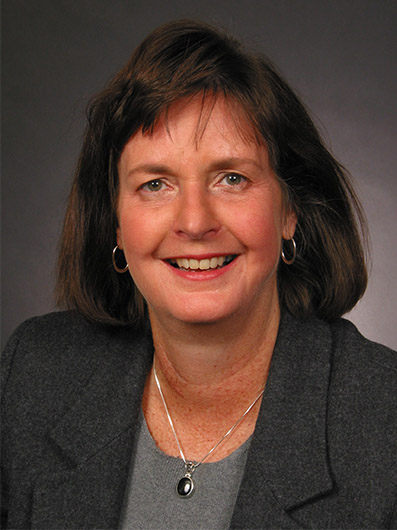 Holmes moved to nursing leadership roles in Washington, Baltimore, Chicago and New Jersey hospitals, entered the corporate world as a long-term care executive and then became chief operating officer at both St. Francis Hospital of Jersey City and St. Mary Hospital, now Hoboken University Medical Center.
She arrived at NJHA in 2002 as the safety institute's inaugural director facing one of her toughest challenges: New Jersey hospitals ranked last nationally on critical core measures. Within a short time, dramatic improvements occurred and three years later, Holmes was promoted to senior vice president for clinical affairs.
Today, New Jersey's hospitals rank among the top 10 nationally on all core measures. Among many improvements since 2002: an 81 percent decline in bloodstream infections, a 55 percent decline in ventilator-associated pneumonia, and an 11 percent decline in mortality rates through the development of rapid response teams.
Holmes and her team succeeded by collaborating with hospitals to implement evidence-based practices. "We develop tools and resources and educate," she says, "and we empower frontline nurses."
Holmes's bucket list still contains a slew of open items. For starters: spend more time with her two grandchildren, learn to play the piano, speak Spanish fluently and expand the impact of Children Can Shape the Future, the Camden and Philadelphia nonprofit of which she is president.  Much more lies ahead professionally, too.
"I have become very focused on improving care for New Jersey's elderly residents," Holmes says. "I think nursing is perfectly positioned to manage the care of this population, focusing on keeping them safe and as functional as possible in their own communities."