Gov. Christie, Rutgers University and New Brunswick Development Corporation Break Ground on College Avenue Redevelopment Initiative
$330 million private-public partnership will further bolster Rutgers University's status as a 21st-century academic and research powerhouse
NEW BRUNSWICK, NJ – Gov. Chris Christie, New Brunswick Development Corporation (Devco) and Rutgers,broke ground today on the College Avenue Redevelopment Initiative, which will transform the historic College Avenue Campus.
Approximately 10 acres of land in the heart of the campus in New Brunswick will be redeveloped to construct a new University Academic Building, a Residential Honors College, Rutgers Hillel and the New Brunswick Theological Seminary. In addition, a new student apartment building, green space and retail space for the Rutgers University and New Brunswick communities will also be major components of this initiative.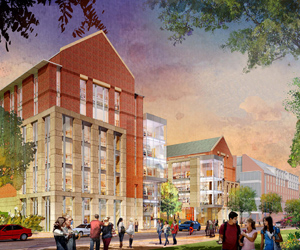 "Today's event is a celebration of all that Rutgers has achieved throughout its storied history, especially over the past two years," said Christie. "The College Avenue redevelopment is the physical embodiment of Rutgers University's bold, innovative strategic thinking. The entire state of New Jersey should be very excited about this project, as Devco, Rutgers, and their partners advance higher education, spur job creation and stimulate smart urban growth."
Rutgers President Robert L. Barchi welcomed Gov. Christie:  "With the successful integration with the former UMDNJ and the creation of Rutgers Biomedical and Health Sciences, Rutgers is positioned to become a top-tier international research institution, and exciting collaborations with our new peers in the Big Ten will further enhance the already extensive opportunities available to the Rutgers community. The College Avenue Redevelopment Initiative will provide state-of-the-art facilities for the new Rutgers, helping us attract the finest faculty and the best students to the University, thereby strengthening New Jersey's workforce and its economic future."
The College Avenue Redevelopment Initiative is a unique collaboration among Rutgers University, Devco, the New Jersey Economic Development Authority (NJ EDA), New Brunswick Theological Seminary, and Rutgers Hillel. Among the new facilities that will be constructed as part of this project will be the first academic facility built on the University's College Avenue Campus since 1961. Construction will be completed in 2016 to coincide with the 250th anniversary of the founding of Rutgers.
Christopher J. Paladino, president of the New Brunswick Development Corporation introduced Governor Christie, President Barchi and Mayor Cahill: "I would like to thank Gov. Christie, the NJ EDA staff, Mayor Cahill, President Barchi and the entire Rutgers community for making such a historic and transformational project possible. This redevelopment project is an unparalleled collaboration between institutions of higher education, city government and state leaders. When the College Avenue Redevelopment Initiative is complete, the project will serve as a model for how private and public entities can come together to serve the greater public good, while also sustainably growing our economy through our urban centers."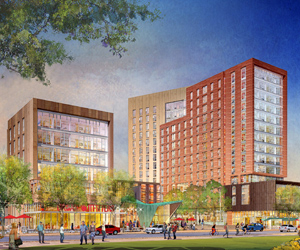 "Great projects happen when bright people with vision work hard and collaborate with one another. New Brunswick is certainly no stranger to great projects. The College Avenue Redevelopment Initiative brings the City's remarkable revitalization directly into the heart of Rutgers' most historic campus. And, as with so many other successful projects before, Devco, under the leadership of Chris Paladino, has led the way. I would like to congratulate President Barchi and the Rutgers community on what will be a transformative project, one that will change the face of Rutgers and of New Brunswick," said New Brunswick Mayor James M. Cahill.
The College Avenue Redevelopment Initiative will create 200,000 square feet of state-of-the-art lecture hall and classroom space, accommodating up to 20,000 undergraduates daily, as well as the Residential Honors College, which will provide up to 500 honors students with a specialized, collegiate residential experience. To accompany the academic space, Devco will also develop a 500-bed apartment-style building for students, a 25,000-square-foot urban park with a 600-square-foot outdoor LED video screen, new pedestrian walkways, new bike paths and other infrastructure improvements. In addition, inspired by New Jersey's famed boardwalks, a total of 13,500-square-feet of open-air retail, restaurants and concessions will be built.
The entire project will generate nearly 7,000 new jobs. All of the buildings will be designed for LEED Silver certification. Today's groundbreaking brought together students, community members and dignitaries from across New Jersey.
The major components of the redevelopment project include the following:
University Academic Building: The plan calls for a 200,000 square-foot, classically designed facility to house a number of academic departments, together with approximately 2,500 seats of classroom space in the form of modern lecture halls. Located on a parcel in the heart of Rutgers' main College Avenue campus, bordered by College Avenue and George Street between Seminary Place and Bishop Place, the new academic building will open in the summer of 2016 to coincide with the 250th anniversary of the founding of Rutgers. 
University Housing, Retail & Rutgers Living Room: The project also includes the creation of an appealing on-campus living experience to meet the occupancy demands for current and future students in the form of a 125-unit, 500-bed apartment-style housing complex at Hamilton Street and College Avenue. It will feature single bedroom apartments, welcoming common areas, universal Wi-Fi, first-class retailers and concession stands to encourage an active and energetic environment. The real highlight will be large public green space. Its courtyard – dubbed the Rutgers Living Room – will feature a state-of-the-art outdoor video board for movie nights, sporting events and other entertainment to build a cohesive and welcoming urban park.
Rutgers Honors College: The Honors College will represent best practices in higher education for exceptional students, offering special academic opportunities and challenges beyond traditional curriculum and classroom experience. It will provide up to 500 honors students with a specialized, collegiate residential experience and is specifically designed to create an appropriate environment for intensive small group study, extensive personalized advising, faculty mentoring, and a wide range of specialized cultural and social activities across all disciplines. The project is expected to be completed by fall 2015. 
Relocating the New Brunswick Theological Seminary: The catalyst for the entire redevelopment initiative, the Seminary – the oldest in America dating back to the 1780s – agreed to sell five acres, slightly more than half its property, in order to build a new, debt-free building on the corner of College Avenue and Seminary Place. Its new 30,000-square-foot facility and 100-car parking lot will allow for a modern commuting environment with new classrooms, conference space, offices and a new chapel. The new campus will provide the intimate commuting environment its students need and a state-of the-art facility that will allow international conferences to convene.
About Rutgers, the State University of New Jersey Established in 1766, Rutgers, The State University of New Jersey, is America's eighth oldest institution of higher learning and one of the nation's premier public research universities. Serving more than 65,000 students on campuses, centers, institutes, and other locations throughout the state, Rutgers is the only public university in New Jersey that is a member of the prestigious Association of American Universities
About New Brunswick Development Corporation (Devco) New Brunswick Development Corporation (Devco) is a private, nonprofit urban real estate development organization created in the mid-1970's to initiate redevelopment projects and to serve as the vehicle for public and private economic development investment in the City of New Brunswick, the State of New Jersey and other New Jersey communities. Fostering public-private partnerships and uniting the interests of New Brunswick, the State of New Jersey and corporate and institutional leadership are key to our success. Leveraging private, public, state, federal and local resources allows Devco to create high impact redevelopment projects. We accomplish our mission through the development of mixed-use projects seeking critical mass to address significant public policy challenges. With each redevelopment effort conceived, implemented, or even rejected, Devco has achieved extraordinary success in reclaiming a quality urban lifestyle and setting a tempo that is characteristic of many of America's great cities.
For more information please visit: rutgersfuturebydevco.org. Please inquire for high-resolution photos.