Being an underdog is more than a label to Geo Baker, it is a defining family trait. The skinny kid with freckles could play, but he smiled too much on the court and liked math. His national scholastic prospect rating was a pedestrian 414, but the New Hampshire native has become an impact player on a Big Ten team.
"I think my progress speaks to my work ethic and our coaching staff's commitment to player development," said Baker. "We just have to remain humble and remember where we started."
The success of Rutgers basketball, boosted by Baker's clutch shot-making along with the exposure of the Big Ten Network and the growth of social media, have elevated his profile significantly. He entered this season the nation's ninth-rated overall player and became the first Scarlet Knight to earn preseason all-conference honors in 16 years. Rutgers began its campaign No. 24 in the AP Top 25 poll, its first preseason ranking since 1978, 20 years before Baker was born.
"Coach Pikiell gave me his vision when I first came here,'' said Baker, a human resources management major and two-time Big Ten All-Academic selection. "At that point, Rutgers basketball wasn't thought of very highly. We have come a long way because of the type of guys that we have and the hard work they put in. We have a lot of belief in each other and in our coaches, and now, here we are. But we're nowhere near done."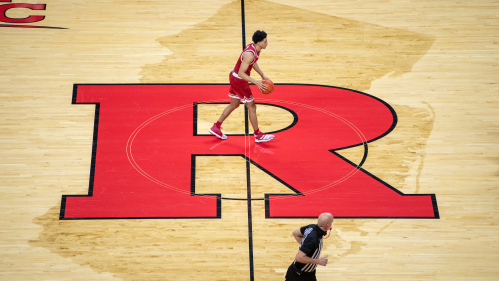 Baker's overachievement is something he learned from his mother Irene. In 1978, the same year that the Scarlet Knights were in the national spotlight, recruitment officers from the Massachusetts Institute of Technology paid a visit to her family's modest home in rural Sussex County, N.J.
She built a fire to accommodate her guests. The meeting marked the beginning of an impressive academic career. Irene earned three of her five degrees from M.I.T., including a Ph.D. in applied biological sciences.
"I'm definitely blessed to have some of my mom's genes," said Baker. "There are times when things just come naturally to me and I think that's because of her. All that aside, as smart as she is, she always encouraged me to make my own decisions, just as long as I didn't get below a B."
Baker and his mother had something else in common: she was a member of the Engineers' women's basketball team in college.
"When I first started playing basketball, I had no idea that she also played," said Baker. "After she told me, we started playing each other and it got really competitive. I would lose over and over again. She was a good spot-up shooter. I wouldn't quit until I won, so eventually she would have to let me so that we could go home."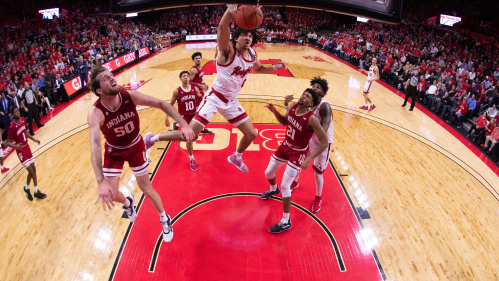 Baker's mindfulness has served his point guard responsibilities well. It also enables him to consider the landscape in a regimented athletics world where the hours required often exceed the minutes available. A member of Big Ten Conference Anti-Hate and Anti-Racism Coalition, he has been active in discussions on social and racial justice.
"I'm grateful for the trust that Coach Pikiell has in me to use my voice," said Baker. "People recognize me now, and I recognize that. I'm just doing my part to speak up for others who don't have that platform or opportunity."
"We recruit good people from good families and that's what Geo is," said Pikiell. "He's invested a lot of himself in this program to help it dance again. He feels a responsibility to enact change, and that's a special quality not limited to a basketball court."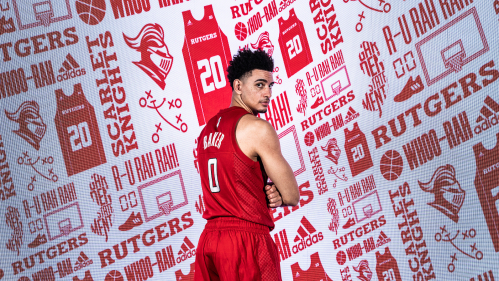 In August, Baker appeared on MSNBC with teammate Myles Johnson to talk about the challenges of competing during the coronavirus.
The team has been living, learning and competing in its state of semi-suspended animation since being removed from the floor just minutes before their Big Ten Tournament game in Indianapolis last season. The Scarlet Knights landed in New Jersey just hours later to find that the NCAA Championship was also cancelled because of the coronavirus.
The abrupt end meant Rutgers' tournament drought would extend into 2020-21, the most unusual and unpredictable season in college athletics history.
"It was tough," said Baker. "We finally got to where we wanted, and everything got cancelled. It's hard to have your dreams postponed. Thankfully, this team is really close off the court. We came together and focused on what we could control."
After a nation's-best 18-1 home record with 10 sell-outs last season, the Scarlet Knights are now competing without fans in the building. The safety and social distancing measures extend into campus and academic life, as well as into team operations. Rotating roommates to build comradery isn't part of the travel plan in 2020-21, as players are assigned single rooms.
The accolades once delivered by crowd roars and back pats are now conveyed almost exclusively via screens.
"It's a different type of lifestyle for everyone right now," said Baker. "You have to work to get used to it and recognize the positives. There's always someone, somewhere going through something harder."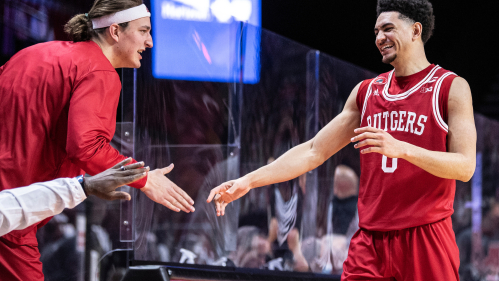 Baker and his teammates have not been deterred from their NCAA Tournament goal, but it has not been easy. Just nine minutes into the season opener, Baker sustained an ankle injury that required him to miss four games. The Scarlet Knights persevered, and after he returned to the lineup, they rose to No. 11 in the national rankings.
The team suffered some setbacks since hitting that peak, but returned to the Top 25 courtesy of a four-game winning streak.
"It's an overall group effort," said Baker. "I'm just happy to be a part of it. This team is special, but we are taking things one day at a time. We'll find out how far can we take it."