Four Rutgers Students Win Prestigious Goldwater Scholarships
Biomedical engineering, genetics and physics majors perform research in stem cells, fundamental particles of matter, genetic disorders and learning and memory
NEW BRUNSWICK, N.J. – The research accomplishments and stellar academic records of four Rutgers University students have earned them prestigious Barry M. Goldwater Scholarships, awarded for excellence in mathematics, science and engineering.
Juniors Alina Afinogenova of Princeton, Varun Arvind of Piscataway, Margaret Morash of Bernardsville and Aditya Parikh of Plainsboro are among 260 undergraduates selected by the Barry M. Goldwater Scholarship and Excellence in Education Foundation to receive awards this year. Three are students in the School of Arts and Sciences and one is a student in the School of Engineering. They were among 1,206 students nationwide nominated by their college and university faculties. The scholarships cover educational expenses up to $7,500 per year for each winner's remaining one or two years of college.
According to the Goldwater Foundation, scholars often garner the attention of prestigious post-graduate fellowship programs, such as the Rhodes, Marshall and Churchill scholarships and awards.
Along with outstanding academic performance, all of the students include advanced research in their undergraduate experience. Afinogenova studies how dysfunctional proteins contribute to neurological disorders. Arvind is working with stem cells that will help repair human bone tissue. Morash isolates cellular mutations to promote treatments for genetic diseases. And Parikh is analyzing atomic particle collisions at the Large Hadron Collider in Switzerland.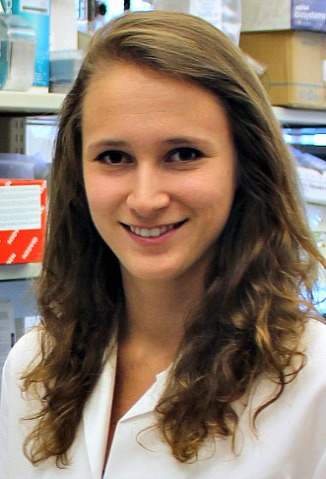 Studying how the brain works fascinates Alina Afinogenova. She began her studies with genetics professor Gleb Shumyatsky as a first-year student investigating the mechanisms underlying learning and memory in mice while focusing on learned fear and its implications for human diseases. She focuses on how dysfunctional proteins in the brain may contribute to the deficits seen in many neurological disorders.
"I find it fascinating that in such an advanced society we know so little about the brain, the organ that has generated nearly everything around us," Afinogenova said. "The brain is the most complex living structure and scientists have yet to discover the full extent of its roles and abilities."
Last summer, the genetics and economics major was part of the Summer Undergraduate Research Fellowship Program at The Scripps Research Institute in Jupiter, Fla. and presented research from the summer program at the "Wiring the Brain" meeting in Cold Spring Harbor Laboratories.
It was in her advanced placement biology class at West Windsor-Plainsboro High School South that Afinogenova realized this would become her life's work. "Since then my interest has continued to grow and I am continually inspired by all that remains unknown in my field."
After she graduates from Rutgers, Afinogenova plans to pursue a doctoral degree and a research career in neuroscience, hoping to contribute to the growing pool of knowledge and understanding of the connectivity and function of the brain.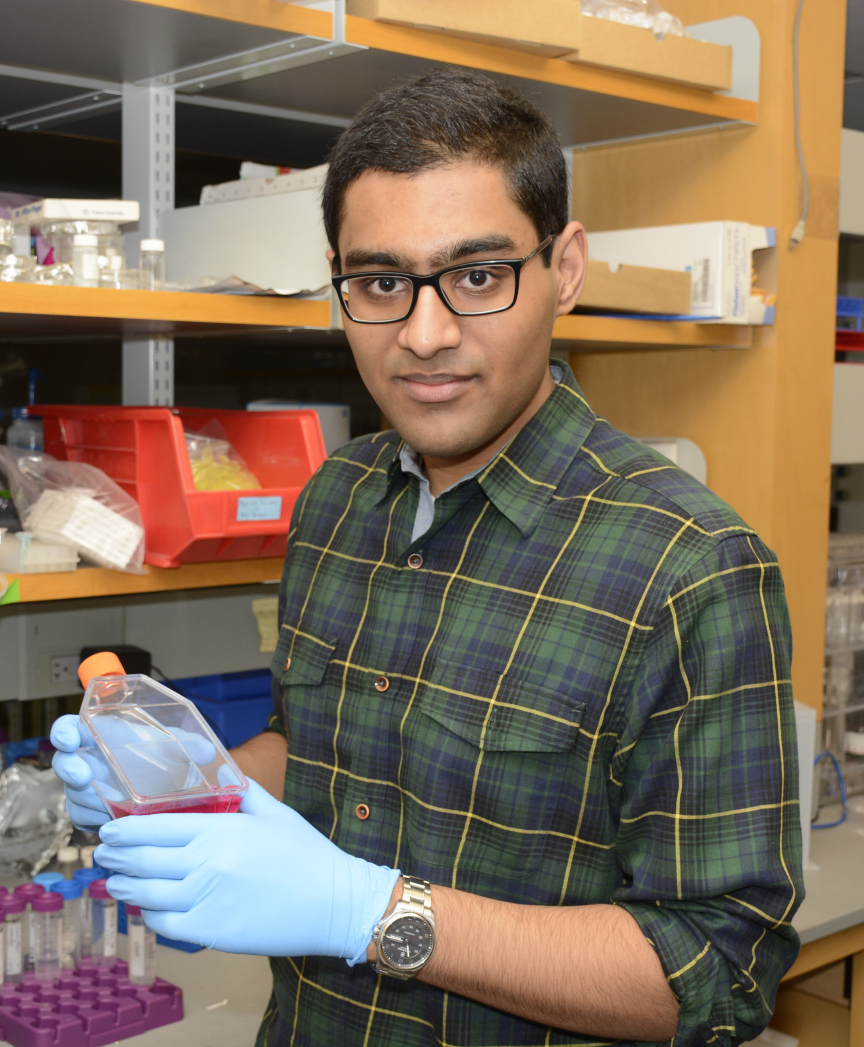 Varun Arvind studies how stem cells can be used to generate bone tissue. A stem cell is a general type of biological cell that later differentiates into a specific organ or tissue cell. The stem cells that Arvind works with take two weeks to differentiate into bone, fat or cartilage tissue. By examining how proteins remodel in these cells before they differentiate, he and his Rutgers biomedical engineering colleagues hope to predict the type of tissue that the cells will become – a development that could help repair damaged tissues in the body.
Arvind started working in professor Prabhas Moghe's lab during summers while he was a high school student at the Woodbridge Academy for Allied Health and Biomedical Sciences.
"That really fostered my love of science and research in the scientific method," he said. One of his mentors at that time was Simon Gordonov, who won a Goldwater Scholarship in 2009 and a Churchill Scholarship to Cambridge University in the United Kingdom the following year.
Arvind plans to pursue an M.D./Ph.D. program after he graduates from Rutgers. While his ambitions lean toward academic research, he feels that a medical education will keep him focused on the patient as the beneficiary of his research.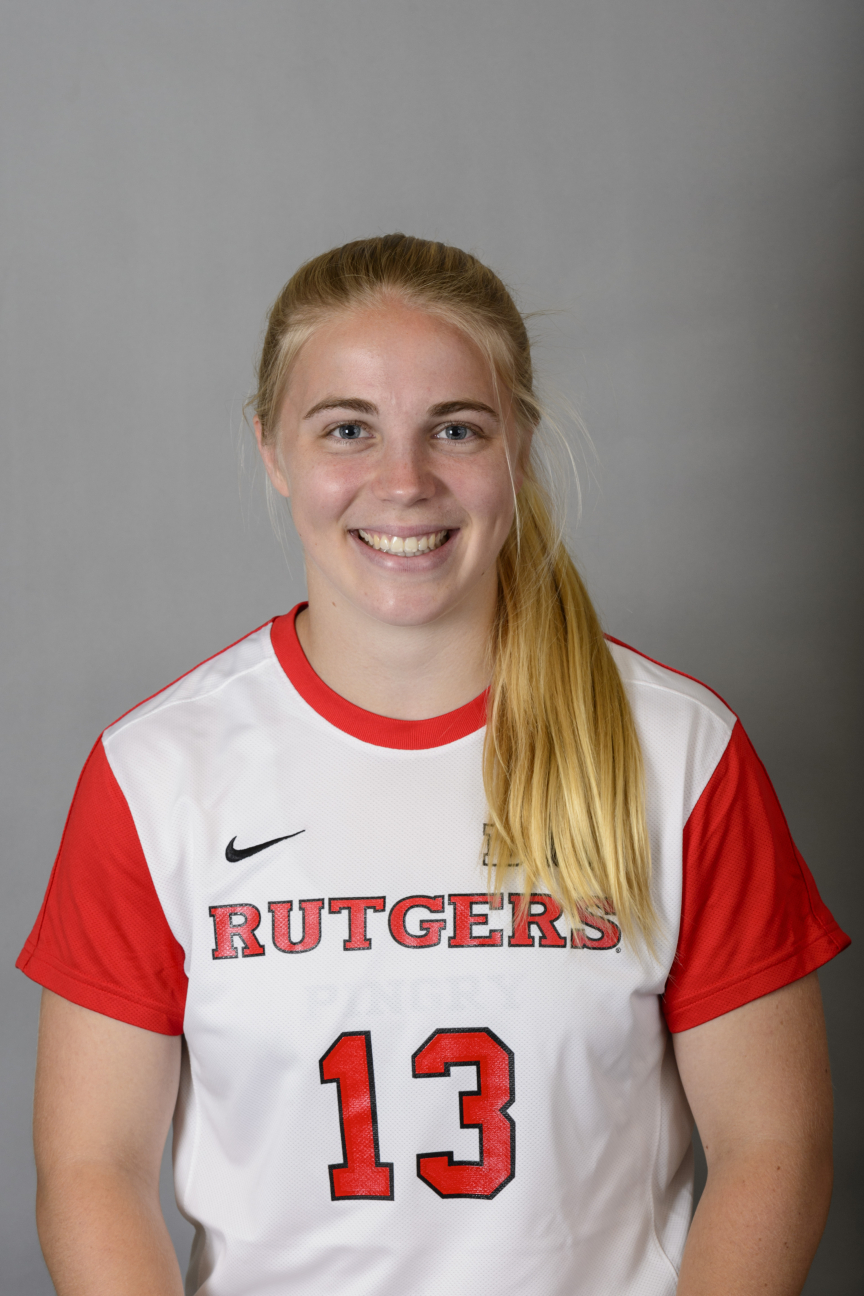 Margaret Morash is interested in how cells work. She believes that by understanding what happens inside both healthy and diseased cells scientists will be able to develop more effective medicines to treat genetic and other diseases. Working with professor Maureen Barr in the Department of Genetics, Morash studies microtubules which are essential for cell structure, division, intracellular transport and motility. Using microscopic worms, the genetics major and computer science minor has isolated cellular mutations that she hopes will help provide information needed to develop treatments for genetic diseases such as blindness, male infertility and polycystic kidney disease.
"I love genetics research because I find it so interesting to learn more about how our bodies work. It's also rewarding to know that the work I do may one day be able to help others," Morash said.
Last summer, Morash, a member of the women's varsity soccer team, interned at Children's Hospital of Philadelphia (CHOP) Research Institute Summer Scholars Program in Philadelphia and presented the stem cell research she conducted. She hopes her work will help to provide a better understanding of genetic disorders and other diseases.
Morash credits a biology teacher at The Pingry School in Basking Ridge for sparking her interest in science and research. "I fell in love with all of it – reading papers, troubleshooting problems, getting results that answer the question you've been asking for months," said Morash. "It is what inspired me to pursue research at college."
After she graduates, Morash plans to pursue a doctoral degree and a career in genetics research. Although she says she is excited about the range of options – from bioinformatics to big pharma research and scientific entrepreneurial pursuits – Morash sees herself  running her own laboratory and teaching at a large research university.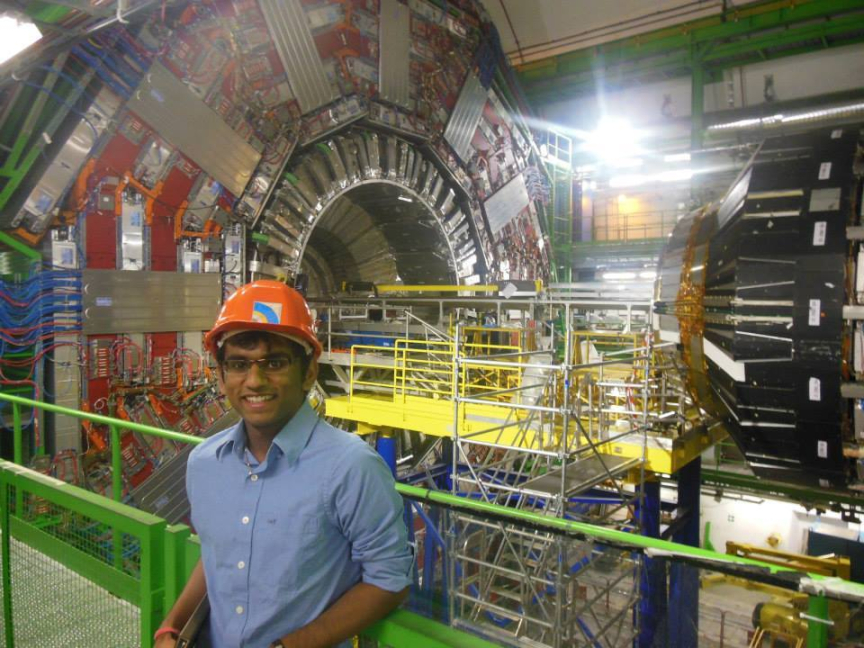 Aditya Parikh analyzes atomic collisions in the world's largest particle accelerator – the Large Hadron Collider (LHC) in Geneva, Switzerland. For one month each year, the LHC accelerates ions of lead around its 17-mile ring to probe the force that binds fundamental particles of matter to each other. Working with physics professor Sevil Salur, he derives correction factors for data that Salur's research team obtains from these heavy metal ion collisions.
Parikh spent last summer working at CERN – the European Organization for Nuclear Research – where the LHC is located, and plans to go back this summer as part of a National Science Foundation-funded undergraduate research program. He remembers focusing on physics in eighth grade when he participated in Science Olympiad competitions. His parents were supportive of his newfound interest.
"They encouraged me to push ahead when things got tough," said Parikh, who attended West Windsor Plainsboro High School North. "When I told them about the Goldwater scholarship, they were completely ecstatic. It was a proud moment for them."
He plans to pursue doctoral studies in physics after graduating from Rutgers, and hopes to teach and do research in theoretical particle physics and astrophysics.
The Goldwater Foundation is a federally endowed agency established by public law in 1986. The scholarship program honoring the late U.S. Sen. Barry M. Goldwater was designed to foster and encourage outstanding students to pursue careers in the fields of mathematics, the natural sciences and engineering. It is regarded as the premier undergraduate award of its type in these fields.
"We are proud that for the first time, we have four Goldwater scholarship winners in the same year," said Arthur D. Casciato, director of the university's Office of Distinguished Fellowships. Casciato notes that 19 students have won Goldwater scholarships in the past eight years, and four of those earned Gates Cambridge Scholarships or Churchill Scholarships in their senior years.
Rutgers students who are interested in applying for Goldwater scholarships should contact the Office of Distinguished Fellowships for further information and assistance.
---
By Carl Blesch and Robin Lally