Fostering Success for Rutgers University-New Brunswick
An interview with Christopher J. Molloy, interim chancellor of Rutgers-New Brunswick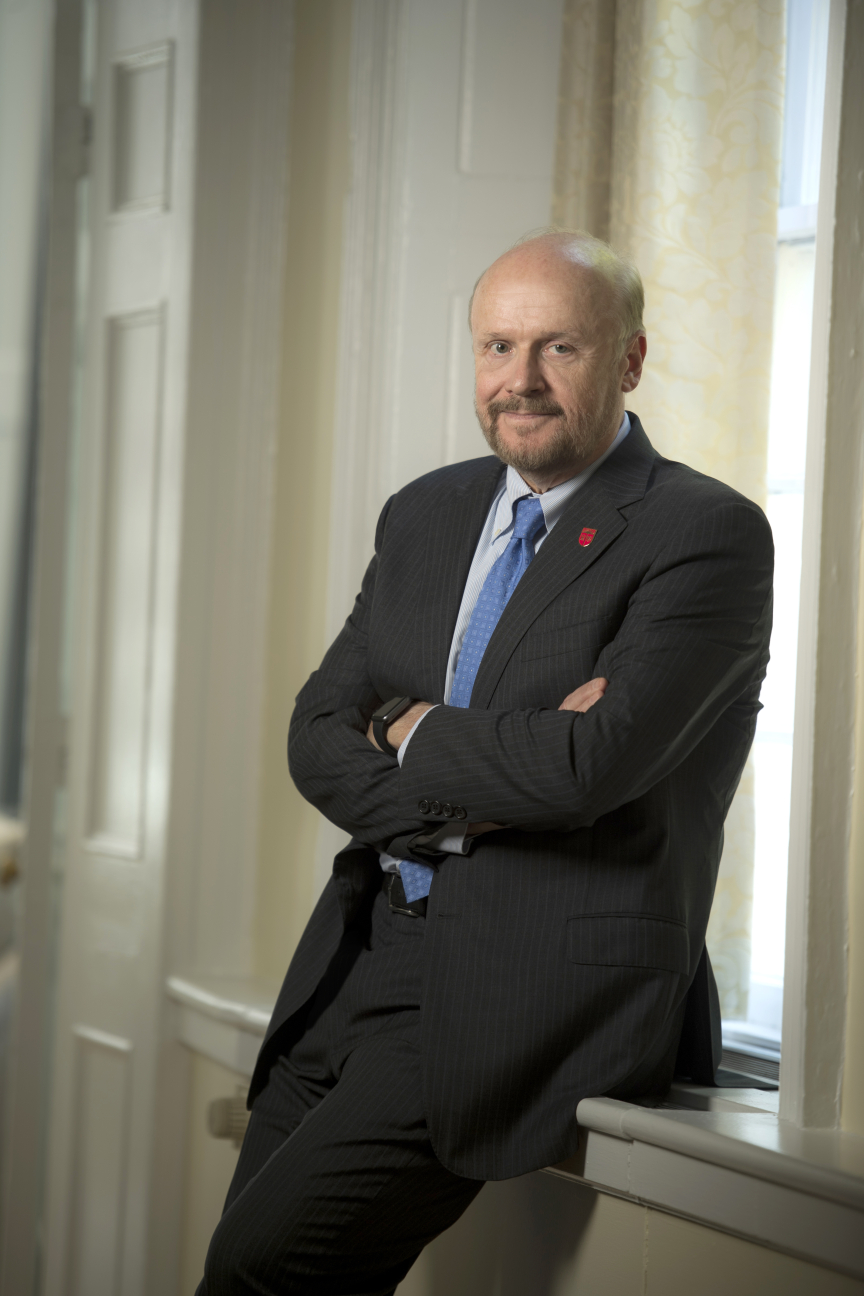 Over the years, Christopher J. Molloy has seen Rutgers from varied perspectives – as a student, faculty member, dean and administrator – all of which he will draw on as the new interim chancellor of the flagship campus.
Molloy is among the few alumni to hold a top leadership role at the university. He is the only one who has served as interim chancellor of both Rutgers University-New Brunswick and Rutgers Biomedical and Health Sciences. A son of New Jersey, he considers Rutgers to be a place of big ideas, boundless energy and unlimited potential. In his new role, he is committed to creating more opportunities: for students to grow intellectually and develop career skills, for faculty to conduct innovative research and for the university to expand its role as a powerhouse for innovation and economic growth.
What message do you have for students returning for the new academic year?
I'd like to welcome back all of our students, especially the new ones, to a fantastic year. Nothing is more important to us than their safety and success. Our campus culture of joy and curiosity is one thing that hasn't changed since my days as an undergrad majoring in pharmacy. Education isn't found just in the classroom. Take advantage of the resources and opportunities that Rutgers affords to challenge yourself, make lifelong friendships and expose yourselves to new ideas and ways of thinking beyond those that have an obvious connection to your career path. The experiences and memories you make here will contribute, in ways big and small, to your success across your entire life.
What should the Rutgers-New Brunswick community expect this year?
They should expect stability and progress. I was here as an undergrad and graduate student, worked in the private sector for many years and returned 11 years ago as an administrator. I'm familiar with Rutgers' enduring culture of diversity and entrepreneurship and with the ways its organizational structures have changed over the decades. I'm familiar with the initiatives and priorities of President Robert Barchi and his administrative team and with the many good initiatives begun by my predecessor, former chancellor Deba Dutta. In private industry, I developed a democratic leadership style: I believe in building a strong senior leadership team, benefiting from their different points of view and being decisive when necessary.
What are the opportunities for Rutgers-New Brunswick?
There are several ways in which I would like to transform and improve the student experience. I see untapped opportunities with corporate employers to create new internship opportunities for students. Businesses want to get to know our students and recruit them and embrace us as an economic engine. I would also like to see the university serve as an incubator for student entrepreneurship by strengthening its network of makerspaces, which encourage students to collaborate in problem solving and invention.  
How has Rutgers changed since you were an undergrad?
My freshman year, 1972-73, was the first year in which women were accepted into Rutgers College. Edward Bloustein, who was then president, hadn't yet led the full-scale reorganization that led to our elevation into the Association of American Universities. Although the student body was economically diverse – I was the first person in my family to attend college – we didn't have the great ethnic and gender diversity that is one of Rutgers' greatest strengths today. Students were politically aware and active just as they are today. We were deeply immersed in the cultural churn of Watergate, the Vietnam War and the hippie movement. I think today's students are much more serious. Changes in the economy, student debt and the pressure to perform and get jobs drive their very real interest in changing the world. We have an obligation to support them amid these pressures.
Given your deep history with Rutgers and the flagship campus, what does your new role mean to you?
I'm excited by the opportunity to have a real impact, for the benefit of current and future students, during a time of tremendous change for Rutgers-New Brunswick. Just a few years ago, we undertook the largest higher education merger in American history – the union of Rutgers University with the former University of Medicine and Dentistry of New Jersey (UMDNJ) – and that creates the opportunity to make real and lasting change. Among other priorities, I plan to focus on transforming the student experience with new resources that will make it easier to access the basic services that support their academic success, and with new opportunities for entrepreneurship, professional experience and multidisciplinary study and research.
You're fond of saying Rutgers, one of the oldest universities in America, is a "new" institution. What does that mean?
The merger with UMDNJ and creation of Rutgers Biomedical and Health Sciences, to which Rutgers-New Brunswick is closely aligned, provides the opportunity to rethink what a large, 21st-century public university really means. We were already recognized as one of America's top 20 public research universities and a member of the Association of American Universities and the Big Ten Academic Alliance. But the bipartisan legislature driving the merger allows us to leapfrog our competitors and become a much greater force for research, academic excellence and economic growth.