Emma Amos, a bold printmaker whose 60-year career challenged the politics of race and gender, receives posthumous recognition
Emma Amos ran with influential artist collectives, civil-rights and feminist activists; developed an innovative approach to printmaking and enjoyed a nearly three-decade career as a visual arts professor with Mason Gross School of the Arts.
A pathbreaking multimedia artist, Amos made vibrant, witty, and passionate works that challenge, unsettle, and sometimes altogether reject the dominant visual codes of American life. Across her career, Amos's art explored the links among personal biography, history, and the politics of race and gender in America.
But as the prolific yet underappreciated artist once predicted, her impressive body of work would not achieve the recognition it deserved from a wider audience until the end of her life. A little over a year after Amos's death in May 2020, the first major retrospective of her 60-year career, Emma Amos: Color Odyssey, arrived Oct. 11 at the Philadelphia Museum of Art, where it will remain on view through Jan. 17.
The traveling exhibition launched in January in Amos's home state of Georgia, exploring the artist's identity as a Southern artist. That its final stop is the show's biggest venue is a fitting tribute to Amos, who spent the bulk of her career in New York City, said Laurel Garber, assistant curator of prints and drawings at the Philadelphia Museum of Art.
"This show is in some ways highly overdue and extremely timely. Amos was underrecognized and underappreciated across her career, which was something, I think, she lamented. But it wasn't a failing on her part, it was the art world failing to truly see her and recognize her as a remarkable artist," said Garber. "With the exhibition finally happening, thanks to the Georgia Museum of Art, we can see anew the force and power of her work, and that she was indeed communicating to us all along."
Born in 1937 in Atlanta, Amos's family owned a drug store established by her father and grandfather, the first Black pharmacist in the state. She attended Antioch College in Ohio, graduating in 1958 with a degree in fine art before moving to London where she earned a diploma in etching at the Central School of Art in the next year.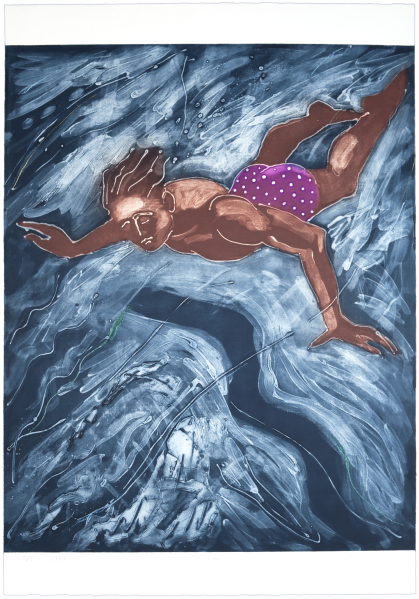 Arriving in New York in 1960, she was the only woman to join Spiral, the artist activist group that included Romare Bearden, Hale Woodruff, Norman Lewis, and Charles Alston. In 1965, she earned her master's degree in education from New York University and later taught at the Dalton School in New York. She also held positions as a textile designer and served briefly as a host of a television show about craft. Amos was an important member of Heresies, a feminist magazine founded in 1976 by Joyce Kozloff, Miriam Shapiro, Lucy Lippard, and others. As a member of the Guerilla Girls, Amos protested art world injustices including the unequal representation of women in the arts.
In 1980, she began teaching at Rutgers University, where she would become professor and chair of visual arts at Mason Gross School of the Arts. She retired from Rutgers in 2008 and moved to Bedford, NH.

"Emma gave so much of herself that helped the art department of Mason Gross mature in its promise to students and contributions to culture," said Raphael Montanez Ortiz, a distinguished professor in visual arts at Mason Gross. "She is a colleague and artist I will always remember her with heartfelt feelings."
Organized by the Georgia Museum of Art, Emma Amos: Color Odyssey surveys Amos's body of work from the late 1950s to the 2010s for the first time, highlighting her bold approach to printmaking, painting, and weaving, and the distinctive combination of disparate materials and artistic techniques that she employed to produce works of unmistakable artistic and critical charge.
Among the exhibit are two pieces, Man from the Aquarium Series and Ray from the Aquarium Series, on loan from the Zimmerli Art Museum. 
"We are pleased to be lending to Emma Amos: Color Odyssey, organized by the Georgia Museum of Art and traveling to the Philadelphia Museum of Art," said Donna Gustafson, interim director, curator of American art, and Mellon Director for Academic Programs at the Zimmerli. "Emma was a beloved teacher here at Rutgers until her retirement in 2008, and a fearless artist whose work is beautiful, formally experimental, and personal. It promises to be a fantastic exhibition."
Emma Amos: Color Odyssey begins with the artist's early years and follows the ways in which Amos's works investigate aspects of identity and privilege while unsettling the lines between figuration and abstraction, craft and fine art, beauty and power. The exhibition is organized chronologically and thematically, tracking how Amos pushed her painting, weaving, and printmaking practices and often combined these media to better represent the grace, beauty, and power of Black figures, from anonymous models to leaders such as Paul Robeson and Zora Neale Hurston.