The Daily Targum was in the midst of a watershed moment when Hayley Slusser took over as editor in chief in February 2021.
In a matter of months, the second-oldest collegiate newspaper in the United States had gone fully digital, moved offices, and was testing new reporting methods to keep content relevant during remote learning.
From the first days of her tenure as leader of the then-153-year-old student publication, Slusser said her focus was to reconnect with the Targum's student audience and modernize its business model after a failed triennial referendum in 2019 suggested a decline in student confidence and resulted in a loss of the student fees that funded the newspaper.
The issues she confronted at the Targum mirrored those facing the news industry at large. The only difference: leaders of local and national media outlets were not also working toward their undergraduate degrees while struggling to keep their publications afloat.
"I think a lot of college newspaper editors agree it's something that you have to put a lot of time into, and it can wear you out before you get into the real world," said Slusser, who earned her bachelor of arts degree in journalism and media studies from Rutgers-New Brunswick's School of Communication and Information in January 2022.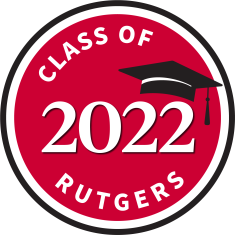 But her commitment to the Targum – she spent nearly every spare moment of the academic year working remotely or in the Targum's office Sundays through Thursdays for two and a half years – not only helped her right the ship but solidified her decision to continue working in the industry after graduating.
"Learning by doing has been the number one thing for me," said Slusser, who just accepted her first job at the Lenfest Institute for Journalism, where she will boost audience engagement through social media channels. "Working at the Targum, writing these stories, watching what other papers are doing – what worked, what didn't – trial by fire has been the biggest thing for me."
As a student at Edison High School, Slusser, a self-described "theater kid," was vice president of the drama club and gravitated toward history, especially the critical writing components. Based on that combination, her mother suggested she pursue broadcast journalism, but Slusser settled on the written form instead. 
She arrived at Rutgers and the Targum in the fall of 2019 as a transfer student from Northeastern University.  After growing up in Rutgers' backyard, Slusser was initially reluctant to become a Scarlet Knight because it felt too familiar. But she knew the move made sense financially for her family. As it turns out, the university suited her academically as well.
"At Rutgers the journalism department isn't as big and there are not as many people focused on writing. I was able to excel here because of that," she said. "Professor Juan González, in particular, gave me a lot of advice and feedback and strengthened me as a reporter."
Appointed in 2018 to the Richard D. Heffner Professorship in Communications and Public Policy for his scholarly contributions and leadership in the industry, González said Slusser stood out as a top editor during her tenure at the Targum and in his course on investigative journalism.

"Lots of young people still want to do the research and produce the stories that matter. Hayley very much fits that mold," said González, who also co-hosts the independent news program DemocracyNow! "She writes well, but she never wanted to write anything until she had the facts down. The younger you are, usually the sloppier you are, but Hayley is meticulous. That shows a lot of maturity for her age. She is going to be a real star."
A month into her first year at Rutgers, she walked into the Targum office to offer her services as a reporter and walked out with an offer to begin training for the role of head news editor. Five months later, the world shut down and Slusser and her peers struggled to find story angles while removed from campus.

"You could show up at events before and just get the story," she said. "We really needed to be more creative about who we were reaching out to and how we were covering stories. It was frustrating, but the Targum was able to pull through and cover everything as normally as it could."
During her year at the helm of the Targum, Slusser and her team made the decision to go fully digital, allowing them to reevaluate content choices and fundraising strategies.   
"We used to have to put out four to five stories every day to fill up the print paper. With digital, we could focus on only two news stories a day," she said. "That allowed us to focus on building our credibility and making students aware we are here by producing stories that are really impactful to them."
Unable to fill the role of business manager, Slusser took on the mantel, trying to build back the Targum's brand recognition. She oversaw a redesign of the paper's social media graphics, hired the paper's first social media manager to develop a more robust presence on Instagram, led an investigative reporting series to boost the Targum's credibility, and spearheaded a digital fundraising campaign targeting alumni to keep the Targum running. She won the 2022 NJ News Commons Excellence in Local News Award alongside two of her co-contributors, won the 2021-22 New Jersey Daily Newspaper Women's Prize in Journalism from Douglass Residential College and was part of a Targum team that earned the 2021 Investigative Reporters and Editors award in the student category.
That experience uniquely prepared Slusser for the Lenfest Institute, where she is working as communications associate to help sustain efforts to revive local journalism, which has been spiraling since the turn of the millennium when digital media upended its ability to profit off print advertising. Founded through an endowment from late cable television entrepreneur H.F. "Gerry" Lenfest in 2016, the nonprofit's mission is to create sustainable business models that support local journalism in the digital age. The media mogul also donated The Philadelphia Inquirer – to the nonprofit that same year.
"I believe in the institute's emphasis on community and serving the audience through reporting," said Slusser. "It's not about making a profit but about making sure people have access to information."