Forbes Names Rutgers #1 in State, #64 of America's Best Large Employers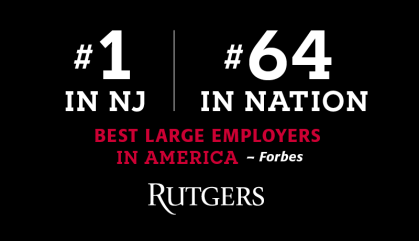 University is #1 in N.J., moves up to #64 on list of 500 large U.S. employers
Rutgers ranks among Forbes' top 100 U.S. large employers for the second year.
Rutgers moved up 31 places to #64 of 500 employers – and is the #1 ranked New Jersey-based employer – on the publication's 2023 list of America's Best Large Employers.
Rutgers employs over 22,000 professionals in the state of New Jersey from nearly every area of expertise, from research and faculty scholarship to accounting to facilities management to marketing to dining services to event management to transportation and much more.   
"We are proud to once again be recognized by Forbes as one of the country's top-ranked employers," said Vivian Fernandez, the university's senior vice president for human resources. "Rutgers continues to be committed to workplace excellence, especially in financially challenging times. We will continue to listen to our employees, to respond to varying needs and to make Rutgers a welcoming and rewarding place to work."
Fernandez noted the university continues to offer flexible working arrangements, a competitive benefits package and many opportunities to develop professional skills.
"All of our employees contribute to Rutgers' culture of academic excellence and commitment to serving the common good in our communities, the state and the world," Fernandez said. 
To compile the list, Forbes and partners surveyed 45,000 workers at companies and institutions with more than 5,000 employees. The anonymous survey asked participants if they would recommend their employer to others and to name other large employers that they would also recommend.  
The final list ranks the top 500 employers that received the most recommendations from the survey.  
Rutgers is among a short list of universities named in the top 100 large employers, including the Massachusetts Institute of Technology, University of Michigan and the Ohio State University.
As the highest-ranked New Jersey employer on the Forbes list, Rutgers joins more than 20 other New Jersey organizations on the top 500 list, including BMW Group, American Express Global Business Travel, Johnson & Johnson, Merck & Co., Prudential Financial, TD Bank, PSE&G Public Service Energy Group, Chanel and the State of New Jersey.