Finding New Life, and Sometimes New Love, at the Osher Lifelong Learning Institute
Lifelong Learning serves multiple purposes for students 50+
After several years of instruction, art teacher June Scharff, 84, of Piscataway, had attracted a number of regulars to her classes at the Osher Lifelong Learning Institute at Rutgers (OLLI-RU), part of the Division of Continuing Studies. "I had a real following," she says. "Just great students, enthusiastic and interested."
One student, however, was very interested.
"I took her painting course four times," confesses Pete Cancro, 80, of Edison. "Eventually we became socially friendly – I would go to her house for dinners and parties. I knew she was in a relationship at the time, but then she broke up with him."
He chuckles. "And, well, I was there to pick up the pieces."
"Pete just grabbed that idea and that was it," Scharff says, laughing.
That was "more than a decade ago," Cancro says, and the couple has been together ever since.
They have company, too.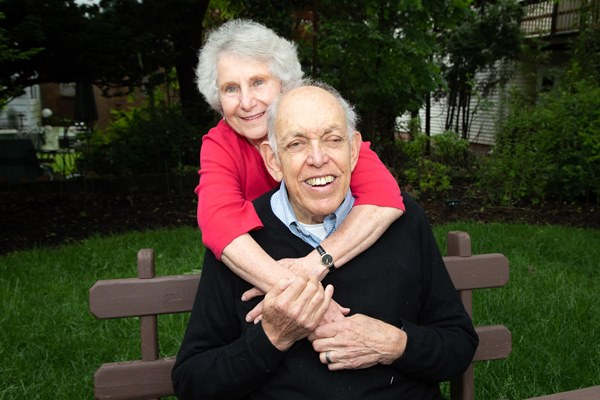 "Lifelong Learning serves multiple purposes for people over 50," says OLLI-RU manager Megan Novak. "It's academically geared, but it also can be about finding a new community, making new connections. And when some of those connections turn out to be romantic -- what a joy to be part of that!"
Sandy Bergelson, 82, and Gerry Pomper, 84, of Highland Park, had both taken courses through Rutgers years ago, where Bergelson was chief of OLLI's advisory council and Pomper's wife was chair of the curriculum committee. The four of them "knew each other casually," says Pomper.
Then, both Pomper's wife and Bergelson's husband passed away. Shortly thereafter, the surviving spouses happened to take the same course in modern Japanese literature, one including Deep River, a spiritually tinged meditation on mourning by Shusaku Endo.
"That particular book touched both of us," Bergelson says. "We started really talking, and that was the start."
Five years later, the relationship is still going strong.
Of course, not every single finds a partner through lifelong learning classes. Nor are most students even looking. OLLI-RU, with locations in Highland Park and Freehold, is a place for education and social interaction for those over 50. OLLI-RU course offerings include a mix of history, culture and the arts, for the over 1,200 members enrolled in the more than 300 courses offered each year.
Adult education provides important physical and emotional benefits, too.
According to a recent report from the National Institute on Aging, social isolation is a major health risk factor across all ages. It can contribute to depression, high blood pressure and lowered life expectancies.
Emily A. Greenfield, an associate professor at the School of Social Work at Rutgers and a social gerontologist by training, insists it's "a myth of aging" that older adults are necessarily isolated, However, she says, changing circumstances can narrow their world.
And the best answer to that, Greenfield says, may be a wide range of answers.
"There's no one size fits all," she explains. "Not everyone wants to volunteer, or join a gym or go to the senior center. The activity has to engage them. People generally won't do things on their own unless they are motivated to do so."
Adult education, though, checks off a number of boxes.
"There are physical benefits – just getting out of the house and walking around – as well as social ones," Greenfield says. "The relationships one forms with other people, the feeling of belonging to a larger community – those are immensely important. Human beings are social animals."
OLLI-RU is not only convenient, it also boasts instruction in a wide and changing variety of subjects, from Hindi culture to calligraphy, medicine to musicals.  Costs can be as little as $40 for a five-class course.
"OLLI is about accessibility, and part of that is financial accessibility," says Novak. "We offer a diverse curriculum, and we want people to feel confident about trying something new, stepping outside their comfort zone and challenging themselves."
And OLLI offers a banquet of experiences, for students and teachers.
"There's a great deal of satisfaction in participating in something with lively people," says Pomper, a retired professor of political science who teaches at OLLI–RU. "The students are interested, they participate -- there's a vast amount of experience in those classrooms."
"Having spent most of my life raising a family and developing a career, there was no opportunity to take a lot of these courses," says Bergelson. "Now I can. And I'd much rather do that than spend my retirement going shopping."
And lifelong learning classes are a way to not only learn, but perhaps ensure that you are mentally sharp for a while longer – whether or not you find a special friend in that Wednesday cinema studies class.
"My father worked hard all of his life, but he didn't have any hobbies, any personal interests, and when he retired, he was lost," says Cancro. "You have to get out there as you get older. You have to keep moving. You have to keep your muscles from atrophying. And that applies to your mind, too."
Visit https://olliru.rutgers.edu/ for more information about joining.